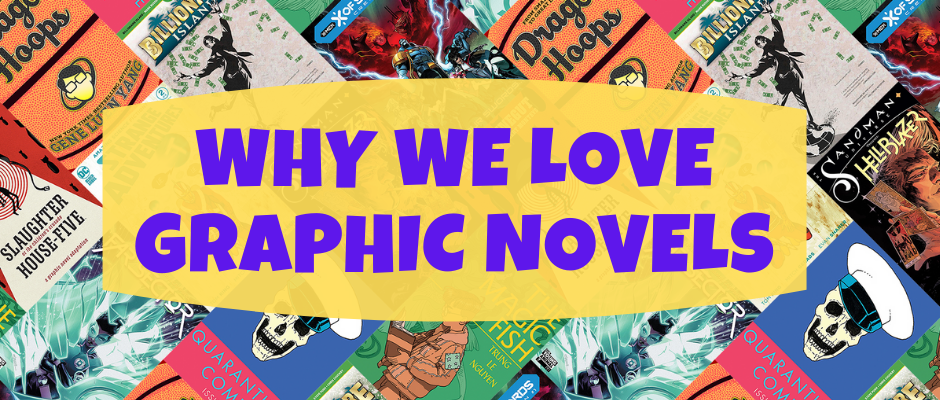 By Amanda Landry, Children's Assistant
Graphic novel sales are increasing every year, according to ICv2 and Comichron. These sales also reflect that memoirs, realistic fiction, and fantasy graphic novels have joined superheroes on the shelves. Manga, Japanese graphic novels, are making up a large portion of those sales. In fact, graphic novels made up 5% of the Lynnfield Library's total circulated materials in the past four months.
Sales aren't the only telling factor when looking at why everyone is reading graphic novels. This rise in sales is also accounted for by the many benefits of reading graphic novels and their increasing use in the classroom. For the first time since the Newbery Medal was created in 1922, it was awarded to a graphic novel, New Kid by Jerry Craft in 2020. 
Educators, publishers, and librarians alike recognize that graphic novels:
Support visual and textual literacy by having the readers make inferences, synthesize and interpret images and text. 

Offer a wider range of vocabulary – graphic novels, on average, offer a higher amount of rare words per thousand than children's fiction

Aid visual learners and disabilities like dyslexia

Encourage readers to enjoy reading, due to their accessibility and appeal
Graphic novels have a host of different benefits for young readers. There is no need to worry about graphic novels being harmful when studies have shown that they can improve a child's ability to read and help to instill a lifelong love of reading. If children who want to read graphic novels for pleasure are encouraged and allowed to do so, they may just end up reading more!
If this short post has convinced you that graphic novels are worth a try, be sure to stop by the library! We have graphic novel sections for adults, young adults, and children. Below are pictures of some popular titles available at the library. Just click the picture to be brought to the NOBLE catalog.
Pssst…check out these resources to learn more!