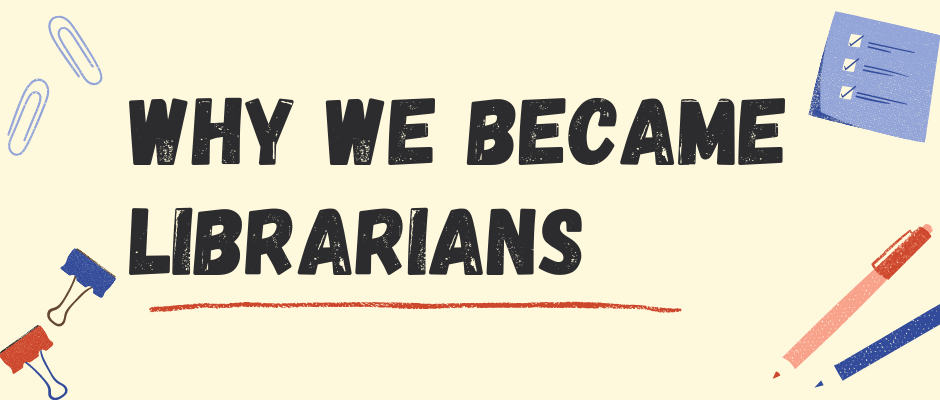 by Samantha Totman, Circulation Assistant
It's National Library Week, a yearly event (since 1958!) run by the American Library Association to shine a light on the contributions of libraries and librarians. To celebrate, the Lynnfield Public Library team wanted to share why we became librarians and some of our favorite parts of the job. Back in February, many of you were kind enough to share what you love about the library, and we thought we would return the favor!
Most people–us included!–associate libraries with books. As you might imagine, being around books all day was a big draw for me when considering becoming a librarian. But I chose librarianship not only to be near books for myself, but to also promote literacy and reading, as well as increase accessibility of books and other materials to everyone in the community. Kat, our Head of Circulation, similarly shared, "I like helping and teaching people, and being a facilitator of factual information, pushing back against the era of misinformation."
Being a librarian is ultimately about serving our community and patrons, and for many of us, that is simultaneously our most important job and one of the biggest perks. There is no feeling like helping someone find exactly what they're looking for, whether that be a book, DVD, or genealogy resource. No matter the question, we are happy to help you find the answer. And we're especially attached to our smallest patrons. Carolyn from our Circulation department shared that "It's a great feeling when the little kids check out books. Their excitement is so entertaining that it makes me smile. They're our future book lovers." Similarly, Barbara from Circulation said that her favorite part of being a librarian is "the magic moment when you find a child the right book that makes their face light up with an awesome smile!"
Over the past year we've been lucky to be able to continue interacting with the community through our computer appointments, at Front Door Service, on social media, and over the phone. But we can't wait to welcome you back into the library and speak to you all face-to-face. We're now open for in-person browsing by appointment, and we hope to see you there soon!