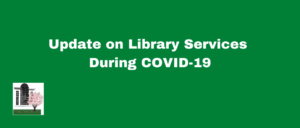 March 20, 2020
An updated message from Lynnfield Public Library Director Jennifer Inglis:
It has been a week since the Lynnfield Public Library has been closed due to the COVID-19 novel coronavirus. We sincerely hope you, your family, and your friends are healthy during this unprecedented time. Library staff are working hard behind the scenes to maximize what you can do from home. We are trying to keep our website and social media channels up-to-date as much as possible. Please email us at lfd@noblenet.org if you need assistance.
We would like to remind you of the Town of Lynnfield's dedicated phone line and email for COVID-19 related questions: (781) 334-8141 and emergencymanagement@town.lynnfield.ma.us
If you have an emergency, call 911.
Following are a list of augmented Library services during this closure:
New!

We added a page of resources to our website that provide information during this time to help you with areas of concern. These include links to authoritative information about COVID-19, resources for small business assistance, food insecurity, and other topics.

https://lynnfieldlibrary.org/covid-19-resources/

New!

We have added

TumbleBooks

, a database of ebooks and audiobooks for kids and a section called

TeenBookCloud

with fiction, nonfiction, and classics. These can be accessed from our website and do not need a library card.

New!

Our popular genealogy database

Ancestry.com

is now temporarily allowing access from home. It is ordinarily available in-library only. You will need your library card and PIN.

If you do not currently have a library card, but want access to our online resources that require one, we will temporarily waive the in-person requirement to show ID and proof of residency. If you live in Lynnfield and do not already have a NOBLE library card, you may email us at

lfd@noblenet.org

with the following information: full name, street address, telephone number, email address, and birthdate. We will then issue you a temporary library card number and PIN, which will allow you to access our online services that require a card. This card will expire in three months. Transferring this temporary card to a permanent card will simply require you to come to the Library with ID and proof of address. Please note that this is a temporary deviation from our ordinary procedures. Also note that we will only be responding to these requests several times a week.

To assist with the rising demand on our online resources, we have temporarily increased the number of items you may borrow from

hoopla

from 6 items per month to 10. This resets on the first of the month.

hoopla

is a terrific service where you can borrow digital music, movies, television shows, ebooks, and audiobooks. This collection of over 500,000 includes many for children.

We have increased our number of items available in our Overdrive Advantage account, which means that users with a Lynnfield Public Library card get first access to select titles. This is not a new service for us, but we have temporarily added additional titles to both meet demands for holds and popular titles, and to increase the number of audiobooks and ebooks available for kids. These titles are available in the

Libby or Overdrive

applications.

While our physical collections are unavailable, we are taking the worry out of what happens with your Library account while we're closed to the public. We are extending due dates for all materials and will continue to do so until this situation is resolved. Any holds that are currently in the building will be available for pick-up for a week after we open to the public again. We ask you to keep any library materials you have at home.
We hope you remain healthy, and we can't wait to see you in person again soon.
Sincerely,
Jennifer Inglis, Library Director
jinglis@noblenet.org