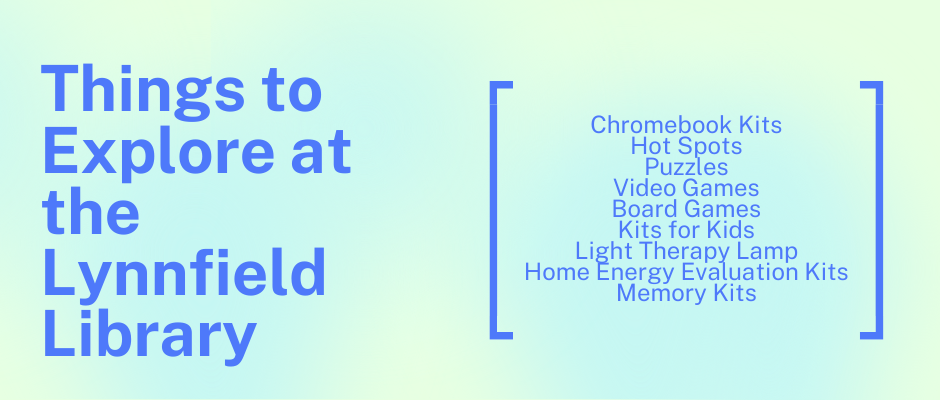 By Nicole Goolishian, Head of Technical Services
In February we added puzzles to our collection but we have so many more things at the library for you to discover this spring! Make a browsing appointment today to see what new and unexpected items have joined our collection recently. 
Technology 
A Chromebook Kit consists of 1 Chromebook laptop, 1 hot spot, and 1 computer mouse to provide you with Wi-Fi and computer access from home. For more information on Chromebooks please click here. 
Looking to get Internet access on the go? Check out a hot spot to connect your devices wherever you are. 
Activities 
Our puzzle collection was generously donated by members of the community along with library staff. There are puzzles with animals, Scottish landscapes, and beautiful works of art. Located on the first floor of the library, there are 33 puzzles to explore ranging from 500 to 1,000 pieces. For more information on this collection please click here. 
There are over 200 video games for gamers of all ages for various consoles. 
Board and Strategy Games
Coming soon to our new Library of Things collection are 25 board and strategy games including Monopoly Jr., Apples to Apples, and Catan. These exciting additions will be available for checkout later this month. 
Content for Streaming and Downloading 
hoopla has it all: ebooks, eaudiobooks, and streaming content including TV shows and movies. hoopla is available to all Lynnfield Library cardholders to use on your smartphone, tablet, TV or computer. 
Looking for ebooks? Look no further than OverDrive and Libby! OverDrive provides free access to thousands of ebooks, eaudiobooks, and digital magazines. All you need to sign-up is your library card. You can access OverDrive on your computer and older versions of Kindle ereaders. The Libby app is available on Kindle Fires, Apple devices, and Android devices. 
RBdigital features unlimited access to streaming movies, television shows, concerts, and documentaries as well as interactive wellness courses and standardized test prep through the following services: 
AcornTV

The Great Courses Library Collection 

IndieFlix

Learn It Live

Method Test Prep

Qello Concerts

Please note that RBdigital streaming content will be moving to OverDrive in May 2021. More information on this transition will be available on our website soon. . 
Kits for Kids 
The Children's room is home to many exciting ways to learn including the following kits: 

Kits for Your Home
A light therapy lamp provides bright light through 10,000 lux that imitate the sun helping to brighten up your workspace in darker winter months. 
Provided by the Reading Municipal Light Department, the home energy evaluation kits give you the tools, including a Kill A Watt electricity meter, to check how energy efficient your electronics are.  
Memory Kits 
Memory Kits provide reminiscence therapy to promote sharing memories and spark conversations about favorite things.  Each kit includes a DVD, flashcards, and activities on various topics. 
For more information on Dementia resources in Massachusetts please click here. 
For more information on how to checkout any of the above items, please call the library at 781-334-5411 or e-mail lfd@noblenet.org. Keep an eye on our social media pages for future additions to our growing Library of Things collection: @LynnfieldLibrary on Instagram, @LynnfieldLib on Twitter, and on Facebook.