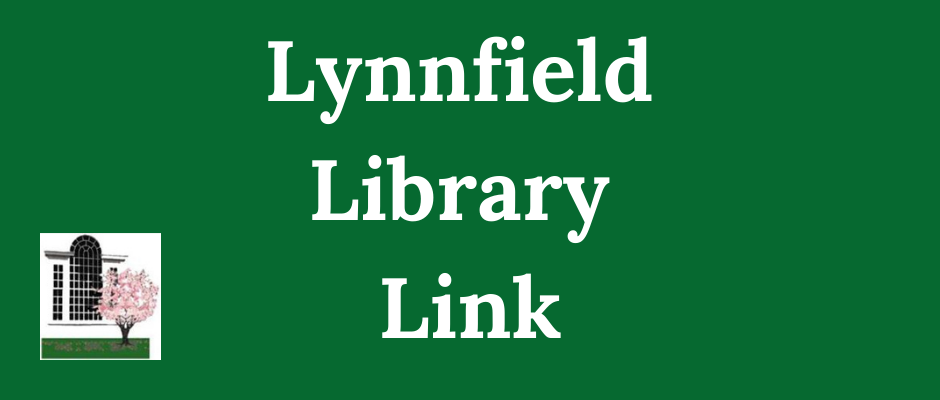 The Lynnfield Library at Home and Online
By Abigail Porter
Check out our latest Lynnfield Library Link article, originally featured in the Lynnfield Villager:
This year has certainly seen a shift in how we bring the Lynnfield Library to you, the Lynnfield community!  I'm really proud of how the staff has pivoted in these unprecedented times:  we've come up with new ways for you to pick up the books you want and need, created craft kits for fun activities at home, and set up appointments to use technology, such as computers, printers, and scanners.  We miss seeing everyone in the building and hosting fun events in person, but we, as a staff, have really tried to move as much online as possible, so you can still enjoy and learn from the comfort of your couch!
Our latest undertaking is adding online browsing.  We've created lists that automatically generate daily to tell you about the newest materials we have on our shelves.  Just go to www.lynnfieldlibrary.org and click on Library Services to find out more!  You can look at everything from the newest movies to the newest picture books all in one convenient place.  After that, it's just a quick click to place those books, audiobooks, and more on hold to pick up during our Front Door Service hours. You can also look at our new materials using Wowbrary, a weekly newsletter showcasing our newest arrivals. Sign up on our website and it will arrive in your inbox every Saturday morning!  We hope to let you browse in person soon, but in the meantime, and for those who don't know when they will be ready to come in the building, we are happy to show you with the latest items we've added to our collections from the comfort of your own home.  For those who still prefer finding books on paper or don't have access to the internet, stop by our Front Door Service hours and grab a free Book Page!  It will tell you all about the latest titles and book news.
We still have lots of virtual programming for all ages!  In the coming weeks, try out yoga with Tammy Syrigos Irrera, read with rabbits, and make plans to upgrade your garden this spring.  We've also added to and expanded our digital services.  We've purchased more titles on Overdrive and Libby, so you can check out e-books and audiobooks at home.  You can now use hoopla 10 times a month to check out tv shows, work out videos, comic books, entire albums (including Taylor Swift's Evermore!), and more.  Using RB Digital, access Acorn TV for free for all the best British mysteries, as well as virtual concerts using Qello.  You can learn how to make awesome arts and crafts at home with Creativebug, from sewing to weaving to making fairy wings!  Our latest addition is Mango Languages, an awesome resource for learning 70 different languages, including ESL.  There's definitely something for everyone and all you need is your Lynnfield library card!
If you need help getting started on any of these great, free services, just call us at 781-334-5411 or email lfd@noblenet.org.  We are in the building and happy to help you get going.  We are also offering one-on-one technology appointments on Zoom if you get stuck or just want help with your new tablet.  Call or email to make an appointment!