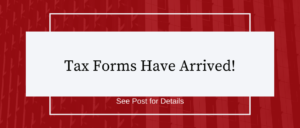 Tax Forms Have Arrived!

by Abby Porter, Assistant Director
Tax filing season (I know – it's already here again!) begins on February 12, according to IRS updates.  We currently have:
the 1040 and the 1040 SR booklet, contains

forms

1040 & 1040-SR (for seniors)
Schedules 1-3
Schedule LEP (request for change in language preference)
IRS 1040 Instructions
Mass Tax Booklet containing forms
Reference staff is available to print out a reasonable amount of specific forms and schedules free of charge.  Please email lfd@noblenet.org or call 781-334-5411 to request your forms.  Please have the name of the specific form and schedule numbers ready.  We can schedule pick-up during Front Door Service hours or make another appointment if those hours don't work for you.  For more information, click here.
For help and to find the names of the forms you need, please take a look at the links below:
Note:

forms

on Mass DOR website are drafts only at this point and cannot be used to file.