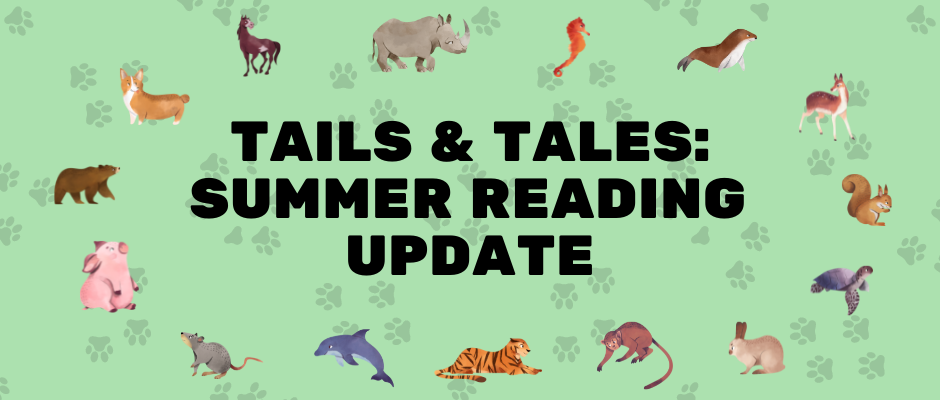 by Lauren Fox, Head of Youth Services
Summer Reading is flying by – and running, prancing, and hopping! We have quite a race happening in our "Can You Read More Than a Librarian?" game. As it turns out, the children in Lynnfield can read more than the librarians: right now, the children's team of turtles is winning the game. Together, the kids in town have read 240 books – just short of the 250 book goal! The library team of chipmunks is in second place. Teens and adults still have a chance to catch up, so make sure to keep logging your books every time you visit our website at this form or when you come to the library!
Have you made it to any of our programs? We've had concerts, magic shows, crafts, story times, and more this summer. We still have two more events on the Green at MarketStreet – a concert performed by Alastair Moock this Friday, July 30, and Lindsay and Her Puppet Pals on Friday, August 6. Both shows are at 11:30 a.m. We also have The Ukulele Show at 11:00 a.m. on Tuesday, August 3 and story times on Wednesday mornings at 10:00 a.m., both on the Lynnfield Town Common. Our End of Summer Reading Event, a Magic Show with Bonaparté, will also be on the town common on Friday, August 13 at 11:00 a.m. Adults are invited to join us on Zoom for Mystery Making on August 28 at 6:30 p.m. and for yoga at noon on Thursdays. Check out our calendar for more information on all of these events!
We'd love to see pictures of your pets reading. Tag us on Instagram or email your picture to Abby aporter@noblenet.org for a chance for your pet to be posted on our social media and to be entered into a raffle to win a prize.
Which team do you think will win our Summer Reading game? Do you think children will continue to lead, or will one of the other teams overtake them? All it takes is a few people submitting how many books they've read to lead to a major upset in this game! We can't wait to see which team will get to 250 books first. Every book helps your team get closer to the finish line.