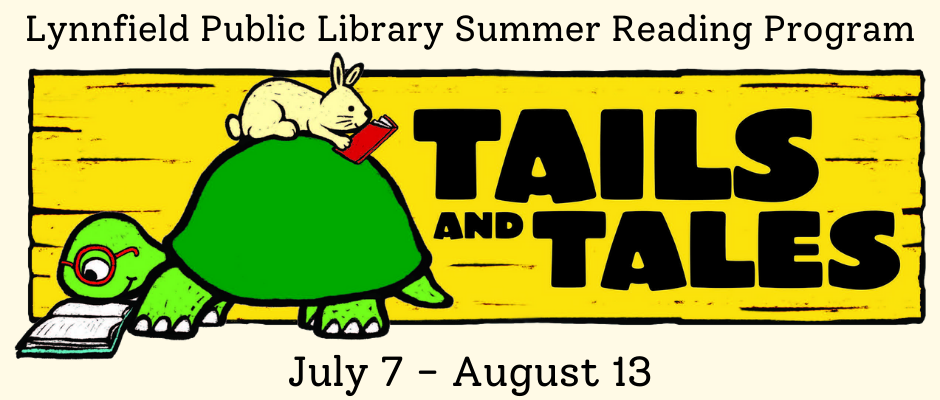 By Lauren Fox, Head of Youth Services, and Abby Porter, Assistant Director
Summer reading fun is starting soon at the Lynnfield Public Library! Join us for "Tails & Tales" Summer Reading starting on July 7 and see if you can read more than a librarian.  Children, teens, adults, and library staff will be racing to see who can read the most books.  Sign up online or at the library.  Then, just log your books online or in person and stop by throughout the summer to check your team's progress.  Prizes, raffles, and events for all ages will be happening throughout the summer, so keep your eyes peeled.  We will be offering some outdoor events, as well as continuing some events virtually.
We will be kicking off with "Unicorns:  Break the Cage" presented by Talewise on Wednesday, July 7 at 11 am on Zoom and an ice cream social with J. P. Licks on the Common on Thursday, July 8 at 2:30 pm. Other programs planned during our Summer Reading program include an author talk with bestselling author Stuart Gibbs, art programs for kids and teens by Pop Up Art School, musical performances, magic shows, and more. Check out our website and calendar for updates and more information. Thank you to the Friends of the Lynnfield Library for making these events and the prizes for Summer Reading possible.
You can register for our Summer Reading Program online or in the library. If you'd like to register online, please use the following links:
Looking for summer reading books for Lynnfield Public Schools? We've got those, too! Browse through our cart of books that the schools recommend or require for summer reading. For more help finding or choosing a book, you can ask a children's or reference librarian.
How many books do you think Lynnfield can read this summer?