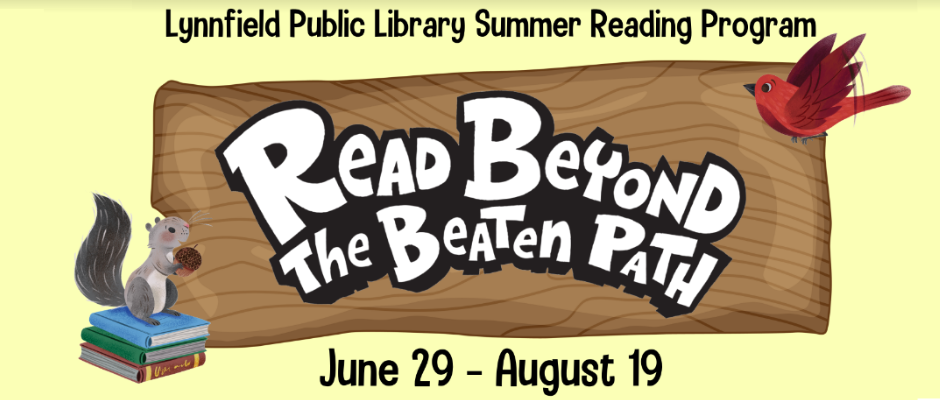 by Lauren Fox, Head of Youth Services
Summer reading fun starts today at Lynnfield Public Library! Join us to "Read Beyond the Beaten Path," a Summer Reading theme that celebrates camping of all types, from backpacking to summer camp, and the joy of being out in nature! Children, teens, adults, and library staff will be racing to the end of the hiking trail as they see who can read the most books. 
This summer, we'll be running our Summer Reading Challenge on Beanstack, an online program where you can track reading and write book reviews as you participate in a variety of challenges. Libraries across the country use Beanstack for their Summer Reading programs as well as other challenges throughout the year, and it's completely free for our patrons to sign up and participate. Head to our Beanstack website or download the app, Beanstack Tracker, to sign up and join the challenge for your age group team. If you have kids, you can sign them up for their age range on your Beanstack account, too! Once you're signed up, you can log books to help your team as well as complete a variety of activities for badges. If you'd prefer to use paper, you can come into the library to register and log your books.  
Stop by throughout the summer to check your team's progress on the game board outside of the children's room. By registering and logging books, you'll be entered to win Summer Reading raffle prizes. For more information on Beanstack, check out our recent blog post or head into the library to pick up a brochure with tips on how to register, log books, and more.
Events for all ages will be happening throughout the summer, so keep your eyes on our calendar. Some events require registration, so sign up today if you don't want to miss out! We will be kicking off with an ice cream social with J. P. Licks on the Town Common today, June 29, from 2:30-4:30 p.m, sponsored by the Wakefield Cooperative Bank. We'll also have face painting, an instant camera photo booth, and coloring at our kick off event, which is open to all ages. Other programs planned during our Summer Reading program include magic shows, art classes, concerts, puppet shows, storytellers, and so much more! Check out our website and calendar for updates and more information. Thank you to the Friends of the Lynnfield Library for making these events and the prizes for Summer Reading possible.
Looking for summer reading books for Lynnfield Public Schools? We've got those, too! Browse through our cart of books that the schools recommend or require for summer reading. For more help finding or choosing a book, you can ask a children's or reference librarian.
How many books do you think Lynnfield can read this summer?