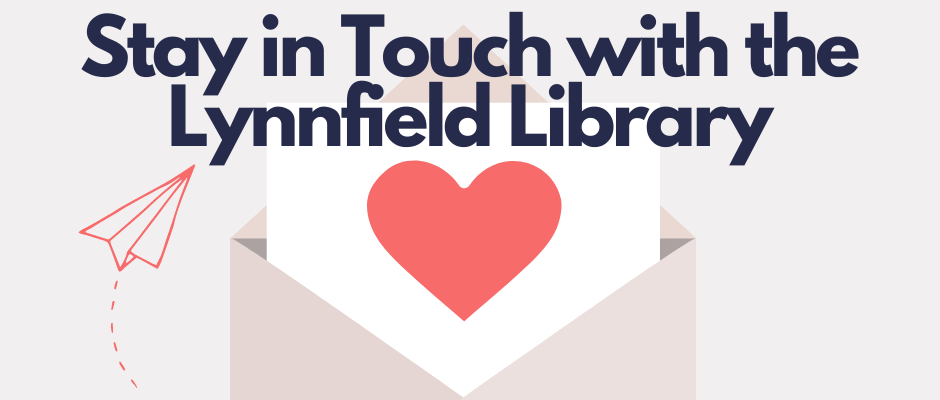 by Samantha Totman, Circulation Assistant
Can't get enough of the Lynnfield Library? There are so many ways to stay notified about everything we offer, including programs, new services, and new items added to our collection. Make sure you take advantage of all the ways to stay in touch with us–outlined below!
If you're reading this on the Lynnfield Library website, you already know about this one! We update our website and post on our blog regularly with book lists, updates, and highlights of library services that we offer. We provide lots of detail on how to navigate everything the library offers.
2. Newsletter
Our newsletter is published 1-2 times per month and includes information about new services, blog posts, and upcoming library closures. But the newsletter is also the best place to stay informed about our upcoming programs: we include the details and registration links for all the programs we'll be hosting in the next few weeks.
3. Social Media
Social media is where we post up-to-the-minute news, including programs, book lists, how-tos for using our services, and more. Social media is where we'll post unforeseen closures (for example, due to weather). You'll also see pictures of our library staff and what we're up to these days!
Here are the links to our Facebook page, Instagram account, and Twitter account.
4. Wowbrary
Wowbrary is a weekly email, released on Saturdays, that consolidates all our new items from the past week into one place. You can see our latest books, DVDs, puzzles, and more. From Wowbrary you can also place holds on these items through the catalog.
5. Library Link Column in the Lynnfield Villager
We have a recurring column in the Lynnfield Villager called "Library Link." We write about topics that are on our mind lately, from interesting reference questions to why we became librarians.