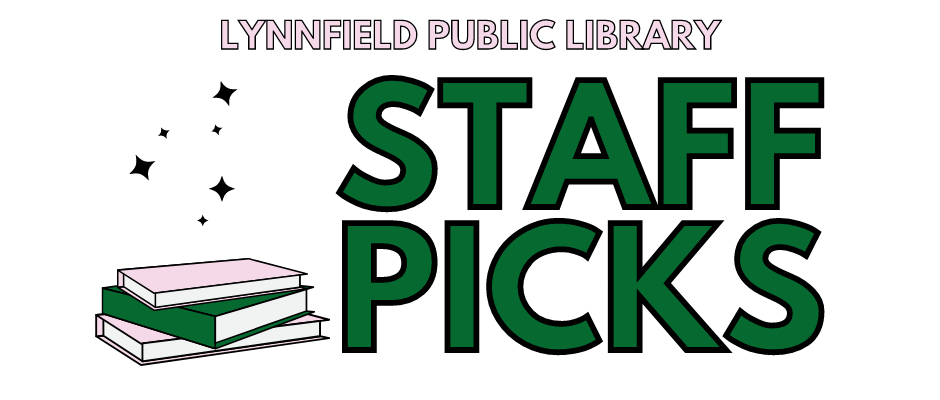 by Samantha Totman
Is your New Year's resolution to read more books? We've got you covered! Below are the Lynnfield Library staff's favorite reads of the past few months.
You can place holds on these by clicking the links below, or look for the green Staff Picks labels throughout the library. If you give any of these a try, be sure to let us know what you think!
Alex, Head of Youth Services
The Alloy of Law by Brandon Sanderson
Book | eBook
Pokemon Scarlet
Nintendo Switch Game
Pokemon Violet
Nintendo Switch Game
Barbara, Reference
Taste: My Life Through Food by Stanley Tucci
Book | Large Print | eBook | CD Audiobook | eAudiobook
I listened to the audiobook version of this title, read by the author. Interestingly, while listening to the opening tracks of the disc, I learned the author had grown up in my home town, Katonah, New York. I enjoyed his remembrances of the town while he shared his personal history recounting the joys of all things connected to food, the cooking of same and the taste of meals created with love.
The Cloisters by Katy Hays
Book | Large Print | eBook | eAudiobook
The Cloisters, an extension of the Metropolitan Museum of Art, was a favorite museum of mine while living in New York. Several trips to the museum provided ample opportunity to explore the collection of medieval art. Intrigued by Tarot Cards, both for their art and symbolism, I was also drawn to this novel detailing the work of art historians studying Tarot decks in the Cloisters collection. Add to that a murder, a love triangle and competition among art historians, I couldn't resist reading this novel.
The Book of Form and Emptiness by Ruth Ozeki
Book | Large Print | eBook
I enjoyed a previous novel by this author, A Tale for the Time Being, so was immediately drawn to this novel when published. A Zen Buddhist monk and author, Ozeki provides unique opportunities to view the world from a variety of perspectives. On one level this is the story of a young boy and his mother dealing with the death of his father and her husband. On another it is a treatise on the impact of books in our lives providing direction and meaning during a crisis while the son seeks refuge in the town library. As such, the author has created a Book as another main character of the novel. Beautifully written and worthy of winning the 2022 Women's Prize for Fiction.
Carolyn, Circulation
The Vegan Chinese Kitchen by Hannah Che
Book
Joan, Youth Services
The Grace Kelly Dress by Brenda Janowitz
Book | Large Print | eBook | eAudiobook
Leap Year
DVD
Kathe, Reference
Cook's Illustrated Magazine
Print | Digital
Cooking magazine published every 2 months. No ads, extensively tested recipes, great instructions, and I particularly like the Quick Tips and the Equipment Corner. Fun to read even if you don't cook!
Katherine, Head of Circulation
The Kindred Spirits Supper Club by Amy Reichert
Book | Large Print
Pride and Protest by Nikki Payne
Book
The Librarian Spy: a Novel of World War II by Madeline Martin
Book | Large Print | eBook | CD Audiobook | eAudiobook
Marita, Assistant Director
Cod: a Biography of the Fish That Changed the World by Mark Kurlansky
Book | eBook | eAudiobook
I've been meaning to read this book for years, and finally asked for and got it as a Christmas gift.
Under the Whispering Door by TJ Klune
Book | eBook | Playaway | eAudiobook
I read this because I loved The House in the Cerulean Sea. It made me cry in the best possible way. I hope Klune writes many more!!
The Witches: Salem 1692 by Stacy Schiff
Book | Large Print | eBook | CD Audiobook | Playaway | eAudiobook
Another book that's been on my to be read list for a long time. This was my December driving audiobook. Even as a native of Massachusetts and long time lover of history, this felt like a very accessible and thorough education on a chapter of Massachusetts history I didn't realize I knew so little about.
Hogfather by Terry Pratchett
Book
I will never tire of rereading Terry Pratchett's books.
Mary, Circulation
The Four Winds by Kristin Hannah
Book | Large Print | eBook | CD Audiobook | Playaway | eAudiobook
This book is historical fiction that I couldn't put down. It is a very moving and powerful story about the strength and resilience of women. It is set in the time of the Great Depression and Dust Bowl days.
Rachel, Reference
Version Control by Dexter Palmer
Book
Samantha, Circulation
Bloodmarked (Legendborn #2) by Tracy Deonn
Book | eBook | eAudiobook
This series continues to be amazing. One of my favorite fantasy series ever–highly recommend.
Lessons in Chemistry by Bonnie Garmus
Book | Large Print | eBook | eAudiobook
This book is simultaneously over-hyped and not hyped enough! I've seen it everywhere, but for some reason was delaying reading it. But it's a quick read with lots of elements that kept my attention, and I ended up loving it.
Five Tuesdays in Winter by Lily King
Book | Large Print | eBook | CD Audiobook | eAudiobook
This was January's Last Tuesday Book Club pick. Lily King can evoke a great sense of place, even in short stories.
Spencer, Head of Technical Services
Faces Places (Visages Villages)
DVD
A feel-good documentary by the legendary French filmmaker Agnes Varda. Varda and photographer JR set out across rural France to photograph locals and transform their photographs into ephemeral, building-sized murals. This is a lovely celebration of day-to-day life.
The Banshees of Inisherin
DVD
This beautiful and devastating dark comedy takes us to a remote Irish island in 1923, the final year of the Irish Civil War. One day, local islander Padraic's lifelong friend Colm abruptly decides the two aren't friends anymore, derailing both men's lives and inadvertently harming other islanders. The Banshees of Inisherin focuses on friendship and the meaning of kindness while criticizing masculinity and violence.
The Fabelmans
DVD
Director Steven Spielberg reminisces on the past in this semi-autobiographical film. Young Samuel Fabelman receives his first camera for Hanukkah as a child and starts making movies at once. As he grows up, he uncovers a devastating family secret and faces antisemitism at school as one of its only Jewish students, which both make him consider quitting filmmaking. Though fictionalized, this fantastic coming-of-age movie explores Spielberg's relationship with his parents and the dangers of viewing the world through a camera lens.