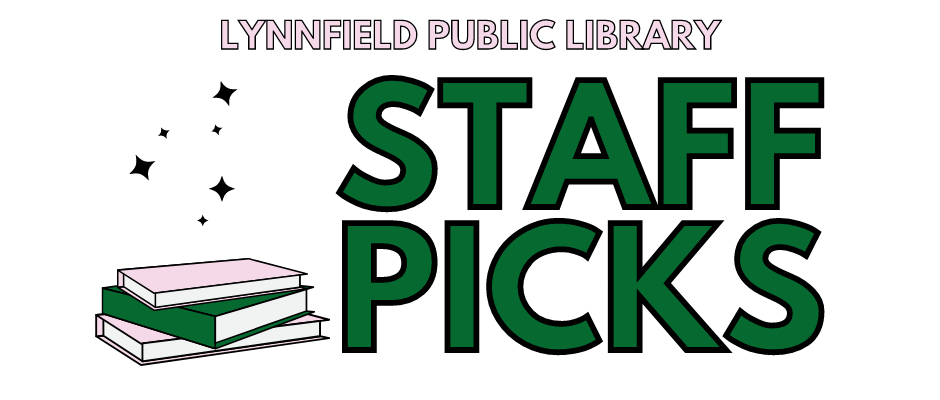 by Samantha Totman
On the hunt for some good reads (and listens, and watches) to get you through the holiday season? Look no further than our librarians' Staff Picks!
As always, you can place holds on these by clicking the links below, or look for the green Staff Picks labels throughout the library.
Abby, Director
The Kiss Curse by Erin Sterling
Book | eBook
What a fun read for Halloween – an enemies-to-lovers romance with witches, intrigue, and spells gone awry. This was a cute, quick read.
Golden Enclaves by Naomi Novik
Book | eBook
This final installment in the Scholomance trilogy was a quick, very compelling read. I'm impressed with the twists and unexpected turns Novik added in each volume. I'm sad to reach the end (but also I read it in less than two days).
Cole for Christmas by Janet Raye Stevens
Book
Another read to get in the mood for the season! Katy has to sub in at the last minute for her sick sister as a Christmas wedding planner and meets Cole, who is also filling in unexpectedly as Head Chef. Sparks fly, as do miscommunications, when each doesn't realize the other is a substitute. Add in a stressed out bride, an accident-prone groom, and a giant snowstorm and you have the perfect recipe for a Christmas read.
Barbara, Reference
Lucy By The Sea by Elizabeth Strout
Book | Large Print | eBook | CD Audiobook | eAudiobook
This novel details the anxieties of the pandemic along with Lucy's concerns about her continued relationship with William, her ex-husband. Having read all of the books in the series, I found this one to be the most interesting in that the reader gets a chance to more fully understand Lucy and why William continued to be an integral part of her life after their divorce.
Dinners with Ruth: A Memoir of Friendship by Nina Totenberg
Book | Large Print | eBook | CD Audiobook | eAudiobook
I listed to the audiobook version of this title, read by the author. Totenberg details the struggles and accomplishments she has had removing the professional barriers of female reporters, her friendships with those in similar situations, along with her deep friendship with Ruth Bader Ginsburg. Ruth and Nina navigated their relationship through their love of opera, the transformation of the workplace for women, family illness and widowhood.
Marmee: A Novel of Little Women by Sarah Miller
Book | Large Print
Louisa May Alcott's 'Little Women' was and remains a favorite book of mine. I enjoyed this retelling of the story through the eyes of Margaret 'Marmee' March.
Always identified as the paragon of virtue, Miller's novel details the many layers of the wife left behind, the mother struggling to raise four daughters on her own with a meager income, revealing the social and political concerns of this strong woman.
Joan, Youth Services
Mrs. Harris Goes to Paris
DVD
Fly Girl: A Memoir by Ann Hood
Book | eBook | eAudiobook
Katherine, Head of Circulation
Witchful Thinking by Celestine Martin
Book
It's Been A Long, Long Time: A Beryk Blue, Time Cop Novel by Janet Raye Stevens
Book | eBook
Jurassic World Dominion
DVD
Marita, Assistant Director
Four Lost Cities: A Secret History of the Urban Age by Annalee Newitz
Book | eAudiobook
Very cool archaeology of 4 cities. I listened to the audiobook.
Gentlemen Prefer Blondes: The Illuminating Diary of a Professional Lady by Anita Loos
Book
Hilarious, whether or not you've seen the movie.
Nathalie, Circulation
Sh*t I Say to Myself: 40 Ways to Ditch the Negative Self-Talk That's Dragging You Down by Katie Krimer
Book | eBook
Death on the Nile
DVD

Nathasha, Youth Services
Quackery: A Brief History of the Worst Ways to Cure Everything by Lydia Kang and Nate Pederson
Book | eAudiobook
Pat, Head of Reference
Black Dog by Stephen Booth
A suspenseful police procedural set in the Peak District of Northern England. The first in the long-running Ben Cooper & Diane Fry mystery series.
Book
Patty, Administrative Assistant
Wrong Place Wrong Time by Gillian McAllister
Book | Large Print | eBook | CD Audiobook | eAudiobook
Rachel, Reference
Sea of Tranquility by Emily St. John Mandel
Book | Large Print | eBook | CD Audiobook | eAudiobook | Playaway
The City We Became by N.K. Jemisin
Book | eBook | eAudiobook
Samantha, Circulation
Wash Day Diaries by Jamila Rowser with Robyn Smith
Book
The English Understand Wool by Helen DeWitt
Book
True Biz by Sara Nović
Book | eBook | eAudiobook