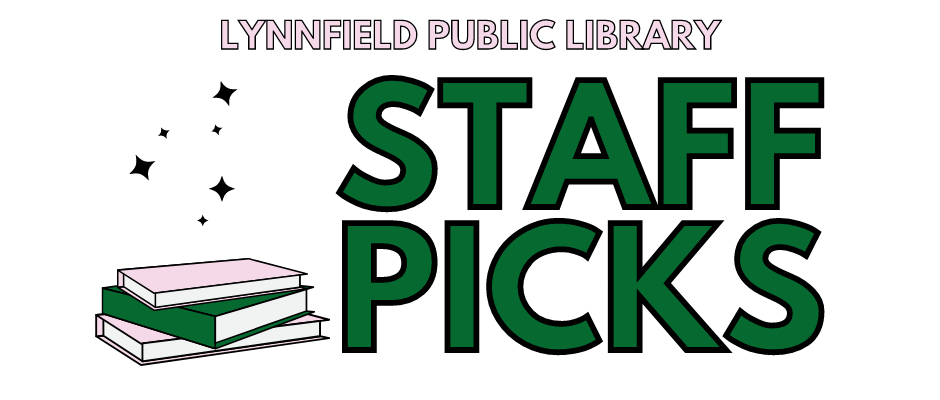 by Samantha Totman
This month, we're celebrating the slow transition from snow to sunshine with 15+ staff picks! As usual, we have everything from movies to mysteries, videogames to novels in translation, and anything in between.
You can place holds on these by clicking the links below, or you can find them in the Library by looking for the green Staff Picks label!
Abby, Acting Director and Head of Adult Services
There's a Ghost in This House by Oliver Jeffers
Book
This picture book is wonderful. A girl welcomes the reader into her house and asks if you can help her find ghosts. The artwork is lovely, using illustrations on top of real photographs and special pages to show the ghosts to the readers, but not the protagonist. It feels like you are in on the joke and my son loves finding the ghosts and giggling that the girl can't see them.
Heartstopper by Alice Oseman
Book | eBook
I cannot proclaim my love for this graphic novel series enough. It is a sweet queer romance with realistic characters dealing with real problems, who discover love doesn't fix everything. You can't help rooting for Nick and Charlie, as they deal with eating disorders, figuring out their sexuality, unsupportive family members, and more. It is up to volume 4 now and I can't wait for more.
Alex, Youth Services
Amethyst, Princess of Gemworld by Shannon & Dean Hale; illustrated by Aisah Fulmore
Book | eBook
Those Not-So-Sweet-Boys by Yoko Nogiri
Book
Barbara, Reference
Violeta by Isabel Allende
Book | Large Print | eBook | CD Audiobook | eAudiobook
This was my audiobook for the month. On the eve of her 100th birthday Violeta del Valle chronicles her life in a letter to her grandson, Camilo. Set in an unnamed Latin American country, Violeta writes of passionate affairs, poverty, loss, military dictatorships and the fight for women's rights bookended by two pandemics, the Spanish flu and the Covid epidemic.
The Last Confessions of Sylvia P by Lee Kravetz
Book
The first novel by non-fiction author Lee Kravetz, this book tells the story of the origins of The Bell Jar through the eyes of three women: a curator at a Massachusetts auction house, Sylvia Plath's psychiatrist, and another female poet, a contemporary of Sylvia Plath. Beautifully written, this is a story of the love of poetry and language, rivalry and betrayal.
While Justice Sleeps by Stacey Abrams
Book | Large Print | eBook | CD Audiobook | eAudiobook
Chosen as the title for my book club this month, Abrams' book chronicles the path taken by Avery Keene, a law clerk to Supreme Court Justice Howard Wynn, who has named her his legal guardian as he fights a life-threatening illness. Justice Wynn had been researching one of the more controversial cases before the court – a proposed merger between an American biotech company and an Indian genetics firm – which would also have implications for his future health.
Katherine, Head of Circulation
Weather Girl by Rachel Lynn Solomon
Book | eBook
Easter Bonnet Murder by Leslie Meier
Book | eBook | eAudiobook
Kristen, Youth Services
Scythe by Neal Shusterman
Book | eBook | CD Audiobook | eAudiobook
Lauren, Head of Youth Services
Horizon: Forbidden West
Videogame
This is the sequel to one of my favorite video games, Horizon Zero Dawn. It has an amazing story and even better characters and a huge world to explore. If you have a PS4 or PS5 I definitely recommend checking out this series!
Marilyn, Reference
A Well-Behaved Woman by Theresa Fowler
Book | Large Print | eBook | CD Audiobook | eAudiobook
Ghostbusters: Afterlife
DVD
Pat, Head of Reference
The Cold, Cold Ground by Adrian McKinty
Book | eBook
How would you like to start off most workdays by checking underneath your car for a bomb? Well, that's the life of Irish Detective Sean Duffy in Belfast during the 1980s. He's insubordinate, trouble prone, and a Catholic in the largely Protestant Royal Ulster Constabulary. He's dealing with criminals from petty to powerful as well as the ongoing 'Troubles' in Northern Ireland. Start off with "the Cold, Cold Ground," and enjoy six – so far – intriguing and character driven novels by Adrian McKinty!
Samantha, Circulation
Wahala by Nikki May
Book | Large Print | eBook
This book is so juicy and fun, but it also has real depth. It's already been picked up for television, so read it before it hits screens!
The Violin Conspiracy by Brendan Slocumb
Book | eBook | eAudiobook
This novel is a lovely blend of mystery, journey through the classical music world, and exploration of racial identity.
Fiona and Jane by Jean Chen Ho
Book | Large Print | eBook | eAudiobook
This novel reads as a collection of stories about two women's lives and where they intersect and diverge.