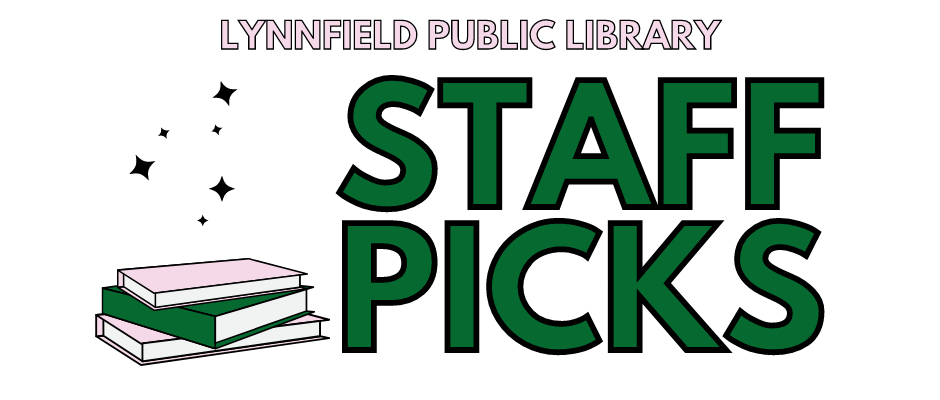 by Samantha Totman
Welcome to our first set of staff picks for 2022! We've got 20+ recommendations of books, movies, TV shows, and more for you to dive into this winter. You can place holds on these by clicking the links below, or you can find them in the Library by looking for the green Staff Picks label!
Abby, Acting Director
The Man Who Died Twice by Richard Osman
Book | Large Print | eBook | eAudiobook
I love British comedy panel shows, so I've been a fan of Richard Osman's since he was on Taskmaster. This is the second book in the Thursday Murder Club series and both are delightful! Great characters, fun hijinks, and compelling mysteries make these a lot of fun to read.
The Charm Offensive by Alison Cochrun
Book | eBook | eAudiobook
This was such a sweet romance about two anxious men finding love unexpectedly. Dev believes in love, despite working on a reality dating show. Charlie is a tech genius looking for a PR makeover, rather than romance. As both try to help the other get through filming, they find themselves realizing that they have better chemistry than Charlie does with any of the women on the show.
Ring Shout by P. Djeli Clark
Book | eBook
This fascinating novel reimagines history – D.W. Griffith's Birth of a Nation cast a spell and turn members of the KKK into monstrous beasts. Resistance fighters like Maryse are trying to stop them, but something evil is coming that no one expected. I couldn't put it down!
Barbara, Reference
Matrix by Lauren Groff
Book | Large Print | eBook | eAudiobook
I listened to the audiobook version of this book which relates the story of Marie de France, who was sent by her family to be the new prioress of an impoverished abbey for which Marie is determined to chart a new course for its future. The book provides insight into the achievement of this goal along with the developing friendships between Marie and those for which she is responsible.
The Maid by Nita Prose
Book | Large Print | eBook | eAudiobook
A maid in a luxury New York hotel becomes entangled with staff members involved in the cocaine trade resulting in a murder for which she is implicated. Friends and colleagues she didn't realize she had rally around Molly to help identify the real killer providing Molly the opportunity to redefine her approach to the job as well realize who her true friends are.
Call Us What We Carry: Poems by Amanda Gorman
Book | Large Print | eAudiobook
I was so moved by the poem read by Ms Gorman at the Presidential Inauguration that I looked forward to the publication of her book of poetry. Her poems incorporate issues of oppression, feminism, race, and marginalization as well as African history. Ms. Gorman is the first individual to be named the National Youth Poet Laureate.
Jill, Circulation
The Neighbor's Secret by L. Alison Heller
Perfect for fans of Big Little Lies.
Book | eBook
Kat, Head of Circulation
The Love Con by Seressia Glass
Book | eBook | eAudiobook
Black Girls Must Die Exhausted by Jayne Allen
Book | CD Audiobook
Books Can Be Deceiving by Jenn McKinlay
Book | Large Print
Kathe, Reference
A Carnival of Snackery: Diaries (2003-2020) by David Sedaris
Book | Large Print | eBook | CD Audiobook | eAudiobook
Like it says … Material taken from his diaries, social commentary, witty self reflection, wry jokes and just plain funny stuff. Beware, Tracy Ullman takes over some of the reading for Sedaris in the audiobook. She isn't half as cheeky in her tone but it's still worth listening to.
Kristen, Youth Services
The Invisible Life of Addie LaRue by V.E. Schwab
Book | Large Print | eBook | CD Audiobook | eAudiobook
A young woman makes a bargain to live forever, but ends up cursed to be forgotten by everyone she meets. In the end, "What is a person, if not the marks they leave behind?"
Renegades by Marissa Meyer
Book | eBook | CD Audiobook | eAudiobook
This book introduces you to a diverse cast of characters with a wide array of superpowers, features epic battle scenes between good versus evil, with a sprinkle of cheesy comic book superhero catchphrases. It makes you rethink the question – If you could have any superpower what would you want it to be?
Lauren, Head of Youth Services
Calvin by J.R. Ford and Vanessa Ford; illustrated by Kayla Harren
Book
Ain't Burned All the Bright by Jason Reynolds; illustrated by Jason Griffin
Book | eBook | eAudiobook
Pat, Head of Reference
The Nine Tailors by Dorothy Sayers
Originally released in 1934 during the golden age of detective fiction, this intricate mystery involves bell-pealing, a jewel theft, and a disfigured corpse….and amateur detective Lord Peter Wimsey.
Book | eBook | eAudiobook
Lord Peter Wimsey and the Nine Tailors
This features Ian Carmichael playing the titular detective in this 1974 Masterpiece Theatre classic. Read the book, see the adaptation!
DVD
Dead by Dawn by Paul Doiron
The latest in the Maine Game Warden Mike Bowditch mystery series: where the brutal Maine winter is as much a central character as Mike himself.
Book | Large Print
Samantha, Circulation
What's Mine and Yours by Naima Coster
Book | eBook | eAudiobook
Himawari House by Harmony Becker
Book
Caste: The Origins of Our Discontents by Isabel Wilkerson
Book | Large Print | eBook | CD Audiobook | eAudiobook
Spencer, Head of Tech Services
A Memory Called Empire by Arkady Martine
Book | eBook | eAudiobook
Talk of the Town film
DVD