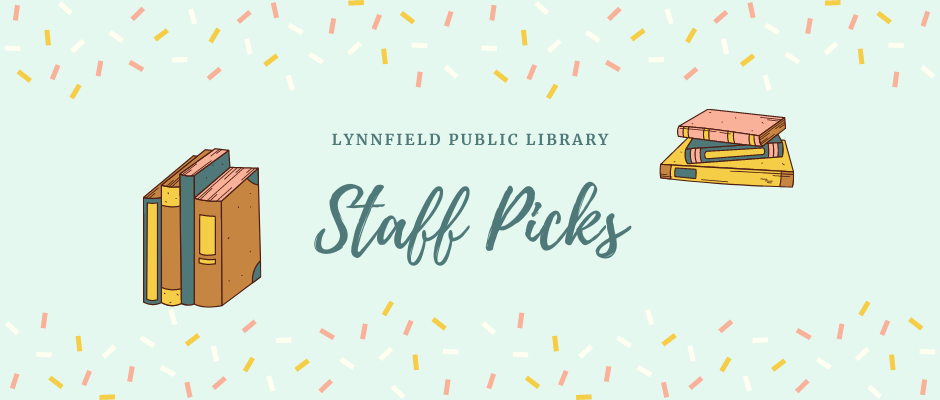 by Samantha Totman, Circulation Assistant
Check out all the things Lynnfield Library staff read, watched, listened to, and played during the month of May! These items are marked with green Staff Picks labels throughout the library so you can easily find them while you're browsing.
Alex,  Youth Services
The Cemetery Boys by Aidan Thomas
Book | eBook | eAudiobook
Barbara, Reference
The Man Who Lived Underground by Richard Wright
Book | eBook | eAudiobook
Wright wrote this between his Native Son (1940) and Black Boy (1945) texts but it had never been published until this year. According to his estate this manuscript meant the most to him.
The Rib King by Ladee Hubbard
Book | CD Audiobook
Set in the early 20th century the novel deals with the relationship between a struggling white family yearning to stay in the upper class and its relationship with their black servants. An interesting read (or listen) revealing who people really are and more importantly who they are not.
First Person Singular by Haruki Murakami
Book | eBook | eAudiobook
This is his current short story collection. Kafka on the Shore was my introduction to this author, a book I thoroughly enjoyed.
Jen, Director
The Library Book by Susan Orlean
Book | Large Print | eBook | CD Audiobook | eAudiobook
I finally got around to reading this and it was fantastic. It reminded me of the time I worked at the Boston Public Library, so much that I could picture some of the BPL staff in the people who worked in L.A. I also want there to be a movie about the woman who refused to leave her position as Director to be replaced by a man, just because she was a woman!!
Celebrate Your Body by Sonya Renee Taylor
Book
My daughter and I are reading aloud Celebrate Your Body (And It's Changes Too), which is a body-positive and inclusive book about puberty for girls. It's created a nice bonding experience for us, even though it feels TOO SOON.
Jill, Circulation
Pink is for Blobfish: Discovering the World's Perfectly Pink Animals by Jess Keating
Book
What's pink and weird? Learn about the pink animals of the world in this non-fiction children's book full of gross and unusual facts.
Kat, Head of Circulation
Farm to Trouble by Amanda Flower
Book | eBook
This is a new cozy mystery series launch.
Irish Parade Murder by Leslie Meier
Book | eBook | eAudiobook
The latest in the Lucy Stone cozy mystery series.
The Bounty by Janet Evanovich and Steve Hamilton
Book | Large Print | eBook | eAudiobook
The newest in the Fox and O'Hare thriller series.
Kathe, Reference
Hear My Voice/Escucha Mi Voz: The Testimonies of Children Detained at the Southern Border of the United States, edited by Warren Binford
Book
Written in children's own words, it's a heartbreaking but important read. Appropriate for ages 8 and up.
Lauren, Head of Youth Services
She Drives Me Crazy by Kelly Quindlen
Book
This was a cute enemies-to-lovers, fake-dating story. Perfect for when you want a book where you know that despite the drama, everything will work out in the end.
Mass Effect Legendary Edition
Videogame
Mass Effect is one of my favorite video game series and I love revisiting it through this remastered edition!
Mary, Circulation
When All Is Said by Anne Griffin
Book | Large Print | eBook | CD Audiobook
My whole book group enjoyed this!
Nicole, Head of Tech Services
The Midnight Library by Matt Haig
Book | Large Print | eBook | CD Audiobook | eAudiobook
Natalie Tan's Book of Luck and Fortune by Roselle Lim
Book | Large Print | eBook
Pat, Head of Reference
The Josephine Tey Mystery Series by Nicola Upson
Book
Nicola Upson's fictional mystery series featuring the real-life author Josephine Tey (1896-1952) as protagonist. Atmospheric, complex and psychological mysteries that explore the dark side of human relationships. Start with An Expert in Murder: a Josephine Tey Mystery.
Patty, Administrative Assistant
The Yellow Bird Sings by Jennifer Rosner
Book | Large Print | eBook | CD Audiobook
Samantha, Circulation
Fangirl, Vol. 1: The Manga by Rainbow Rowell, Gabi Nam, and Sam Maggs
Book
Fangirl is one of my favorite books of all time, and the manga version gave me the same cozy feelings. Can't wait for the next installment!
Hana Khan Carries On by Uzma Jalaluddin
Book | eBook
This is billed as a romance, but there's so much more to this story. Hana is working toward her dream of being a radio/podcast personality, and along the way she must navigate her family's financial struggles, deal with everyday microaggressions and outright racist violence, plus sort out her feelings about the confusing attention of a rival restaurateur.