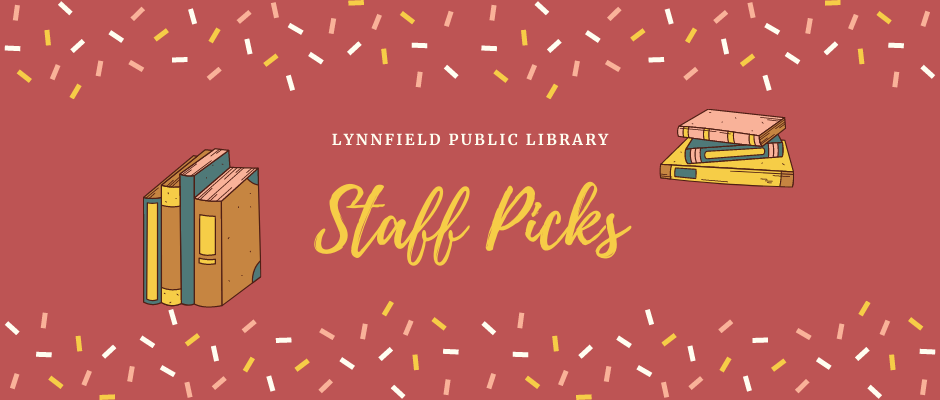 by Samantha Totman, Circulation Assistant
Magic libraries, tiny creatures, beekeepers, and musketeers: we've got all that and more in this month's roundup of Lynnfield Library staff picks. Place holds by clicking the links to your favorite formats below, and let us know what you think!
Barbara, Reference
The Midnight Library by Matt Haig
Book | Large Print | eBook | CD Audiobook | eAudiobook
While commuting between Chelmsford and Lynnfield, I recently finished listening to the audiobook, The Midnight Library by Matt Haig. I enjoyed it very much. It resonated with me because many wonder how different our lives would be had we made different choices. As Nora Seed, the main character, contemplates such options, she reconnects with her school librarian, Mrs Elm, in the Midnight Library replete with books that represent the impact of the different choices she could have made throughout her life. Each time she visits the library, Nora chooses a book, enters the life created in the book and returns periodically to the library as she determines that such a life may not be the one she wants to live. Nora's relationship with Mrs Elm is pivotal as she develop the understanding of how she grows through these different experiences. An enjoyable read or listen, in my case, and one I would recommend.
Beverly, Circulation
American Baby by Gabrielle Glaser
Book | eBook
I couldn't put this book down.  A true story of adoption and love.
Carolyn, Circulation
The New Art of Photographing Nature by Art Wolfe
Book
Jen, Director
The Beautiful Mystery by Louise Penny
Book | Large Print | eBook | CD Audiobook | eAudiobook (OverDrive) | eAudiobook (hoopla)
I was pleasantly surprised to see so many Louise Penny books in our hoopla app, so I'm catching up that way.
Jill, Circulation
Wild Sign by Patricia Briggs
Book
Something old and dangerous is in the woods. Beware. Wild Sign is book six in the Alpha and Omega series written by Patricia Briggs.
Kat, Head of Circulation
The FBI Way: Inside the Bureau's Code of Excellence by Frank Figliuzzi
Book
Nonfiction; a look into how the Bureau's Code, the FBI Way, is applied by the FBI as well how it could be applied to other organizations and general life.
Death Bee Comes Her by Nancy Coco
Book
A new cozy mystery series set in Oregon about a honey boutique shop owner. A fun beginning to a new series.
Lauren, Head of Youth Services
Amelia Unabridged by Ashley Schumacher
Book
The Book of Tiny Creatures by Nathalie Tordjman
Book
Nicole, Head of Tech Services
Clap When You Land by Elizabeth Acevedo
Book | eBook | eAudiobook
Pat, Head of Reference
The Musketeers Seasons 1-3
DVD
A swashbuckling and gritty take on the classic Dumas novel "The Three Musketeers." Gorgeous sets and scenery and some very cool swordplay!
Patty, Administrative Assistant
Before We Were Yours by Lisa Wingate
Book | Large Print | eBook | CD Audiobook | eAudiobook
Samantha, Circulation
The Bad Muslim Discount by Syed M. Masood
Book
This story, which follows two families from Pakistan and Iraq in the 1990s to San Francisco in 2016, pulled me in with its seemingly lighthearted humor, but the plot darkens about halfway through before racing to the end.
Happily Ever Afters by Elise Bryant
Book | eBook
Tessa loves to write, but when she's hit by writer's block for the first time, she and her best friend devise a plan to make Tessa the center of her own love story. One of my favorite young adult books I've read in awhile.