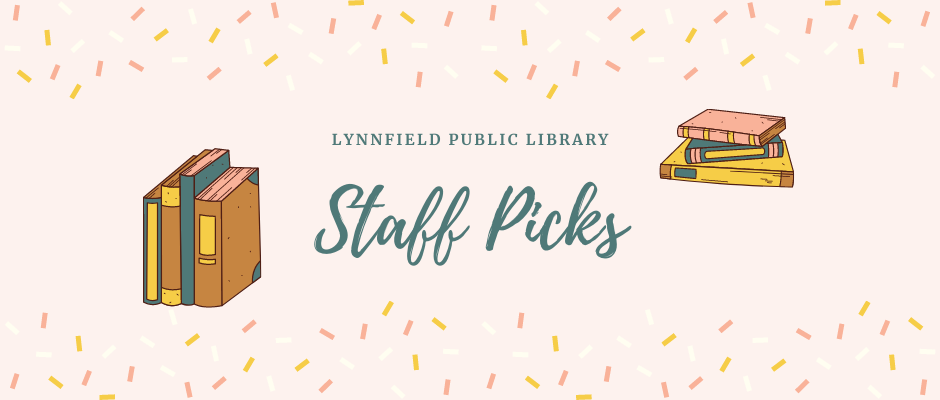 by Samantha Totman, Circulation Assistant
Who's ready to kick off their summer reading? We've got a bunch of great staff recommendations to accompany any kind of summer trip or activity.
You can place holds using the link below, or find these items throughout the library by looking for the green Staff Picks labels!
Abby, Assistant Director & Head of Adult Services
The Complete Novels by Dashiell Hammett
Book
Hammett is one of my favorite authors (which is why Dashiell is my son's middle name) and I finally finished all of the novels in this collection! The Thin Man is probably my favorite, but I really enjoyed all of these and they are great vacation reads. These are all classic detective novels for a reason!
Second First Impressions by Sally Thorne
Book | eBook | CD Audiobook | eAudiobook
This book was incredibly cute and a great reminder that first impressions don't mean anything. The main character, Ruthie, makes a lot of negative assumptions about Teddy when he starts working at the nursing home she runs, but also can't stop thinking about him. The ending was a bit too perfect to be realistic, but this book was so much fun!
Alex, Youth Services
The Adventure is Now by Jessica Redman
Book
This is a sweet story about friendships and adventure!
Amanda, Youth Services
The Birchbark House by Louise Erdrich
Book | eAudiobook
A descriptive read (listen? since I did the audiobook) focusing on the beauty of the mundane and everyday. I love how it weaves storytelling, family/community, respect of nature, and grief all through the curious and honest eyes of a child.
I Wish You All the Best by Mason Deaver
Book | eBook | eAudiobook
A melting love story that doesn't stray too far from heartbreaking reality through the perspective of a nonbinary teen written by a nonbinary author.
Barbara, Reference
The One Hundred Years of Lenni and Margot by Marianne Cronin
Book | eBook
Lenni, a 17 year old terminally ill patient meets 83 year old Margot during an arts and crafts class at the hospital. The realize they have lived 100 years between them and decide to create 100 paintings to showcase the courage, joy and kindness each have experienced during their lives.
The Book of Lost Names by Kristen Hamel
Book | Large Print | eBook | CD Audiobook | eAudiobook
A young, women forger creates documents to help Jewish children escape the Nazis and find safety in Switzerland. To preserve the names of those saved, codes to identify the children are stored in an 18th century religious text, a book eventually looted by the Nazis and found many years later.
The Dark Library by Cyrillie Martinez, translated by Joseph Patrick Stancil
Book
In the Dark Library books are alive, not their stories, but the books themselves, some who share opinions about the books that are read. When the entire library collection is scanned question are raised about the future of books, readers and libraries in the digital world.
The Lost Apothecary by Sarah Penner
Book | Large Print | eBook | CD Audiobook | eAudiobook
Never without an audiobook in the car, this enjoyable 'listen' tells the story of an apothecary in 18th century England that provides options for women to remove the oppressive men in their lives. When a 20th century historian visiting London finds a vile in the Thames that originally held one of those poisons, she begins research at the British Library to learn more about the apothecary and the woman who created the poisons.
Jen, Director
Greenlights by Matthew McConaughey
Book | eBook | CD Audiobook | eAudiobook
I loved Greenlights by Matthew McConaughey. I'm a fan, but not a super fan, and he's pretty up front about the challenges and privileges that he's had before and during his career. I listened to it, and it's narrated by him, so that was fun. I'd like to take a look at the print version because I think there are some stylisting pieces from the print that don't translate well to audio.
Donut Feed the Squirrels by Mika Song
Book
A huge favorite in our house right now is Donut Feed the Squirrels by Mika Song. We can't wait for the second in this new graphic series for kids. It's awesome listening to my daughter read it aloud.
Jill, Circulation
The Magic Fish by Trung Le Nguyen
Book | eBook
This YA graphic novel is a great read for Pride Month.
Kathe, Reference
Empire of Pain: the Secret History of the Sackler Dynasty by Patrick Radden Keefe
Book | Large Print | eBook | eAudiobook
A family saga of the the Sackler Family, known for their philanthropy, whose fortune was derived from Valium and destroyed by OxyContin. Their marketing techniques were genius. Great investigative work by the author.
Katherine, Head of Circulation
While Justice Sleeps by Stacey Abrams
Book | Large Print | eBook | CD Audiobook | eAudiobook
Ink and Shadows by Ellery Adams
Book | eBook | eAudiobook
The Wife Upstairs by Rachel Hawkins
Book | Large Print | eBook | CD Audiobook | eAudiobook
Fresh Brewed Murder by Emmeline Duncan
Book
Lauren, Head of Youth Services
Hazel Bly and the Deep Blue Sea by Ashley Herring Blake
Book
This book is a sad but heartwarming story of a girl who learns to reconnect to her family and new friends after a terrible accident. I loved Ashley Herring Blake's previous children's books, and this one did not disappoint.
Lonely Planet: Yellowstone & Grand Teton National Parks by Benedict Walker
Book | eBook
I brought this book with me on my recent trip to Yellowstone and it was fun to read about the history of the park and the sights we saw as we drove and hiked! Great for trip planning or to learn and dream about future travel.
Marilyn, Reference
Detectorists Series
DVD | Streaming
Nicole, Head of Tech Services
The Lost Apothecary by Sarah Penner
Book | Large Print | eBook | CD Audiobook | eAudiobook
New Pokemon Snap for Nintendo Switch
Videogame
Pat, Head of Reference
Bone Rattler by Eliot Pattison
Book
This is a mystery set in Colonial America which introduces the character of Scottish exile Duncan McCalum.
Patty, Administrative Assistant
Talk Bookish to Me by Kate Bromley
Book | eBook | CD Audiobook
I just finished this, it's a light summer read.
Samantha, Circulation
Only Time Will Tell by Jeffrey Archer
Book | Large Print | eBook | CD Audiobook | eAudiobook
I've been looking to try Jeffrey Archer and a patron recommended this series. I love generational sagas, and this book had some great twists. I'll definitely be reading the next one.
Arsenic and Adobo by Mia P. Manansala
Book | eBook
I'm new to the cozy mystery genre and have been trying out different series. When Lila Macapagal's ex-boyfriend dies after eating at Lila's family's restaurant, she must find who killed him before she herself gets blamed.