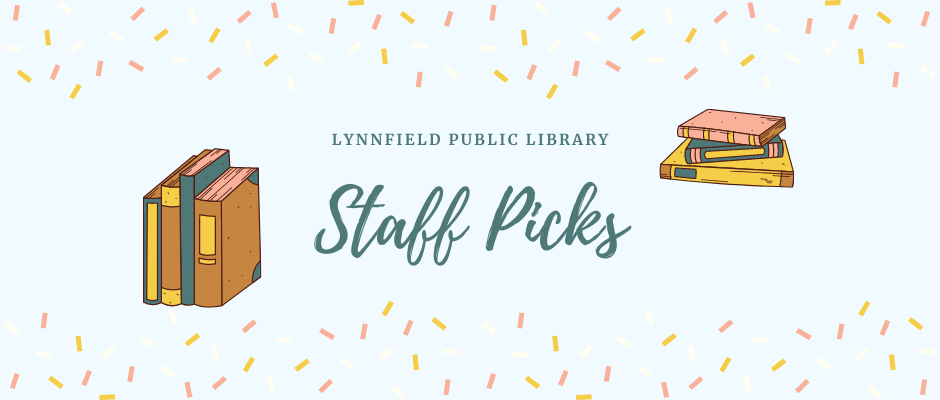 by Samantha Totman, Circulation Assistant
Throughout July, we've been reading like crazy for the library's Summer Reading Challenge! Below are our picks for all ages, in all formats, from books to music to movies to graphic novels.
Don't forget to log the books you read to help your team win our Summer Reading Challenge!
Abby, Assistant Director & Head of Adult Services
The Box in the Woods by Maureen Johnson
Book | eBook | eAudiobook
This series just keeps being awesome. Great mysteries, great banter, and characters you really come to love. As a true crime fan, these books really hit the spot. Oddly enough, I noticed that this book is dedicated to the author of my second pick!
Chase Darkness with Me by Billy Jensen
Book | eBook
Billy Jensen is the writer who helped finish Michelle McNamara's I'll Be Gone in the Dark after she passed away before finishing it, as well as an investigative journalist and victim's advocate. His passion (bordering on obsession) for solving cold cases and getting answers for families is fascinating, as is his plan to empower true crime buffs to do the same from home using social media. He talks about the cases he's worked on from high profile cases like the Allenstown Four and the Golden State Killer to smaller cases you've never heard of, but left just as much of a mark on the victim's family.
Alex, Youth Services
The Sand Warrior (5 Worlds Series) by Mark Siegel, Alexis Siegel, Xanthe Bouma, Boya Sun, Matt Rockefeller
Book | eBook 
This is a fantastic children's graphic novel. The art style is beautiful and the world building is wonderfully done. This series deals with some important topics in an approachable manner.
Amanda, Youth Services
Front Desk by Kelly Yang
Book | eBook | eAudiobook
An uplifting story that showcases the hardship of immigration along with the hope, community, and love it brings. Little acts of activism can make a big impact in your community.
Midsummer's Mayhem by Rajani LaRocca
Book | eBook
2 cups of baking, 3 tablespoons of magic, and a pinch of Shakespeare combine into an enchanting and lovely story of family, self-confidence, and mischief.
Barbara, Reference
Kindred by Octavia Butler
Book | eBook | CD Audiobook | eAudiobook
This was my Bookclub read for July and a first read for me by this author who adroitly transports a 20th century Black woman back to the antebellum South.
At Night All Blood is Black by David Diop
Book
This title tells the story of a 'Chocolat' soldier (what Senegalese soldiers were called who fought with the French in World War I) who descends into madness upon the killing and mutilation of his friend and fellow soldier. Winner of the Booker Prize for 2021.
The Librarian of Saint-Malo by Mario Escobar
Book | eAudiobook
This novel is about a French librarian who seeks to protect the library's rare book collection from the Germans who had occupied France while she struggles with not knowing the fate of her husband imprisoned in a German war camp.
The Cherokee Rose: A Novel of Gardens and Ghosts by Tiya Miles
Book
I regularly read more than one book at a time and am currently reading a non-fiction title by the same author (All That She Carried, which traces an artifact of Black culture through generations of one family). I wanted to learn more about this author's work and found this title, which tells the story of three women whose intertwined lives are connected via one women, whose diary found buried under a slave hut on a southern plantation details the history of Native American ownership of African slaves.
Christine, Circulation
The Invention of Wings by Sue Monk Kidd
Book | Large Print | eBook | CD Audiobook | eAudiobook
The two readers vividly bring to life the story of abolitionist/suffragist Sarah Grimke and her "handmaid"/slave Handful in Charleston from 1803-1838, taking us from their childhoods to middle age, as each tries to find her way in the cruel world of slavery.
The Bomber Mafia by Malcolm Gladwell
Book | Large Print | eBook |  eAudiobook
A short, engaging nonfiction look at tactics during the second World War when General Haywood Hansell advocated precision bombing of strategic targets and General Curtis LeMay promoted area bombing without consideration of civilian casualties.  Gladwell explains what happened when LeMay was ultimately put in charge in Japan.
Jen, Director
Sour by Olivia Rodrigo
Stream
I found a bunch of great albums on hoopla. I've been listening to Olivia Rodrigo, The Weeknd, and Dua Lipa.
Winter Counts by David Heska Wanbli Weiden
Book | eBook | CD Audiobook | eAudiobook
I'm currently listening to Winter Counts, a thriller by David Heska Wanbli Weiden. It's set on a Native American reservation, and it's about an enforcer trying to handle a drug problem on the reservation. It also has a ton of information about reservation life.
Katherine, Head of Circulation
The Box in the Woods by Maureen Johnson
Book | eBook | eAudiobook
The Bookstore on the Beach by Brenda Novak
Book | Large Print | eBook | eAudiobook
Apple Cider Slaying by Julia Ann Lindsay (Cozy mystery, 1st in series)
Book | Large Print | eBook | eAudiobook
A Killer Plot by Ellery Adams (Cozy mystery, 1st in series)
Book | Large Print | eBook | eAudiobook
One Taste Too Many by Debra Goldstein (Culinary cozy mystery, 1st in series)
Book | Large Print
Lauren, Head of Youth Services
The Tourist Attraction by Sarah Morgenthaler
Book | eBook | eAudiobook
There are currently three books in this series and I read them all this month – I couldn't put them down! Each focuses on a different romance and they're very sweet.
Mary, Circulation
The Island of Worthy Boys by Connie Hertzberg Mayo
Book
I just enjoyed this historical fiction novel set on Thompson island in Boston harbor in the late 1800's.
Nicole, Head of Tech Services
The Muppets Take Manhattan
DVD
In the Heights: Finding Home by Lin-Manuel Miranda, Quiara Alegría Hudes, and Jeremy McCarter
Book | eBook | eAudiobook
Pat, Head of Reference
Nottingham by Nathan Makaryk
Book
Samantha, Circulation
The Color of Law: A Forgotten History of How Our Government Segregated America by Richard Rothstein
Book | eBook | eAudiobook
This book presents clear and concise evidence of federal and state-required housing segregation in the 1930s-70s. Rothstein achieves his aim of proving that discrimination in our country is not only the act of prejudiced individuals but is also deeply embedded in our systems and laws.