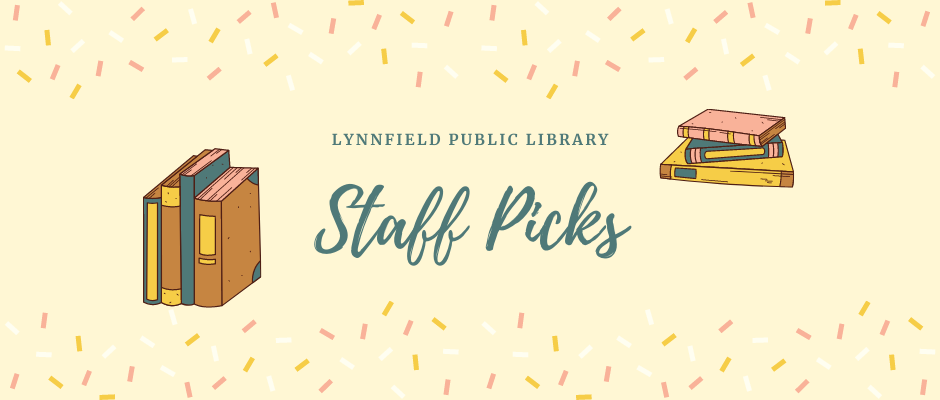 by Samantha Totman, Circulation Assistant
We read lots of stories in April–18 in fact. Plus we have our first double pick, where the same book was chosen by two different staff members! Follow the catalog links below to place holds on your favorite formats.
Alex, Youth Services
Amari and the Night Brothers by B. B. Alston (double pick!)
Book | eBook | CD Audiobook | eAudiobook
I read this book as an Audio book through Libby. It's a fantastic audio book and a wonderful story. If you are a fan of superpowers, magic, and mystery this is the book for you!
Amanda, Youth Services
Each Tiny Spark by Pablo Cartaya
Book | Large Print | CD Audiobook
This book is wonderfully done! Emilia is navigating so many different relationships: connecting with her military father, the expectations from her abuela and mother, how to work with ADD, and her role in her immigrant community.
The Binding by Bridget Collins
Book | Large Print | eBook | eAudiobook
A gothic tale where memories can be erased and bound within a book. I loved every minute of the romantic and haunting plot set in 19th century England. Please check the trigger warnings for this book before reading–there is graphic violence.
Barbara, Reference
The Ten Thousand Doors of January by Alix E. Harrow
Book | eBook | eAudiobook
Devotions by Mary Oliver
Book | eBook
Christine, Circulation
The Last Bookshop in London by Madeline Martin
Book
This book chronicles the early days of the war in London when Grace Bennett first moves to the city and starts working at Primrose Hill Bookshop while also volunteering for the Air Raid Precautions (ARP) service. Her resiliency and her newfound love of books are just what she and her community need to get through the worst of the air raids and relentless bombings. The descriptions of how neighbors support each other and cooperate in spite of fear and loss are vivid and moving. Storytelling, Grace learns, is a powerful means of coping with sadness and uncertainty.
Jen, Director
The Poisoner's Handbook by Deborah Blum
Book | Large Print | eBook | CD Audiobook | eAudiobook (OverDrive) | eAudiobook (hoopla)
We read The Poisoner's Handbook in our BookLover's nonfiction book group, and it was enjoyed by all. Part science, part true crime, part drama. Super fun to read. I listened to it on hoopla but I liked it so much I bought my own copy as a reference book for my writing collection.
Amari and the Night Brothers by B. B. Alston (double pick!)
Book | eBook | CD Audiobook | eAudiobook
This is a new addition to the magical education genre (does it have it's own genre?). Great middle read, and I'm excited to see what happens in the next book.
The Cousins by Karen McManus
Book | eBook | eAudiobook
I quite enjoyed The Cousins. A little bit of mystery with some teens (and adults, mostly) behaving badly. Set on an island off the coast of Massachusetts, it's got a some gothic undertones.
Katherine, Head of Circulation
Killer Content by Olivia Blacke
Book
Murder at Mabel's Motel by G.A. McKevett
Book
Lauren, Head of Youth Services
Ana on the Edge by A. J. Sass
Book
Marilyn, Reference
The Hill we Climb by Amanda Gorman
Book | eBook | eAudiobook
The Consequences of Fear by Jacqueline Winspear
Book | Large Print | eBook | CD Audiobook | eAudiobook
Mary, Circulation
The Warmth of Other Suns by Isabel Wilkerson
Book | eBook | CD Audiobook
Nicole, Head of Tech Services
Delish: Insane Sweets by Joanna Saltz
Book
Patty, Administrative Assistant
The Cutting Place by Jane Casey
Book
The Best Seller by Olivia Goldsmith
Book | eBook
Samantha, Circulation
Legendborn by Tracy Deonn
Book | eBook | CD Audiobook | eAudiobook
The Black Panther Party: A Graphic Novel History by Marcus Kwame Anderson & David F. Walker
Book