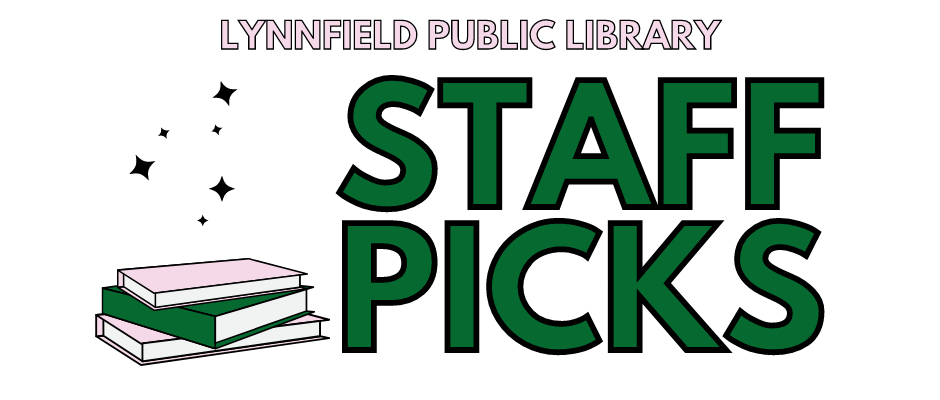 by Samantha Totman
Our February picks are in! From graphic novels to TV shows to YA fantasy series, we've got something for everyone.
You can place holds on these by clicking the links below, or you can find them in the Library by looking for the green Staff Picks label!
Abby, Acting Director and Head of Adult Services
What We Do in the Shadows Season 2
DVD
I finally started watching the new season of this show and it is consistently one of the funniest, most creative shows on television. I never would have expected four vampires (including one energy vampire) and one familiar to be so hilarious!
Alex, Youth Services
5 Worlds Book 5: The Emerald Gate by Mark Siegel & Alexis Siegel; illustrated by Xanthe Bouma, Matt Rockefeller & Boya Sun
Book
The Well of Ascension by Brandon Sanderson
Book
Barbara, Reference
The Lincoln Highway by Amor Towles
Book | Large Print | eBook | CD Audiobook | eAudiobook
I listened to the audiobook version of this novel. Emmet Watson is driven home from a juvenile work farm after the death of his father. Emmett's plan is to pick up his 8 year old brother and relocate to California to start a new life. Unbeknownst to him two other juveniles had hidden themselves in the trunk of the warden's car and their plans deter those of Emmett taking all of them in the opposite direction to New York. The novel spans tens days told from the different perspectives of each of the boys.
The Paris Bookseller by Kerri Maher
Book | eBook
An American, Sylvia Beach, living in Paris opens a bookstore, Shakespeare and Company, which is also a lending library. One of the patrons of both, the Irish novelist James Joyce, had written a novel, Ulysses, for which he struggles to find a publisher. Beach chooses to publish the novel herself for which she and her store face personal and professional consequences.
The Violin Conspiracy by Brendan Slocumb
Book | eBook | eAudiobook
Ray McMillian, a Black teenager growing up in North Carolina, finds a violin in his grandmother's attic. Musically talented, Ray is determined to become a professional violinist and compete in in the Tchaikovsky Competition. As his dreams are realized the violin is stolen just before the competition.
Kat, Head of Circulation
A Moment After Dark by Janet Raye Stevens
Book
Due or Die by Jenn McKinlay
Book
Kathe, Reference
The Every by Dave Eggers
Book | eBook | eAudiobook
This is a sequel to The Circle but can be read as a standalone… Imagine a world where the biggest tech companies merge into a monopoly and then start creating restraints on everyday life, questioning your choices constantly in every way for the good of the planet and humankind. It's dystopian and satirical but at the same time makes you wonder, could this ever happen?
Kristen, Youth Services
Fable by Adrienne Young
Book | eBook | CD Audiobook | eAudiobook
After being left on an island filled with thieves by her father, Fable is determined to survive and find her way back through the Narrows. Perfect for anyone who loved Tricia Levenseller's Daughter of the Pirate King or Disney's Pirates of the Caribbean.
Supernova by Marissa Meyer
Book | eBook | eAudiobook
The final book in the Renegades Trilogy. This epic conclusion is the battle of hero vs. villain where Nova finally must decide if she is a Renegade or an Anarchist.
Rule of Wolves by Leigh Bardugo
Book | Large Print | eBook
The second book in the King of Scars Duology and the latest title in Bardugo's popular Grishaverse series.
Marilyn, Reference
State of Terror by Louise Penny and Hillary Clinton
Book | Large Print | eBook | CD Audiobook | eAudiobook
Nathalie, Circulation
Act Like a Lady, Think Like a Man by Steve Harvey
Book | eBook | eAudiobook
For absolutely everyone, no matter what stage of your relationship you're at. You'll hear some truth that we all don't want to hear. Get some tips and you'll have some laughs. Hope you enjoy it.
No Time Like the Future: An Optimist Considers Mortality by Michael J. Fox
Michael J. Fox is sharing with us the ups and downs of his everyday battles. His determination to keep on going and his appreciation of the simple little things in life will make you think of what really matters.
Pat, Head of Reference
The Fellowship of the Ring
by J. R. R. Tolkien
Book
|
Large Print
|
eBook
|
CD Audiobook
|
eAudiobook
If you saw the recent library Facebook post – in which I may or may not have been pictured in an elvish cloak – you may be aware that the "Lord of the Rings" trilogy is one of my favorites! Whether you read it for the first time or the fourteenth, there is always more to discover in this classic tale of "Middle Earth."
Samantha, Circulation
Several People Are Typing
by Calvin Kasulke
Book
This book is written entirely in Slack channels and messages–I was laughing out loud!
When Two Feathers Fell From the Sky
by Margaret Verble
Book
|
eBook
This story is a little offbeat but I cared deeply about all of the characters. I highly recommend this one.
The Exiles by Christina Baker Kline
Book | Large Print | eBook | CD Audiobook | eAudiobook
This was our February choice for The Last Tuesday Book Club. I don't usually read historical fiction, but I learned so much and really enjoyed the plot of this book.