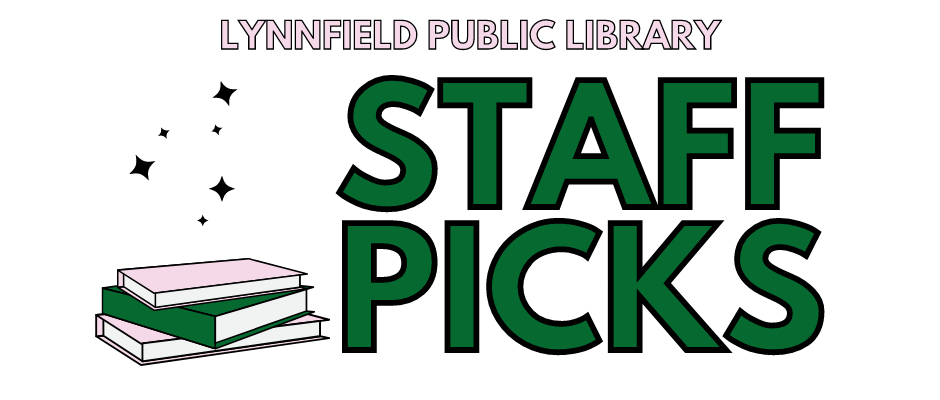 by Samantha Totman
Summer is in full swing, and we're loading up on titles for Summer Reading! Last year the librarians' team took second place in our all-ages competition, and we're hoping for first this time around. You can join in the fun on the children, teen, or adult teams as well! Each team has its own raffle for a prize bag at the end of the summer, so you don't want to miss out.
As always, you can place holds on these by clicking the links below, or look for the green Staff Picks labels throughout the library.
Abby, Director
Under the Whispering Door by TJ Klune
Book | eBook | eAudiobook | Playaway
While not quite as good as Klune's other book, The House in the Cerulean Sea, I really enjoyed the story of Wallace, a terrible human being, who dies and finds himself at a tea shop that is the last stop before his final journey to the afterlife. But after meeting Hugo the Ferryman, Mei the Reaper, and the other inhabitants of the tea shop, Wallace isn't so sure he's ready to cross over. I listened to this on audio and the narrator, Kirt Graves, does an excellent job.
Queens of Mystery
DVD | Streaming
This British mystery series is what would happen if Midsomer Murders and Pushing Daisies had a baby. I loved both seasons. The dynamic between the three aunts and their niece makes every episode entertaining and the mysteries are very compelling.
Lore Olympus by Rachel Smythe
Book
This graphic novel reimagines and modernizes the story of Hades and Persephone and is SO much fun. I flew through it and the wait for volume 2 is terrible.
Alex, Youth Services
Spy x Family by Tatsuya Endo
Book | eBook
Barbara, Reference
A Bend In The Stars by Rachel Barenbaum
Book | eBook | CD Audiobook | Playaway
I listened to the audiobook version of this author's first novel, read by Therese Plummer and Eduardo Ballerini. Set during the onset of World War I and a possible invasion by Germany, a young Russian physicist longs to better understand Einstein's Theory of Relativity. He travels to Kosovo to perform experiments during a solar eclipse. His sister, one of the first female surgeons in Russia, is concerned for his safety; when her brother disappears she tries to find him. Both deal with the anti-Semitism pogroms faced by Jewish citizens living in Russia who wish to eventually relocate in America.
Eternal by Lisa Scottoline
Book | Large Print | eBook | CD Audiobook | eAudiobook | Playaway
My second audiobook of the month is by Cassandra Campbell. Exploring the lives of three teenagers coming of age in Rome during Mussolini's reign in Italy, this novel tells the story of two young men in love with the same girl. Marco is illiterate but works his way up in Mussolini's government. Sandro lives in the Jewish Quarter struggling with his heritage and his place in Italy's future. And Elisabetta deals with a drunken father as she dreams of becoming a novelist while working in and eventually becoming the chef in one of Rome's restaurants. When the Jewish Quarter is invaded and all the residents are imprisoned Marco and Elisabetta try to save their friend. A story of friendship, love, food and war.
Bloomsbury Girls by Natalie Jenner
Book | eBook | CD Audiobook | Playaway
Set in post WWII London, this novel follows the lives of three female employees each trying to expand their roles in the century old bookstore run by men. All employees are required to honor fifty-one unbreakable rules set by the store manager. As the three try to change the rules they also interact with famous literary figures of the time – Daphne Du Maurier, the widow of George Orwell, Sonia Blair, Samuel Beckett and others. Rare books, women's history, and planning one's future make this an enjoyable read.
The Tobacco Wives by Adele Myers
Book | Large Print | eBook
My book club read for the month tells the story of a teenager abandoned by her mother as she struggles to help her aunt, a seamstress known for her gorgeous gowns worn at the many social events of the area. It also describes the development of MOMints, the new cigarette created for women to enjoy during their pregnancies. An interesting read about social class, greed, and finding one's way in a challenging environment for women.
Katherine, Head of Circulation
By Any Other Name by Lauren Kate
Book | eBook | eAudiobook
Book Lovers by Emily Henry
Book | Large Print | eBook | eAudiobook | Playaway
The Fool Dies Last by Carol Miller
Book
Kerry, Circulation
A Psalm for the Wild Built by Becky Chambers
Book | eBook | eAudiobook
Lauren, Head of Youth Services
Strong by Rob Kearney and Eric Rosswood, art by Nidhi Chanani
Book
The Civil War of Amos Abernathy by Michael Leali
Book | Playaway
Marilyn, Reference
The Sentence is Death by Anthony Horowitz
Book | Large Print | eBook | CD Audiobook | eAudiobook | Playaway
Mary, Circulation
Wish You Were Here by Jodi Picoult
Book | Large Print | eBook | CD Audiobook | eAudiobook | Playaway
Wish You Were Here has a great twist to it 3/4 of the way through the story.
Pachinko by Min Jin Lee
Book | Large Print | eBook | CD Audiobook | eAudiobook
Patty, Administrative Assistant
The Rose Code by Kate Quinn
Book | Large Print | eBook | CD Audiobook | eAudiobook
Samantha, Circulation
The Plot by Jean Hanff Korelitz
Book | Large Print | eBook | CD Audiobook | eAudiobook
We read this recently for The Last Tuesday Book Club. It was a real page turner!
Amari and the Night Brothers by B. B. Alston
Book | eBook | CD Audiobook | eAudiobook | Playaway
This is a frequent Staff Pick for Lynnfield librarians. I was resistant because it's middle grade, but if you love magic schools and mysteries, don't wait like I did!
A Lot Like Adiós by Alexis Daria
Book | eBook
I always have a romance in my book rotation. I loved that both main characters were well fleshed out in this one.