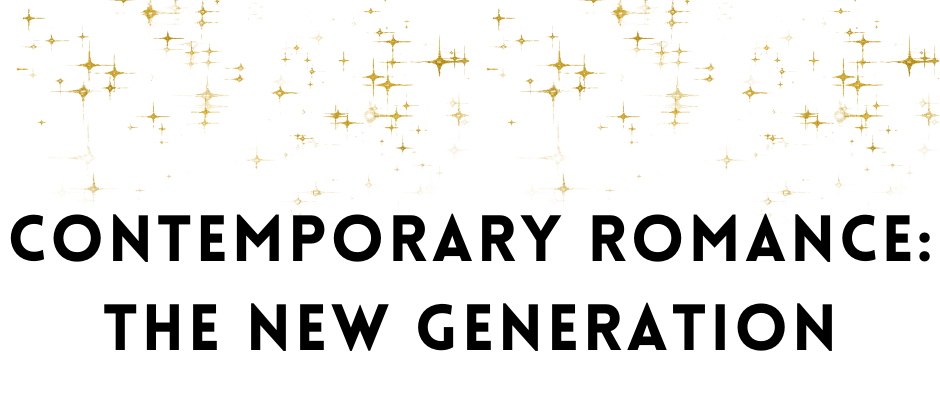 by Samantha Totman
You may have noticed that there's been an increase in a certain type of book on the Library's New Fiction shelves. Paperbacks with illustrated covers and bright backgrounds, clocking in around 350 pages, have been taking over. What might those be, you ask? We're here to answer!
Romance novels have exploded in publication over the past few years. Romance has always been a strong, bestselling subcategory of fiction, but throughout the pandemic, even more readers have flocked to the genre. And no wonder. Romance novels follow a consistent format that ends with a couple finding love. That format, though it sounds predictable, leaves authors and readers free to explore all sorts of possibilities in setting, characters, and storylines, including how the two main characters find each other and what obstacles they face throughout the story. Romance novel settings run the gamut of interest and hobbies–there are books set on cooking competition shows, books featuring royals, stories set in magical towns populated by witches, and more. Authors from all backgrounds are writing stories about main characters of color, of all sexual orientations and genders, and with physical and mental disabilities. And finally, though romance novels have varying degrees of explicit content, this new generation addresses consent head-on.
There's never been a better time to explore the genre. If you're a veteran reader, you're spoiled for choice, and if you are brand new to romance, there's absolutely something out there for you!
Romance is a huge genre, so this book list can only scratch the surface. Visit the Library or call us to get recommendations from the thousands of other romance titles out there–and make sure you let us know which ones were your favorites.
Featuring Characters of Color
A Lot Like Adiós by Alexis Daria
Book | eBook
While We Were Dating by Jasmine Guillory
Book | Large Print | eBook | eAudiobook
Accidentally Engaged by Farah Heron
Book | eBook
The Mismatch by Sara Jafari
Book
First Love, Take Two by Sajni Patel
Book | eBook
The Worst Best Man by Mia Sosa
Book | Large Print | eBook | eAudiobook
The Shaadi Set-Up by Lillie Vale
Book
Featuring Characters with Disabilities
The Language of  Cherries by Jen Marie Hawkins
Book
Get a Life, Chloe Brown by Talia Hibbert
Book | Large Print | eBook | eAudiobook
The Bride Test by Helen Hoang
Book | Large Print | eBook | CD Audiobook | eAudiobook
Only When It's Us by Chloe Liese
eAudiobook
Girl Gone Viral by Alisha Rai
Book | eBook | eAudiobook
A Lowcountry Bride by Preslaysa Williams
Book
Featuring LGBTQ+ Characters

The Charm Offensive by Alison Cochrun
Book | eBook | eAudiobook
Boyfriend Material by Alexis Hall
Book | eBook | eAudiobook
Read Between the Lines by Rachel Lacey
Book
Meet Me in Madrid by Verity Lowell
Book | eBook
One Last Stop by Casey McQuiston
Book | eBook | CD Audiobook | eAudiobook
Honey Girl by Morgan Rogers
Book | Large Print | eBook | eAudiobook
Something to Talk About by Meryl Wilsner
Book | eBook | eAudiobook
Featuring Unique Setups
It Happened One Summer by Tessa Bailey
Book | eBook | eAudiobook
Have We Met? by Camille Baker
Book
Spoiler Alert by Olivia Dade
Book | eBook | eAudiobook
Well Met by Jen DeLuca
Book | eBook
The Love Con by Seressia Glass
Book | eBook | eAudiobook
The Royals Next Door by Karina Halle
Book | eBook | eAudiobook
If The Shoe Fits by Julie Murphy
Book | eBook | eAudiobook
The Ex Hex by Erin Sterling
Book | Large Print | eBook | eAudiobook
The Seat Filler by Sariah Wilson
Book