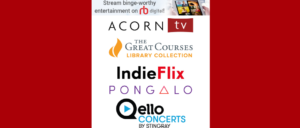 We've added a great new database for Lynnfield Library users!  RBdigital features unlimited access to streaming movies, television shows, concerts, and documentaries as well as interactive wellness courses and standardized test prep:
Entertainment:
Acorn TV – The best in British TV and film, including 80+ exclusive shows, Acorn TV originals, and fan favorites
IndieFlix – Award-winning comedies, documentaries, drama, animation, shorts, and classic TV
Pongalo – The largest collection of Spanish-language telenovelas and over 13,000 hours of Hollywood movies
Qello Concerts – The world's largest collection of full-length concerts and music documentaries
Education
The Great Courses Library Collection – Hundreds of videos on subjects ranging from photography to physics, astronomy to art, history to health, and more, The Great Courses Library Collection has courses on how to do it, how to learn it, or how it happened
Method Test Prep – Diagnostic evaluations, lessons, quizzes, and full-length exams help students strategically navigate the SAT and ACT by focusing on both content and test-taking techniques. Students also build their fundamental reading comprehension, grammar, and math skills
Health & Wellness
Learn It Live – a social learning platform for wellness and personal development
RBdigital also offers full color, interactive digital magazines for your enjoyment. The Lynnfield Library has a subscription to a collection of popular eMagazines.
These titles are available to all Lynnfield Library card holders at any time, with no limit.
Check out as many issues as you want and keep them in your account as long as you wish.
New issues are released simultaneously online with the print edition.
Back issues for titles are also available and will grow as new issues are released.
There are no checkout periods, no holds, and no limits on the number of magazines you can download at a time.