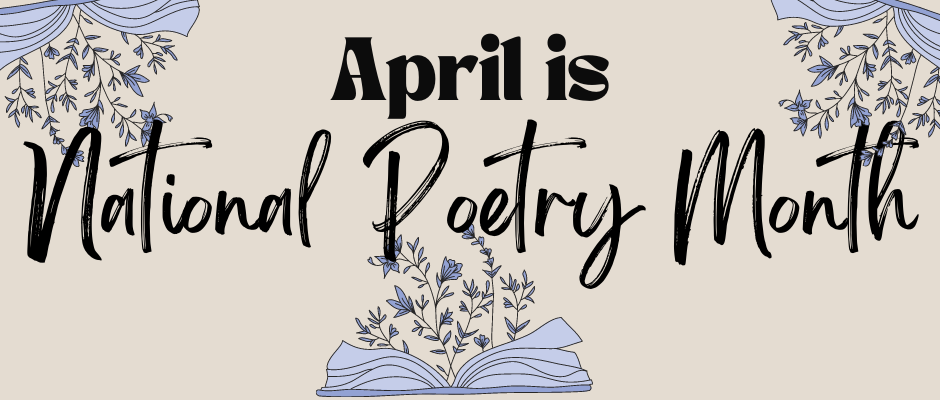 by Samantha Totman
April is National Poetry Month! Over the past few years we've been spoiled with an abundance of beautiful, thought-provoking, and fresh poems from emerging and established poets, so we're celebrating National Poetry Month with some collections published within the last 3 years.
There are far more titles published than we can include here, so be sure to stop by the Reference Desk if you'd like more suggestions.
Check these out by clicking on the links below or by visiting our display in the Reading Room of the Library! If the audiobook version of a title is available, we highly recommend trying that out: in most cases it's an opportunity to hear the poet read their own work.
Light for the World to See: a Thousand Words on Race and Hope by Kwame Alexander
Book | eBook | eAudiobook
Dearly: New Poems by Margaret Atwood
Book | CD Audiobook
What Kind of Woman: Poems by Kate Baer
Book
Owed by Joshua Bennett
Book | eBook | eAudiobook
Winter Recipes From the Collective: Poems by Louise Glück
Book
Living Nations, Living Words: An Anthology of First Peoples Poetry, collected by Joy Harjo
Book
Call Us What We Carry: Poems by Amanda Gorman
Book | Large Print | eAudiobook
Home Body by Rupi Kaur
Book | eBook
Everyday Mojo Songs of Earth: New and Selected Poems, 2001-2021 by Yusef Komunyakaa
Book
I Had a Brother Once: a Poem, a Memoir by Adam Mansbach
Book
Requeening: Poems by Amanda Moore
Book
A Different Distance: a Renga by Marilyn Hacker and Karthika Naïr
Book
If God Is a Virus: Poems by Seema Yasmin
Book