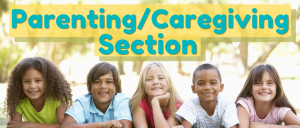 Parenting/Caregiving Section
by Amanda Landry
Parenting/Caregiving is hard, and there are so many resources available that sometimes you don't even know where to start. Well, here at Lynnfield Public Library we have a whole section dedicated to parenting/caregiving materials to get you started!
Located in the children's room, we have a variety of materials for all different stages of parenting/caregiving. This includes:
Newborn/infants

Toddlers

Elementary school ages

Tweens/middle school

Teenagers
Topics span across many needs of these age groups, including:
Potty training

Baby food

Sensory processing

Neurodiversity (Autism, ADHD)

Discipline

Gender and feminism

Divorce

Mental health 

School and learning

Adoption

Behavior

Death and grief 

LGBTQIA+ families and allyship 

Pregnancy

Sleep

Manners and consent



These materials are in different formats, too, including:
DVDs

Picture Books 

Nonfiction

Magazines
If you can't find what you're looking for in the Parenting/Caregiving section, both the children's and adult nonfiction sections house even more materials. 
A few call numbers to start your search are:
BF

– Child Development and Psychology 

HQ

– Parenting, Family, Life Skills, Gender

HV

– Adoption
Stop by Reference or the Children's Desk for help finding materials, check out our physical collection in the Children's Room, or find resources through the NOBLE catalog. Click here to browse the Parenting/Caregiving section online.