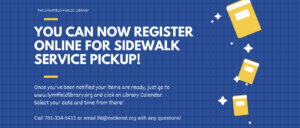 We've hopefully just made life a little bit easier!  You can now sign up online to reserve a pick up time for Sidewalk Service.  We've handled 1900 phone calls in 3 weeks and we are hoping to save you (and us!) a little time.  Here's how it works:
When you've been notified by phone, email, or text that your items are ready for pickup, visit our library calendar.  Scroll down until you see "Sidewalk Service" under the date you'd like to pick up.  We are still holding Sidewalk Service hours from 4-7 PM on Tuesdays and Thursdays and from 10-12 PM on Saturday.  Just click "Register" and enter your name, phone number, email address and select your pick up time.  You should get a confirmation email almost immediately.  We'll take it from there!
If you'd rather still sign up over the phone or email, please reach out!  We are in the building 9-7 Monday through Thursday, 9-5 on Friday, and 9-1 on Saturday to answer questions.  We are also happy to walk you through your first sign up – just give us a call at 781-334-5411 or email lfd@noblenet.org.
Thanks!