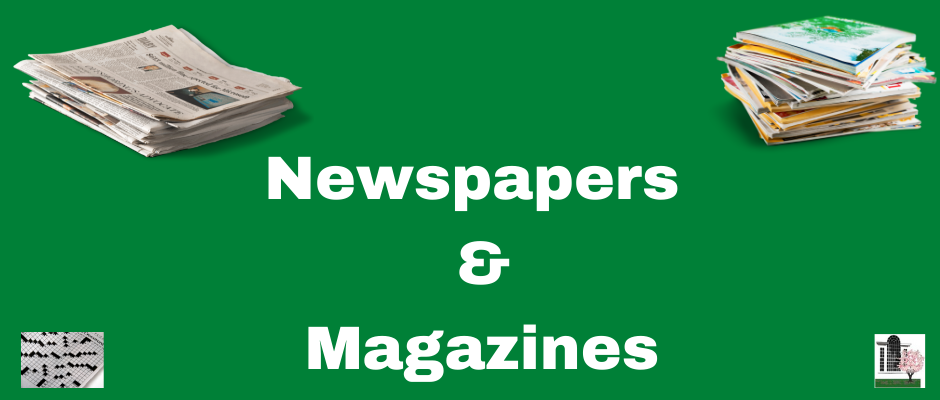 by Katherine Decker, Head of Circulation
In addition to the Library being back open are normal hours, newspapers are once again accessible for reading in the Library. We have a photocopier available if you would like to copy an important article or perhaps your favorite puzzle such as the Sunday NY Times Crossword.  We encourage you to come on in, grab a chair and catch up on the most recent news with your favorite newspaper.
The following newspapers are available:
Banker & Tradesman
Barrons
Boston Business Journal
Boston Globe
Boston Herald
Christian Science Monitor
Daily Evening Item (Lynn)
Fifty Plus
Financial Times
Investor's Business Weekly
Jewish Journal
Lynnfield & Peabody Weekly News
Lynnfield Villager
New York Times
Road Scholar
Salem News
USA Today
Wakefield Item
Wall Street Journal
Additionally, we have many magazines available for your reading pleasure. The most current issues are available for use in the Library, while back issues may be checked out for up to 3 weeks. Find a new recipe in Bon Appetit, catch on entertainment news with People Weekly, research a product in Consumer Reports, or get some architectural tips in Architectural Digest. Perhaps you are interested in some fashion ideas from Instyle or reading more news in Time? A complete list of our magazines can be found on our website here.