March 2022 Newsletter
A dose of news and happenings from your local library!
We are currently open regular hours and you will not need an appointment. Please call 781-334-5411 or email lfd@noblenet.org at any time with any questions. We look forward to hearing from you!
Access our online services anytime at lynnfieldlibrary.org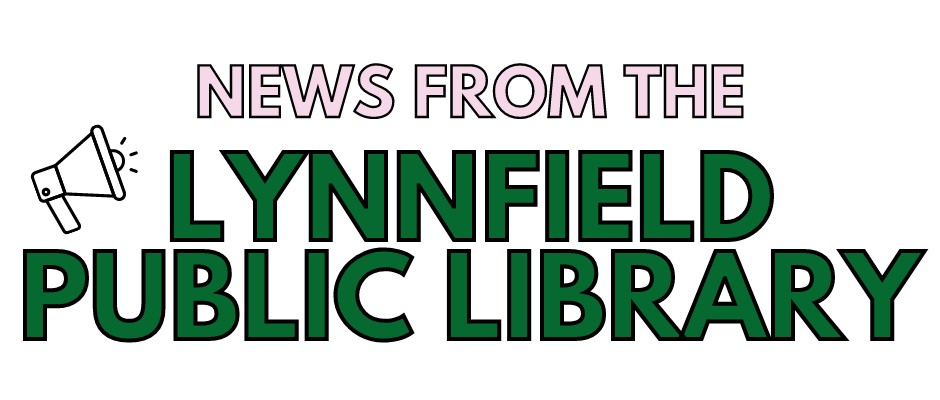 February is just about over, and we're excited to start thinking about spring weather (hopefully!). Thank you all so much for your participation in Love Your Library Month–your submissions will stay on the bulletin board outside the Children's Room throughout March.
You can see the details and sign up for the next few weeks' worth of programs below! And if there's someone you think would be interested in this newsletter, feel free to forward it to them, or send them the signup link here.
Knitting Club
Monday, February 28 at 2:30 pm
Love knitting, crocheting, or other fiber arts? Join us for a monthly Knitting Club on the last Monday for the month! We'll be meeting on the mezzanine to work on our own projects and chat. Registration is not required, but recommended.
Adults
Pokemon Coloring Club
Monday, February 28 at 3:30 pm
If you love Pokémon and coloring, this is the club for you! We'll have a variety of Pokémon coloring sheets and activity pages to enjoy in the Children's Room. Come have some fun and let us know which Pokémon is your favorite!
Registration recommended as space is limited. Walk-ins may be taken if space allows.
Ages 3-12
In-Person Story Time Returns in March!
Wednesday mornings at 10 am
Join us to sing songs and listen to stories! This story time will be held in the Meeting House across from the library.
Please note that indoor story time will have a capacity limit and attendees will be let inside in order of arrival (no registration). In the case of a warm day, we may decide to have story time on the common instead. You are welcome to bring a blanket or chair to sit on in case story time is held outside.
Story Time is recommended for children ages 5 and younger.
Teen & Tween Advisory Board
Thursday, March 3 at 2:30 pm
Do you have any ideas for teen programs we should have at the library? Are there any books you think we should be getting for our young adult collection? Join us to share these and any other thoughts or ideas you have! This program will be held in the Lynnfield Library Young Adult Area.
Registration required. The meeting will start 2:30, but teens coming from the high school are welcome to join after school gets out.
Ages 11-18
Decorate the Children's Room Door
Monday, March 7 at 3 pm
The children's room door needs some new artwork. Stop by from 3:00-4:30 to draw a picture that will be added to our door to make it beautiful!
Children of all ages are invited to participate in this event. Registration not required.
All ages
Coloring Club for Adults
Tuesday, March 8 at 2 pm
Coloring has been proven to help adults relax and unwind! Join us on the Library Mezzanine for some social time and calming coloring. Coloring pages and colored pencils will be provided. Registration is recommended but not required.
Adults
PJ Story Time
Wednesday, March 9 at 10 am
This is a special story time where you get to wear your pajamas! We'll read books about bedtime and sing lots of fun stories. Plus, we're participating in the Bruins PJ drive. Our PJ collection box will be with us at story time today, and we're hoping to collect lots of PJs for kids and teens (sizes 2T through adult M, new with tags). A PJ donation is not necessary to attend story time but we appreciate any donations you can contribute. If you aren't able to come to story time and would like to make a donation, the collection box will be in the children's room through March 31.
This story time will be held in the Meeting House across from the library.
*Please note that indoor story time will have a capacity limit and attendees will be let inside in order of arrival (no registration). In the case of a warm day, we may decide to have story time on the common instead. You are welcome to bring a blanket or chair to sit on in case story time is held outside.
Story Time is recommended for children ages 5 and younger.
Origami for Teens & Tweens
Tuesday, March 15 at 2:30 pm
Explore your creative side by creating origami. Paper and directions for a variety of origami projects will be provided.
No registration necessary. Supplies will be available from 2:30-4:00; come for the whole time or just stop in to make one design!
Ages 11-18
Read to a Dog
Wednesday, March 16 at 3:30 pm
Mitzi, a trained therapy dog, will be visiting the Lynnfield Library hoping to hear some great stories! Children may sign up for a 10-minute session and choose a book or selection from a book to read to her. Mitzi is a patient listener, so reading to her is good practice for readers who are still struggling a bit as well as pros. Program geared towards children in grades K-4. Space is limited to 6 children.
When registering, please select an available time. Time to read to Mitzi is limited, so please arrive early if you need time to pick out a book. We may not be able to accept children who are late to their appointment time. If you register and can no longer attend, please email Lauren at lfox@noblenet.org to cancel.
If registration is full, please email lfox@noblenet.org to join the waitlist. Mitzi comes by fairly often, and anyone on the waitlist will get priority for Mitzi's next visit!
Children Grades K-4
Slow Flow Yoga
Thursdays at 12 pm
60 minutes yoga flow – this class will match breath with movement to bring peace of mind while simultaneously building core strength and stability.
Yoga mat and/or towel suggested, along with a water bottle. Register with a valid email to receive the link to join the class. You will receive an email with login information a half hour before the class begins.
Instructor: Tammy Syrigos Irrera
This program was generously funded by the Friends of the Lynnfield Library.
Adults and Teens
15th Annual Boston Bruins Pajama Drive through March 31
We are taking part in the 15th Annual Bruins PJ Drive! Donate PJs for children and teens in the Lynnfield Library children's room. Pajamas should be brand new, appropriate for all seasons, and not include any family references, holiday references, or town names. Sizes 2T through adult medium are being collected. Help a child feel warm and comfortable by bringing in a pair of PJs now through March 31!
Friends of the Lynnfield Library Annual Appeal
January is FOLL Annual Appeal time! We invite ALL those who use and love the Lynnfield Public Library to renew your membership, or join for the first time.
What does being a "member" mean? We are glad you asked!
Did you know that much of what you do and see at the library is not paid for out of the library's budget, but from funds raised by FOLL? Have you participated in a program? Used a library pass? Used the printer? All FOLL funded!
Being a FOLL member is a way to support the library – it can be as simple as the donation provided by your membership fee, volunteering at one of our book sales, or getting involved with the FOLL Board.
To find out more, check out our membership page and join us today!
We've Updated our Fiction Express List!
by Spencer Stevens, Head of Tech Services
Do you want the latest fiction by your favorite authors? Would you like us to reserve those titles for you automatically so you don't have to remember?
Fear not! The Lynnfield Library offers automatic holds for your favorite author's latest releases with our Fiction Express service!
Choose your favorite fiction and mystery authors from a list of more than eighty authors. Then, we'll place a hold for you on their upcoming releases. While we cannot guarantee how close to the top of the list you'll be, it's one less thing for you to remember.
ANNOUNCING: NEW AUTHORS! We've added eight popular fiction authors for you to choose:
Fredrik Backman (author of A Man Called Ove and Beartown
Marie Benedict (author of The Only Woman in the Room and The Personal Librarian
Lee Child (author of the Jack Reacher series)
Louise Erdrich (author of The Round House and The Night Watchman)
Jasmine Guillory (author of The Proposal and Royal Holiday)
Kristin Hannah (author of The Nightingale and The Great Alone)
Liane Moriarty (author of Big Little Lies and Nine Perfect Strangers)
Louise Penny (author of the Chief Inspector Armand Gamache mysteries)
If you're already enrolled in Fiction Express, let us know if you would like to be added to the list for any of these newly added authors!
Let us make your life easier – click on this link and complete the form! We'll add your name to the waiting list and let you know when the books are ready for you to pick up! You can choose as many authors as you like.
Want to get involved?  Join the Friends of the Lynnfield Library, an independent non-profit organization that supports the many programs
and activities of the Library both financially and through
hundreds of volunteer hours each year!
Friends Website
Friends Facebook Page