A dose of news and happenings from your local library!
We are currently open regular hours and you will not need an appointment. Please call 781-334-5411 or email lfd@noblenet.org at any time with any questions. We look forward to hearing from you!
Access our online services anytime at lynnfieldlibrary.org.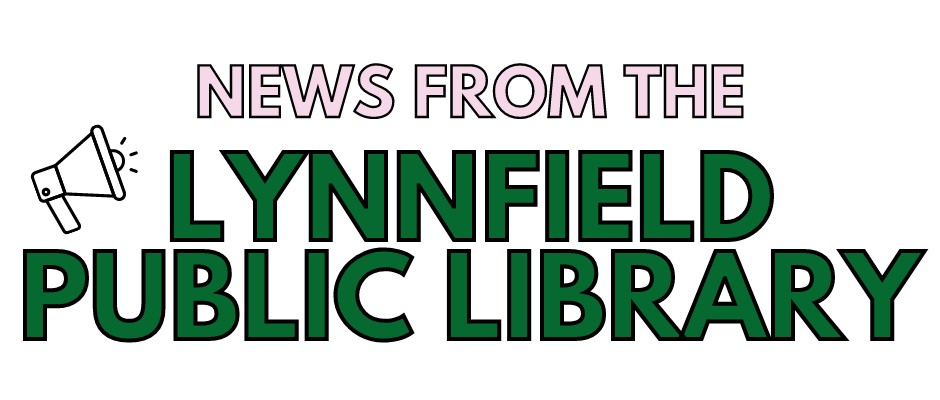 September is almost here! We wrapped up a very successful and fun Summer Reading program, and we're ready to get back into the swing of the school year. Virtual Yoga is back, with a few new classes mixed in, and Story Time has returned to Wednesday mornings now that our summer programming at MarketStreet has wrapped up for the year. Don't miss the Friends of the Library's Chipotle Fundraiser on August 30–more details below.
Read on for even more programs and activities!
Rescheduled: Magic Fred
Tuesday, August 30 at 11:30 am
Join us for one more time before school starts with Magic Fred at MarketStreet! He will wow you with his magic tricks, comedy, and a whole lot of fun!
This comedic magic show is aimed towards children up to 10 years old but this family show is open to older kids as well. Magic Fred will be performing on the MarketStreet green. You are welcome to bring a blanket to sit on. No registration required. This program was generously funded by the Friends of the Lynnfield Library.
This program is geared towards children but all ages are welcome to attend.
The Last Tuesday Book Club
Tuesday, August 30 at 6 pm
The Last Tuesday Book Club is the Lynnfield Library's fiction book group! We are reading Circe by Madeline Miller for August. Copies are available for pickup at the Library's Circulation desk, and we will be meeting on the Library Mezzanine. Registration is recommended but not required.
Adults
Author Talk: Robin Yuan
Wednesday, August 31 at 6:30 pm
Join us on the Library Mezzanine for a special author talk with author Robin Yuan for his historical novel 
Red Bishop
, a very close retelling of the story of his grandfather, the last presiding Bishop of the Anglican Church in China. Yuan will be doing a reading, as well as selling and signing copies of his novel, which charts the protagonist Chen's intricate journey, ranging from his early childhood years and his conversion to Christianity as a schoolboy at an Anglican missionary school to his death under house arrest decades later, showing a more nuanced picture of the Cultural Revolution than the version found in propaganda periodicals of the time.
Kirkus Reviews stated of Yuan's work that, "although Yuan reminds his readers in a postscript that he's writing fiction, the book gives the strong impression of being the best biography Chen will ever get. The novel's blending of personalities and the seething politics of 20th-century China is seamlessly done, and its heroic portrait of its central character is always admiring but never saccharine. A detailed and moving tale about a heroic bishop in atheist China."
Registration is recommended but not required.
Adults
Coloring Club for Adults
Tuesday, September 6 at 2 pm
Coloring has been proven to help adults relax and unwind! Join us on the Library Mezzanine for some social time and calming coloring. Coloring pages and colored pencils will be provided. Registration is recommended but not required.
This program was generously funded by the Friends of the Lynnfield Library.
Adults
Decorate the Children's Room Door
Tuesday, September 6 at 3 pm
The Children's room door needs some new artwork. Stop by from 3:00 – 4:30 PM to draw a picture that will be added to our door to make it beautiful!
Children of all ages are invited to participate in this event. Registration not required.
All Ages
Story Time
Wednesday mornings at 10 am
Join us to sing songs and listen to stories! In September, Story Time will move back to its usual Wednesday mornings, now that our summer programs at MarketStreet have concluded.
This story time will be held outside on the Lynnfield Town Common if the weather is nice. You are welcome to bring a blanket or chair to sit on. In case of bad weather, story time will be held in the Meeting House across from the library.
*Please note that indoor story time will have a capacity limit and attendees will be let inside in order of arrival (no registration). Outdoor story time does not have a capacity limit.
Story Time is recommended for children ages 5 and younger.
Virtual Yoga
Thursdays at 12 pm
Join us for a 60-minute yoga flow! Instructor Tammy Syrigos Irrera will lead us through yoga poses over Zoom. Register with a valid email to receive the link to join the class. You will receive an email with login information a half hour before the class begins.
September 8: Virtual Yoga Flow & Sculpt
September 15 & 22: Virtual Yoga
Septemebr 29: Virtual Chair Yoga
This program was generously funded by the Friends of the Lynnfield Library.
Adults and Teens
Y2K Beaded Bracelets
Thursday, September 8 at 2:30 pm
Create your own Y2K inspired beaded bracelet! We'll have a variety of beads including letter and clay beads for you to choose from. Stop by the Mezzanine any time from 2:30 – 3:30 pm to make your own bracelet.
Registration is recommended but not required.
Ages 11-18
Pipe Cleaner Bracelets
Saturday, September 10 at 11 am
Did you know you can make a beaded bracelet using a pipe cleaner? Come try it out! Choose from a variety of bead colors and styles and string them onto a pipe cleaner to create a fun, unique bracelet. These are perfect to keep and wear or to give as a gift!
Register to reserve your spot. Walk-ins will be taken if space allows.
Ages 3-10
Rosie the Riveter and the Popular Culture of World War II
Wednesday, September 14 at 6:30 pm
How one 'Rosie the Riveter' poster won out over all the others and became a symbol of female empowerment! This program, presented by historian JoAnn Tufo, explores the women of the "Greatest Generation" who answered the call to action during World War II. Known as "Rosie the Riveters," these women entered the work force in unprecedented numbers and changed the course of history for their gender and for the world. In America, this went hand in hand with cultural changes that included rationing of goods, war bond rallies and so much more.
This program will be held on Zoom. Register to receive the login information 30 minutes prior to the program start time.
This program is generously sponsored by the Friends of the Lynnfield Library.
Adults
Friends of the Library Chipotle Fundraiser
Tuesday, August 30 at 4 pm
It is the night before school begins again, don't feel like cooking or just want to do something special? We've got the perfect solution to mix things up, give yourself a break, and raise money for the 
Friends of the Lynnfield Library
 (FOLL)!
Treat yourself to dinner at Chipotle at MarketStreet on (Taco!) Tuesday, August 30 between 4-8 pm, and a generous portion of the sale will go directly to support FOLL and the great programs at the Lynnfield Public Library. You can visit in person and show the flyer linked here (either printed out or on your phone screen), or order online for pickup and use the code P26MNKB (note: delivery orders will not count toward the fundraiser). You can also pick up a flyer at the Library circulation desk!
Latest Book Lists & Blog Posts
Want to get involved?  Join the Friends of the Lynnfield Library, an independent non-profit organization that supports the many programs and activities of the Library both financially and through hundreds of volunteer hours each year!