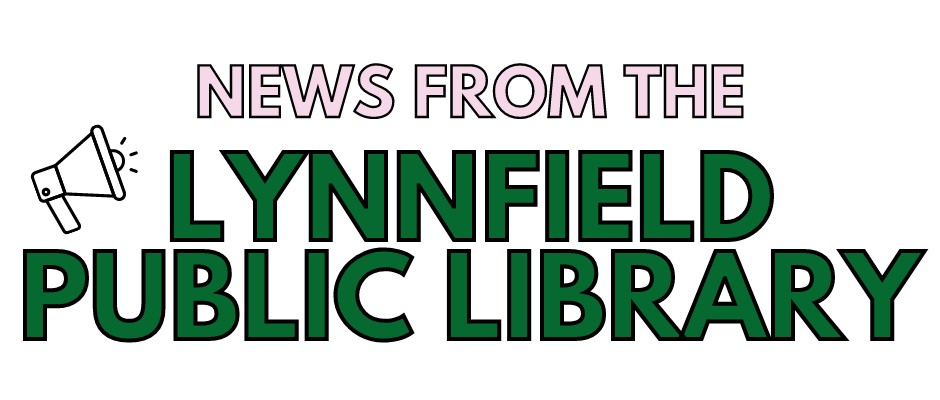 Welcome to our first official newsletter of October! In addition to our usual programming over the next few weeks, we are especially excited for our Friends of the Library's Fall Book Sale on Saturday, October 15. More details are below–we hope to see you there!
Nature Fairy Wands
Tuesday, October 11 at 3:30 pm
Nature Fairy Wands are a super fun craft to make, and then you can play with them when you're done! We'll be making these wands in the Children's Room.
Registration required as supplies are limited.
Ages 5-12
Read to a Dog
Wednesday, October 12 at 3:30 pm
Mitzi, a trained therapy dog, will be visiting the Lynnfield Library hoping to hear some great stories! Children may sign up for a 10-minute session and choose a book or selection from a book to read to her. Mitzi is a patient listener, so reading to her is good practice for readers who are still struggling a bit as well as pros. Program geared towards children in grades K-4. Space is limited to 6 children.
When registering, please select an available time. Time to read to Mitzi is limited, so please arrive early if you need time to pick out a book. We may not be able to accept children who are late to their appointment time. If you register and can no longer attend, please email lfdyouth@noblenet.org to cancel.
If registration is full, please email lfdyouth@noblenet.org to join the waitlist.
Children Grades K-4
New Leaves Folk Duo
Wednesday, October 12 at 6:30 pm
Join us for a concert on the Lynnfield Common with New Leaves, a local folk duo!
New Leaves is an Americana duo consisting of Cameron Sutphin & Mary Hastings. They met in high school, became friends starting the band Wing & A Prayer with two other classmates, before venturing out on their own and becoming a duo. Cameron & Mary have had the privilege to share the stage with many performing artists including national touring artist Drew Kelly, Mark Mandeville and Raianne Richards, as well as Emily Ann Roberts, Season 9 runner-up on The Voice. Cameron & Mary perform original material and classic country and folk cover songs.
All Ages
Virtual Yoga with Tammy Syrigos Irrera
Thursdays at 12 pm
Join us for a 60-minute yoga flow! Instructor Tammy Syrigos Irrera will lead us through yoga poses over Zoom. Register with a valid email to receive the link to join the class. You will receive an email with login information a half hour before the class begins.
October 13: Virtual Yoga Flow & Sculpt
October 20: Virtual Yoga
October 27: Virtual Chair Yoga
This program was generously funded by the Friends of the Lynnfield Library.
Adults and Teens
Friends of the Lynnfield Library Fall Book Sale
Saturday, October 15 at 9 am
Join us for the annual fall Friends of the Lynnfield Library Book Sale! Come to and treat yourself and your family to selections from an impressive array of books and DVDs.
The book sale will be held on the Common but in the event of rain will move inside the Lynnfield Library. Venmo will be accepted for payment. Visit foll.org for more information.
In preparation for the sale, the Friends are no longer accepting donations. You are welcome to hold on to your books until we begin accepting donations again for our Spring sale!
A Costume for Chippy!
Monday, October 17 at 3:30 pm
Our friend Chippy the Chipmunk is looking for the perfect Halloween costume. Could you help him out? Come by the Children's Room to create the perfect cosutme for Chippy using crayons, markers, color paper, feathers, pom-poms and more!
No registration required.
Children of All Ages
Intro to Tai Chi and Chi Gong with Patty Fabbri
Tuesday, October 18 at 12 pm
Join Patty Fabbri for a special 45 minute introduction to Tai Chi and Qi Gong in the Lynnfield Meeting House! Register here.
Adults
Book Lovers
Thursday, October 20 at 6:30 pm
Join us for some great nonfiction book conversation – newcomers are always welcome! In October, we will be reading The Feather Thief: Beauty, Obsession, and the Natural History Heist of the Century by Kirk W. Johnson. Click this link to place the book on hold or pick one up at the Circulation Desk. We will be meeting in person on the Mezzanine. Registration is recommended but not required.
Adults
Pretty Paper Pumpkins
Saturday, October 22 at 11 am
Stop by the Children's Room to make an easy paper strip pumpkin for fall. Materials for the craft will be available between 11:00 AM – 1:00 PM. No registration required.
Children of All Ages
Knitting Club
Monday, October 24 at 2:30 pm
Love knitting, crocheting, or other handicrafts? Join us for a monthly Knitting Club! We'll be meeting on the Mezzanine to work on our own projects and chat. Registration is not required, but recommended.
Adults
The Last Tuesday Book Club
Tuesday, October 25 at 6 pm
The Last Tuesday Book Club is the Lynnfield Library's fiction book group! Our October book is True Biz by Sara Nović. Copies are available for pickup at the Library's Circulation desk. 
Registration is recommended
 but not required.
Adults
Story Time
Wednesday mornings at 10 am
Join us to sing songs and listen to stories! This story time will be held outside on the Lynnfield Town Common if the weather is nice. You are welcome to bring a blanket or chair to sit on. In case of bad weather, story time will be held in the Meeting House across from the library.
*Please note that indoor story time will have a capacity limit and attendees will be let inside in order of arrival (no registration). Outdoor story time does not have a capacity limit.
Story Time is recommended for children ages 5 and younger.
Climate Justice: Addressing the Disproportionate Impacts of Climate Change with Nia Keith
Wednesday, October 26 at 7 pm
Climate change – the number one existential threat to humanity and the planet – is often described as a scientific problem with environmental impacts, but it's more than that. Where do social justice and climate change overlap? How does identity (race, ethnicity, gender, etc.) influence the way a person is impacted by climate change? And how can we, as concerned community members, fight climate change in a way that is just and equitable for all?
Join Nia Keith, social justice educator and climate activist, as we examine the connection between societal inequities and climate impacts. Nia will share some of the most dynamic climate justice initiatives today, led by youth and People of Color around the world. Finally, we'll discuss ways we can all take climate action in our communities and beyond.
Please register with a valid email address to receive the Zoom link 30 minutes prior to start time. This program is generously funded by the Friends of the Library.
Adults
Save the Date: Lynnfield Rotary Turkey Trot
Sunday, November 20 at 8:30 am
This year's Turkey Trot, held by the Lynnfield Rotary Club, will be held on Sunday, November 20, starting at the Lynnfield Meeting House. Registration begins at 7:30 and the race will start at 8:30. To register, visit 
lynnfieldrotary.com
.