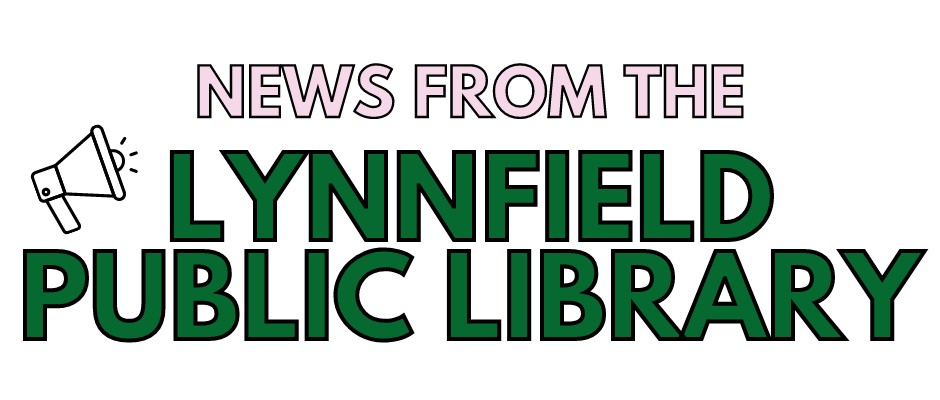 Welcome to the second newsletter of October! In addition to our usual programming over the next few weeks, we are excited to welcome Nia Keith, a social justice educator and climate activist, to the Lynnfield Community.  Read more about her program, and the rest of our fall events, below.  See you at the Library!
Knitting Club
Monday, October 24 at 2:30 pm
Love knitting, crocheting, or other handicrafts? Join us for a monthly Knitting Club! We'll be meeting on the Mezzanine to work on our own projects and chat. Registration is not required, but recommended.
Adults
The Last Tuesday Book Club
Tuesday, October 25 at 6 pm
The Last Tuesday Book Club is the Lynnfield Library's fiction book group! Our October book is True Biz by Sara Nović. Copies are available for pickup at the Library's Circulation desk. 
Registration is recommended
 but not required.
Adults
Story Time
Wednesday mornings at 10 am
Join us to sing songs and listen to stories! This story time will be held outside on the Lynnfield Town Common if the weather is nice. You are welcome to bring a blanket or chair to sit on. In case of bad weather, story time will be held in the Meeting House across from the library.
*Please note that indoor story time will have a capacity limit and attendees will be let inside in order of arrival (no registration). Outdoor story time does not have a capacity limit.
Story Time is recommended for children ages 5 and younger.
Climate Justice: Addressing the Disproportionate Impacts of Climate Change with Nia Keith
Wednesday, October 26 at 7 pm
Climate change – the number one existential threat to humanity and the planet – is often described as a scientific problem with environmental impacts, but it's more than that. Where do social justice and climate change overlap? How does identity (race, ethnicity, gender, etc.) influence the way a person is impacted by climate change? And how can we, as concerned community members, fight climate change in a way that is just and equitable for all?
Join Nia Keith, social justice educator and climate activist, as we examine the connection between societal inequities and climate impacts. Nia will share some of the most dynamic climate justice initiatives today, led by youth and People of Color around the world. Finally, we'll discuss ways we can all take climate action in our communities and beyond.
Please register with a valid email address to receive the Zoom link 30 minutes prior to start time. This program is generously funded by the Friends of the Library.
Adults
Virtual Yoga with Tammy Syrigos Irrera
Thursdays at 12 pm
Join us for a 60-minute yoga flow! Instructor Tammy Syrigos Irrera will lead us through yoga poses over Zoom. Register with a valid email to receive the link to join the class. You will receive an email with login information a half hour before the class begins.
October 27: Virtual Chair Yoga
Stay tuned for the November yoga schedule!
This program was generously funded by the Friends of the Lynnfield Library.
Adults and Teens
Teen/Tween Button Making – Halloween Edition
Thursday, October 27 at 2:30 pm
Show off your style by making some buttons. We'll provide some premade Halloween themed designs or you can make your own. Create your own by drawing or by filling out a custom button form. Using the form, Ms. Alex will help you to make your design come to life on Canva.
Our button maker will be set up until 3:45, so stop by anytime from 2:30-3:45 to make a button. Registration recommended but walk ins also accepted. This program will take place upstairs on the Mezzanine.
Ages 11-18
Children's Button Making Bonanza – Halloween
Monday, October 31 at 3 pm
Show off your style by making some buttons! Draw anything you'd like and turn your design into a button using a button maker. We'll also have some special spooky designs to celebrate Halloween!
Our button maker will be set up until 4:00, so stop by anytime from 3:00-4:00 to make a button.
Register to reserve your spot and receive reminders. Walk-ins are also welcome if space allows.
Ages 3-10
Going to Extremes: A Travel Journalist's Tour of the Globe's Most Adventurous Outposts
Wednesday, November 2 at 7 pm
An award-winning adventure travel journalist for The Washington Post, The Los Angeles Times, National Geographic Kids, and The Boston Globe, Peter Mandel hunts his stories and photos in the world's far corners, including Antarctica, India, Egypt, Patagonia, the fjords of Norway, the mountain pathways of Japan, and the deserts of Africa. The author of ten books, Mandel will show slides of his most extreme travel experiences: surviving a coup in Ecuador, visiting a 'city' of penguins at the South Pole, fishing for piranha on Brazil's Rio Negro, floating in the Goodyear Blimp, sailing on an Arctic icebreaker, camping in the African bush, and kayaking to the Statue of Liberty. He'll deliver the scoop on how travel turns to prose on today's magazine and newspaper pages.
This event will be held on Zoom. Please register in advance to receive the link 30 minutes prior to start time.
This program is generously funded by the Friends of the Lynnfield Library (foll.org).
All Ages
Bead Break- Teens/Tweens
Thursday, November 3, 2:30-3:30 PM
Take a break from studying and make a beaded creation! This is a great time to make a new bracelet or a phone strap to match your case. We'll have a variety of beads available including animal clay beads, perler beads, pony beads and more! Supplies will be set up on Mezzanine between 2:30 – 3:30 PM.
Ages 11-18. Registration recommended but not required.
Read to a Dog
Wednesday Nov 9, 2022, 3:30-4:30
Mitzi, a trained therapy dog, will be visiting the Lynnfield Library hoping to hear some great stories! Children may sign up for a 10-minute session and choose a book or selection from a book to read to her. Mitzi is a patient listener, so reading to her is good practice for readers who are still struggling a bit as well as pros. Program geared towards children in grades K-4. Space is limited to 6 children.
Register to reserve a time. Time to read to Mitzi is limited, so please arrive early if you need time to pick out a book. We may not be able to accept children who are late to their appointment time. If you register and can no longer attend, please email lfdyouth@noblenet.org to cancel.
If registration is full, please email lfdyouth@noblenet.org to join the waitlist.
Historian Nicole Eustace
Wednesday, November 9 at 7:00 PM
*Please register at this link with a valid email to join us.
Join us for a special virtual author talk with Historian Nicole Eustace. This event will be held virtually, in collaboration with several other libraries, the Organization of American Historians, and the Friends of the Lynnfield Library.
The Lynnfield Public Library has purchased an Optelec ClearView magnifier for the use of our vision-impaired patrons. The ClearView machine magnifies and enhances text, objects, and images.  The reading table allows patrons to easily and smoothly move texts and objects beneath the video magnifier for optimal viewing.
The machine is located adjacent to the photocopy machine in the main reading room of the library on the first floor.  Please come in and give it a try: there is a quick guide located next to the machine, and a full manual at the reference desk.  The reference librarian will be happy to get you started!
Contact Pat Kelly at 781-334-5411 or kelly@noblenet.org for more information.
Latest Book Lists & Blog Posts