November 2021 Newsletter
A dose of news and happenings from your local library!
We are currently open regular hours and you will not need an appointment. Please call 781-334-5411 or email lfd@noblenet.org at any time with any questions. We look forward to hearing from you!
Upcoming Holidays & Closings:
November 24: Early closure at 3pm
November 25: Thanksgiving
Access our online services anytime at lynnfieldlibrary.org
Several years ago the Lynnfield Library stopped charging fines for our books and CD audiobooks, and when the pandemic began we extended that to all of our items. We are now excited to announce that, moving forward, we will be permanently fine-free on our entire DVD and video game collections. These items will also be available for 3-week loan periods.
While we will not be charging fines on these, patrons will still need to pay replacement costs for damaged or lost items. Please also note that items from other libraries are subject to their fine policies.
Additionally, we have initiated a "First Fifty Free" policy for prints. When printing or photocopying, your first 50 pages are free of charge. Starting on the 51st page, we'll charge our normal rates, which are 15 cents for black & white and 25 cents for color, double sided pages, or 11×17 pages. Donations are always welcome for copies and prints, as those funds go to the Friends of the Library and support our programs.
We are committed to creating an equitable environment for our community to the best of our ability. We would like to thank the Town, our Trustees, and the Friends of the Library for their support in these endeavors.
Story Time
Monday mornings at 10 am
Story Time will be held on Monday mornings in November! Join us to sing songs and listen to stories. This story time will be held in the Meeting House across from the library. You are welcome to bring a blanket or chair to sit on during story time.
*Please note that indoor story time will have a capacity limit and attendees will be let inside in order of arrival (no registration). In the case of a warm day, we may decide to have story time on the common instead.
Story Time is recommended for children ages 5 and younger.
Online Mindfulness Workshop with Vasundhra Ganju
Tuesday, November 16 at 4 pm
"The most precious gift we can offer others is our presence. When mindfulness embraces those we love, they will bloom like flowers." – Thich Nhat Hanh
"With mindfulness, you can establish yourself in the present in order to touch the wonders of life that are available in that moment." – Thich Nhat Hanh
Please join us for a restorative virtual Mindfulness Workshop on Zoom! This one hour workshop will consist of education about various mindfulness practices to cope with the stresses of everyday life in these unprecedented times. We will learn about and practice interventions to help us become more mindful of the world around us and better cope with our emotions. You will engage in guided mindfulness meditation techniques and be provided with resources to practice at home. Please register with a valid email to receive login information. You will receive an email with login information a half hour before the class begins.
Facilitated by: Lynnfield resident Vasundhra Ganju, MA, ALM
Professor of Psychology and Business,
Endicott College, Beverly
Pine Manor College, Brookline
Adults
Massachusetts Must Read Authors — Michelle Bowdler
Tuesday, November 16 at 7 pm
Join us for a special virtual event! Author Michelle Bowdler was recently recognized by the Massachusetts Center for the Book as one of Massachusetts's must-read authors of the year. Join Bowdler for a presentation on her critically acclaimed book, "Is Rape A Crime?: A Memoir, An Investigation, and A Manifesto" via Zoom.
About The Book: Award-winning writer and public health executive Michelle Bowdler's memoir indicts how sexual violence has been addressed for decades in our society, asking whether rape is a crime given that it is the least reported major felony, least successfully prosecuted, and fewer than 3% of rapists ever spend a day in jail. Cases are closed before they are investigated and DNA evidence sits for years untested and disregarded Rape in this country is not treated as a crime of brutal violence but as a parlor game of he said / she said. It might be laughable if it didn't work so much of the time. Given all this, it seems fair to ask whether rape is actually a crime.
In 1984, the Boston Sexual Assault Unit was formed as a result of a series of break-ins and rapes that terrorized the city, of which Michelle's own horrific rape was the last. Twenty years later, after a career of working with victims like herself, Michelle decides to find out what happened to her case and why she never heard from the police again after one brief interview. An expert blend of memoir and cultural investigation, Michelle's story is a rallying cry to reclaim our power and right our world.
About The Author: Michelle Bowdler is the Executive Director of Health & Wellness at Tufts University and, after graduating from the Harvard School of Public Health, has worked on social justice issues related to rape for over a decade. Is Rape a Crime? is her first book. She is a recipient of a 2017 Barbara Deming Memorial Award and has been a Fellow at Ragdale and the MacDowell Colony. Bowdler's writing has been published in the New York Times and her essays "Eventually You Tell Your Kids" and "Babelogue" were nominated for Pushcart Prizes. Learn more about Bowdler HERE.
Register here for the Zoom log in information.
Adults
Reloving the 50s with Bill Sano
Wednesday mornings in November, 10 am-12 pm
Every Wednesday in November, start your morning with some music! We're welcoming back Bill Sano for his "Reloving the 50s" music and lecture series. These will take place Wednesday mornings from 10 am to 12 pm in the Meeting House. The schedule for our remaining two Wednesdays is:
November 17: Doo-Wop the Bird Groups; Bobby Darin and Sandra Dee. "The Stroll"
November 24: The Beach Boys; The Mills Brothers; The Platters; Capital Records. "American Pie" sums it all up!
Please register in advance as space is limited.
Adults
Read to a Dog
Wednesday, November 17 at 3:30 pm
Mitzi, a trained therapy dog, will be visiting the Lynnfield Library hoping to hear some great stories! Children may sign up for a 10-minute session and choose a book or selection from a book to read to her. Mitzi is a patient listener, so reading to her is good practice for readers who are still struggling a bit as well as pros. Program geared towards children in grades K-4. Space is limited to 6 children.
When registering, please select an available time. Time to read to Mitzi is limited, so please arrive early if you need time to pick out a book. We may not be able to accept children who are late to their appointment time. If you register and can no longer attend, please email Lauren at lfox@noblenet.org to cancel.
If registration is full, please email lfox@noblenet.org to join the waitlist. Anyone on the waitlist will get priority for Mitzi's next visit.
Children grades K-4
Slow Flow Yoga
Thursdays at 12 pm
60 minutes yoga flow – this class will match breath with movement to bring peace of mind while simultaneously building core strength and stability.
Yoga mat and/or towel suggested, along with a water bottle. Register with a valid email to receive the link to join the class. You will receive an email with login information a half hour before the class begins.
Instructor: Tammy Syrigos Irrera
This program was generously funded by the Friends of the Lynnfield Library.
Adults and Teens
Book Lovers
Thursday, November 18 at 6:30 pm
Join us on Thursday, November 18 at 6:30 for some great nonfiction book conversation with our Book Lovers group! At this meeting, we will be discussing Endurance: A Year in Space, A Lifetime of Discovery by Scott Kelly. Visit the Library to pick up your copy! We will be meeting at the library mezzanine.
Adults
Rainbow Suncatchers
Saturday, November 20 at 2 pm
Use colorful paints to create rainbow suncatchers! Stencils of different shapes will be provided along with plenty of colors to create dazzling window ornaments or cool artwork that will brighten up any room.
Registration recommended as supplies are limited. Walk-ins may be taken if space allows. Please fill out a separate registration form for each participant.
Ages 8-14
Massachusetts Must Read Authors — Barry Van Dusen
Monday, November 22 at 7 pm
Join us for a special virtual event! Author and artist Barry Van Dusen was recently recognized by the Massachusetts Center for the Book as one of Massachusetts's must-read authors of the year. Join Van Dusen for a presentation on his latest book, "Finding Sanctuary: An Artist Explores the Nature of Mass Audubon," via Zoom.
About The Book: Over the course of four-and-a-half years, nature artist Barry Van Dusen visited all 61 of Mass Audubon's public wildlife sanctuaries, nature centers, and museums, producing drawings and paintings at each location. Follow his travels and share in his adventures—from the islands of Martha's Vineyard and Nantucket to the mountain peaks of the Berkshires. Learn about hatching turtles on Cape Cod, rare orchids in the Connecticut River Valley, and a bear encounter in a western Massachusetts forest.  Birders, naturalists, conservationists, gardeners, artists, art appreciators, and all outdoor folks will enjoy this presentation.
About The Author: Barry W. Van Dusen is an internationally recognized wildlife artist living in central Massachusetts. His articles and paintings have been featured in Bird Watcher's Digest, Birding, and Yankee magazines and he has illustrated a variety of natural history books and pocket guides in association with the Massachusetts Audubon Society. In 1994 Barry was elected a full member of London's Society of Wildlife Artists. His work has been exhibited regularly in the prestigious Birds in Art Exhibition (Wausau, Wisconsin) as well as in many galleries in the United States and Europe. At the invitation of the Artists for Nature Foundation, Barry has travelled to Spain, Ireland, England, Israel, India and Peru, working alongside other wildlife artists to raise money for conservation of threatened habitats. Learn more about Van Dusen HERE.
Register here to receive the Zoom link.
Adults
Friends of the Library Fundraiser at Chipotle!
Monday, November 29
We're thankful that the holidays are returning to some normalcy this year. But that means you'll likely be busier hosting and attending events with family and friends. Are you already tired just thinking about cooking and cleaning up? If so, we've got the perfect solution to mix things up, give yourself a break, and raise money for the Friends of the Lynnfield Library (FOLL)!
Treat yourself to dinner at Chipotle at MarketStreet on Monday, November 29 between 4-8 pm, and a generous portion of the sale will go directly to support FOLL and the great programs at the Library. You can visit in person and show the flyer linked here (either printed out or on your phone screen), or order online for pickup and use the code AJBGAAZ (note: delivery orders will not count toward the fundraiser). Be sure to use the MarketStreet location and to mention the Friends fundraiser–and enjoy your well deserved break from holiday cooking!
Bestselling Author Series: Lynne Reeves In Conversation With Lisa Genova
Monday, November 29 at 7 pm
Join us for a special virtual event! Author Lynne Reeves will discuss her latest book, Dangers Of An Ordinary Night, in conversation with bestselling author Lisa Genova, via Zoom.
About The Author: Lynne Reeves (Griffin) is an internationally recognized family counselor, public speaker, teacher and writer of fiction and non-fiction. Her work has appeared in Parents, Psychology Today, Solstice Literary Magazine, Chautauqua Journal, Craft Literary, Fiction Writers Review, Brain, Child and more. Lynne regularly appears as a media guest expert to discuss contemporary family life and preventive mental health, with her most recent appearances on WBUR's Morning Edition and WCVB's Chronicle. Writing as Lynne Griffin, she is the author of the family-focused novels, Life Without Summer, Sea Escape, and Girl Sent Away. She writes novels of domestic suspense as Lynne Reeves. She's a member of International Thriller Writers, Mystery Writers of America, Sisters in Crime National & Sisters in Crime New England. Learn more about Reeves HERE.
About the Book: The Dangers of an Ordinary Night is an exploration of the explosive family secrets that are often hidden in plain sight. On a chilly fall evening at the prestigious Performing Arts High School of Boston, best friends Tali Carrington and June Danforth go missing after auditioning for a play. They're last seen in grainy, out-of-focus surveillance footage that shows them walking away from the school. Two days later in a town south of Boston, Tali is found disoriented and traumatized by the ocean's edge, while June is pronounced dead at the scene. Tali's mother, Nell, is so bent on protecting her daughter from further emotional harm that she ignores rumors of her husband's involvement and enlists the help of Cynthia Rawlins, a reunification therapist with personal insight into the riptide that hides below the surface of every unsuspecting family. Meanwhile, Detective Fitz Jameson uncovers a criminal undertow involving the high school's overachieving students, and finally sees an opportunity for personal redemption from a secret that's haunted him for years. As Nell, Cynthia, and Fitz confront their own contributions to the scandals that beleaguer them, their lives turn out to be more deeply intertwined than they'd ever imagined. In the end, they must decide what lengths they're willing to go to protect the people they love while also saving themselves.
About The Interviewer: Lisa Genova is the New York Times bestselling author of the novels Still Alice, Left Neglected, Love Anthony, Inside the O'Briens, and Every Note Played. Still Alice was adapted into an Oscar-winning film starring Julianne Moore, Alec Baldwin, and Kristen Stewart. Lisa graduated valedictorian from Bates College with a degree in biopsychology and holds a PhD in neuroscience from Harvard University. She travels worldwide speaking about the neurological diseases she writes about and has appeared on The Dr. Oz Show, Today, PBS NewsHour, CNN, and NPR. Her TED talk, "What You Can Do To Prevent Alzheimer's," has been viewed more than five million times.
This event is hosted by the Tewksbury Public Library in collaboration with many other Massachusetts Public Libraries.
Register here to receive the Zoom link.
Adults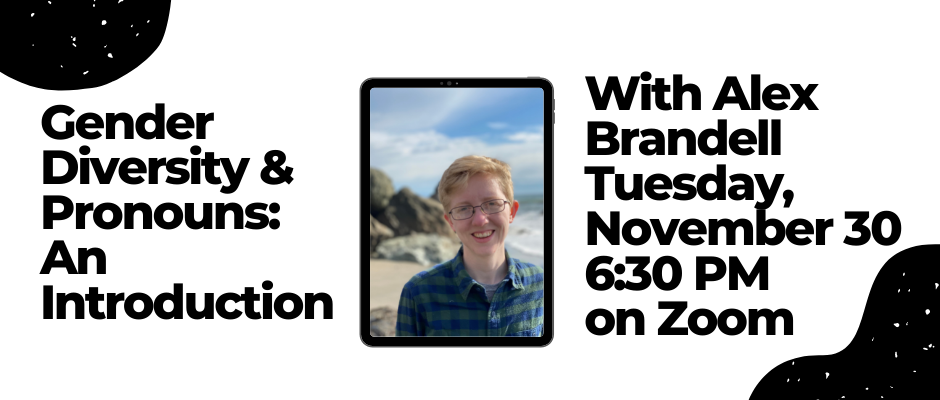 Gender Diversity & Pronouns: An Introduction
Tuesday, November 30 at 6:30 pm
Confused about pronouns? Join us for this important event:  a 1 hour introductory presentation on gender diversity, pronouns, and issues facing the transgender community, with a Q&A afterwards. This event will take place on Zoom. Please register in advance to receive the log in information. The Zoom link will be sent 30 minutes prior to the event.
About the presenter: Alex Brandell, OTD (they/them/theirs) is an occupational therapist and transgender  health educator. They completed their occupational therapy doctorate at Boston University,  with a special focus on transgender health. They have presented on diversity education at the  American Occupational Therapy Association conference and have led workshops on gender  diversity with health professionals, university faculty, and the general public. Alex is based out  of Minnesota, but provides education across the country. They can be contacted at  brandell@bu.edu for inquiries.
Thank you to the Friends of the Lynnfield Library for sponsoring this event.
Adults & Teens
Support the Friends of the Library on Giving Tuesday
Tuesday, November 30
You may best know the Friends of the Lynnfield Library (FOLL) by our eager calls for your used book donations and our biannual book sales on the Lynnfield Common. But did you know that the Friends is a membership organization joined by people like you who use the Library regularly? The funds raised through the Friends support a wide variety of essential activities, from staff development to funding for programming that engages children, teens, and adults to the widely used museum passes. FOLL partners with the Library to continue its critical role in the Lynnfield community, enhancing its offerings for the benefit of all. If you're not a FOLL member, you should be! There's no better time than Giving Tuesday to start giving back–memberships start at as little as $25 annually and go a long way.
Visit www.foll.org for more information and to join! Questions? Email us at lynnfieldfriends@gmail.com
Drop Off Your Toys for Tots at the Library!
The Library is once again a drop-off spot for Toys for Tots! New, unwrapped toys may be dropped off in the box in front of the Library's Circulation desk.
Convenient Ways to Carry Your Library Card
Find yourself forgetting your library card? Luckily, there's more than one way to carry it around! Below, we're sharing the most convenient ways to carry your library card, so you're never without it.
In your wallet: A classic! Keep your physical library card in your wallet. If you need a replacement card, just email lfdcirc@noblenet.org, and we can get you a new one for free.
On your keychain: We now offer a keychain card along with your regular size card. If you want a replacement card, email lfdcirc@noblenet.org or stop by the Library.
On your smartphone in the NOBLE app: Lynnfield Public Library is a member of the North of Boston Library Exchange, which gives us access to their app. In addition to searching the catalog and placing holds, you can also add your library card to the app by clicking Store Card. We can scan the barcode that comes up on your screen!
On your smartphone in your Photos app: Take a picture of the back of your card and store it in your photo gallery. We can scan the picture of your barcode right off your screen.
Latest Book Lists, Blog Posts, and Digital Displays
Memoirs to Read in Honor of Veterans' Day
Lynnfield Library Staff Picks for October 2021
Tales from the Reference Desk: A Tale of Two Schools
From Page to Screen: Books Becoming Movies & TV Series in Fall 2021
Want to get involved?  Join the Friends of the Lynnfield Library, an independent non-profit organization that supports the many programs
and activities of the Library both financially and through
hundreds of volunteer hours each year!
Friends Website
Friends Facebook Page