A dose of news and happenings from your local library!
We are currently open regular hours and you will not need an appointment. Please call 781-334-5411 or email lfd@noblenet.org at any time with any questions. We look forward to hearing from you!
Upcoming Holidays & Closings
May 28-30: Memorial Day
Access our online services anytime at lynnfieldlibrary.org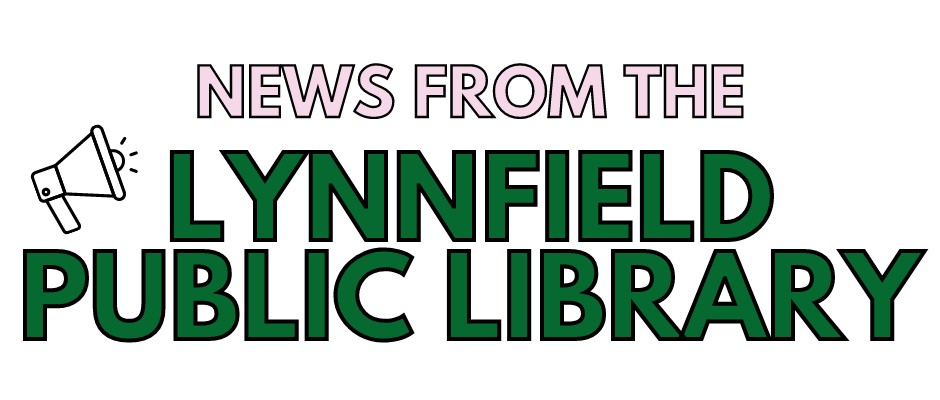 The Lynnfield Public Library is Now a Climate Resilience Hub
by Abby Porter, Acting Director
The Lynnfield Public Library is now a Climate Resilience Hub! What does this mean? As climate change makes extreme weather worse and less predictable, emergency services are increasingly overstretched. Climate Resilience Hubs help prepare residents before emergencies strike, so that residents are equipped and know what to do. We will be working with CREW, which stands for Climates Responding to Extreme Weather, to share important information and hold educational events about climate preparedness. In addition to sharing important information about emergency preparedness, the Lynnfield Public Library is also a cooling center in the summer and a heating center in the winter!
Have a climate-related topic you'd like to learn more about? Let us know! Please email aporter@noblenet.org or call 781.334.5411 with any questions or visit www.lynnfieldlibrary.org to learn more. Learn more about CREW at https://www.climatecrew.org/.
Story Time
Wednesday mornings at 10 am
Join us to sing songs and listen to stories!
This story time will be held outside on the Lynnfield Town Common if the weather is nice. You are welcome to bring a blanket or chair to sit on. In case of bad weather, story time will be held in the Meeting House across from the library.
*Please note that indoor story time will have a capacity limit and attendees will be let inside in order of arrival (no registration). Outdoor story time does not have a capacity limit.
Story Time is recommended for children ages 5 and younger.
Read to a Dog
Wednesday, May 11 at 3:30 pm
Mitzi, a trained therapy dog, will be visiting the Lynnfield Library hoping to hear some great stories! Children may sign up for a 10-minute session and choose a book or selection from a book to read to her. Mitzi is a patient listener, so reading to her is good practice for readers who are still struggling a bit as well as pros. Program geared towards children in grades K-4. Space is limited to 6 children.
When registering, please select an available time. Time to read to Mitzi is limited, so please arrive early if you need time to pick out a book. We may not be able to accept children who are late to their appointment time. If you register and can no longer attend, please email Lauren at lfox@noblenet.org to cancel.
If registration is full, please email lfdyouth@noblenet.org to join the waitlist. Mitzi comes by fairly often, and anyone on the waitlist will get priority for Mitzi's next visit!
Children Grades K-4
Slow Flow Yoga
Thursdays at 12 pm
60 minutes yoga flow – this class will match breath with movement to bring peace of mind while simultaneously building core strength and stability.
Yoga mat and/or towel suggested, along with a water bottle. Register with a valid email to receive the link to join the class. You will receive an email with login information a half hour before the class begins.
Instructor: Tammy Syrigos Irrera
This program was generously funded by the Friends of the Lynnfield Library.
Adults and Teens
Origami Club for Teens and Tweens
Tuesday, May 17 at 2:30 pm
Explore your creative side by creating origami. Paper and directions for a variety of origami projects will be provided.
No registration necessary. Supplies will be available from 2:30-3:30; come for the whole time or just stop in to make one design!
Ages 11-18
Fuzzy Poster Fun
Wednesday, May 18 at 3:30 pm
Coloring a fuzzy poster is so much fun! We have a variety of dinosaur-themed velvet art for you to choose from. Color it in however you'd like! The fuzzy posters are 7 by 10 inches – big enough for some coloring fun but small enough to finish in a trip to the library.
Register to reserve your spot. Walk-ins taken if space allows.
Ages 3-9
Concert on the Common: Too Human
Wednesday, May 18 at 7pm
Join us for a special concert on the Lynnfield Common: A Celebration of Song with Jazzy Bluesy Originals and Jazz Standards from Too Human. Feel free to bring a blanket and refreshments!
This program is funded by the Lynnfield Cultural Council and the Friends of the Lynnfield Library.
All Ages
Book Lovers Nonfiction Book Club
Thursday, May 19 at 6:30 pm
Join us for some great nonfiction book conversation – newcomers are always welcome! Our May selection is Fuzz: When Nature Breaks the Law by Mary Roach. Copies will be available at the Circulation Desk. This group meets on the Mezzanine of the Lynnfield Public Library.
This program was generously funded by the Friends of the Lynnfield Library.
Adults
Friends of the Lynnfield Library Spring Book Sale
Saturday, May 21 at 9 am
The Friends of the Library's Spring Book Sale is back! Join us on Saturday, May 21 to pick up books for all ages and on all topics. The sale will be held rain or shine; in case of rain, the sale will be held inside the Library. The Friends also now accept Venmo for payment! For more information, go to foll.org.
Pokemon Coloring Club
Monday, May 23 at 3:30 pm
If you love Pokémon and coloring, this is the club for you! We'll have a variety of Pokémon coloring sheets and activity pages to enjoy. Come have some fun and let us know which Pokémon is your favorite!
Registration recommended as space is limited. Walk-ins may be taken if space allows.
Ages 3-12
Virtual Chair Yoga
Wednesday, May 25 at 12 pm
Join us for a special virtual Chair Yoga class with Tammy Syrgios Irrera! This will be a 45 minute class on Zoom. Make sure you have a sturdy chair with all of the legs touching the ground available, as well as light handweights (2-5 lbs). This class will be done partially in the chair and part standing up showing how the chair can be used as a prop to assist with the yoga poses. We will incorporate breath work, matching breath with movement to help achieve mindfulness.
Register here to receive the Zoom link. This program is funded by the Friends of the Lynnfield Public Library.
Adults
Reading with Rabbits
Wednesday, May 25 at 4 pm
Land's Sake Farm will be bringing rabbits for children to touch and interact with. Listen to a rabbit-themed story time, create a fuzzy paper plate rabbit, and learn about rabbit behavior and anatomy.
Registration required as space is limited. Please fill out a separate registration for each child who will be attending.
This program will be held outside on the Lynnfield Town Common.
Ages 3-8
Russia's War in Ukraine: The Human Cost
Wednesday, May 25 at 6:30 pm
Russia's invasion of Ukraine has caused unprecedented destruction in Ukraine. This talk with Dr. Emily Channell-Justice, Director of the Temerty Contemporary Ukraine Program, will cover how we got to where we are, what is important to know about Ukraine & Russia's relationship, and what the responses have been to this war both in Ukraine and globally. It will address the refugee crisis and how the huge numbers of Ukrainians leaving the country will impact the world.
This talk will be held at the Lynnfield Meeting House. Registration is recommended but not required.
Adults
Y2K Beaded Bracelets
Thursday, May 26 at 2:30 pm
Create your own Y2K inspired beaded bracelet! We'll have a variety of beads including letter and clay beads for you to choose from. Stop by the Mezzanine any time from 2:30- 3:30 pm to make your own bracelet.
Registration recommended but not required.
Ages 11-18
Latest Book Lists & Blog Posts
Want to get involved?  Join the Friends of the Lynnfield Library, an independent non-profit organization that supports the many programs and activities of the Library both financially and through hundreds of volunteer hours each year!