March 2022 Newsletter
A dose of news and happenings from your local library!
We are currently open regular hours and you will not need an appointment. Please call 781-334-5411 or email lfd@noblenet.org at any time with any questions. We look forward to hearing from you!
Access our online services anytime at lynnfieldlibrary.org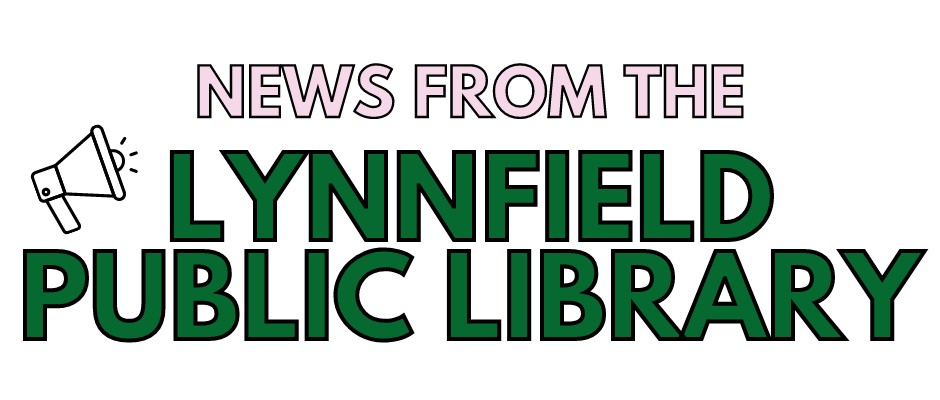 What are your plans for the rest of March? We can think of a few fun things to fill your time! From book clubs to designing puzzles, from lectures to knitting, we're confident you'll find something interesting to take part in over the next few weeks.
See all the details below, and don't miss the section at the end with information about our Friends' Savers FUNDrive and the resumption of book donations!
Origami for Teens & Tweens
Tuesday, March 15 at 2:30 pm
Explore your creative side by creating origami. Paper and directions for a variety of origami projects will be provided.
No registration necessary. Supplies will be available from 2:30-4:00; come for the whole time or just stop in to make one design!
Ages 11-18
Read to a Dog
Wednesday, March 16 at 3:30 pm
Mitzi, a trained therapy dog, will be visiting the Lynnfield Library hoping to hear some great stories! Children may sign up for a 10-minute session and choose a book or selection from a book to read to her. Mitzi is a patient listener, so reading to her is good practice for readers who are still struggling a bit as well as pros. Program geared towards children in grades K-4. Space is limited to 6 children.
When registering, please select an available time. Time to read to Mitzi is limited, so please arrive early if you need time to pick out a book. We may not be able to accept children who are late to their appointment time. If you register and can no longer attend, please email Lauren at lfox@noblenet.org to cancel.
If registration is full, please email lfox@noblenet.org to join the waitlist. Mitzi comes by fairly often, and anyone on the waitlist will get priority for Mitzi's next visit!
Children Grades K-4
Slow Flow Yoga
Thursdays at 12 pm
60 minutes yoga flow – this class will match breath with movement to bring peace of mind while simultaneously building core strength and stability.
Yoga mat and/or towel suggested, along with a water bottle. Register with a valid email to receive the link to join the class. You will receive an email with login information a half hour before the class begins.
Instructor: Tammy Syrigos Irrera
This program was generously funded by the Friends of the Lynnfield Library.
Adults and Teens
Book Lovers Nonfiction Book Club
Thursday, March 17 at 6:30 pm
Join us for some great nonfiction book conversation – newcomers are always welcome! Our March selection is The Soul of an Octopus: a Surprising Exploration into the Wonder of Consciousness by Sy Montgomery. Copies will be available at the Circulation Desk. This group meets on the Mezzanine of the Lynnfield Public Library.
This program was generously funded by the Friends of the Lynnfield Library.
Adults
Design a Puzzle
Monday, March 21 at 4 pm
Make your own puzzle! Choose between a nine-piece puzzle with a design that you can color in or a blank twelve-piece puzzle that you can draw anything you'd like on!  Once you're done, you can take apart your puzzle and put it back together or give to a friend or sibling to try out.
Registration required to reserve a spot. Walk-ins may be taken if space allows. Please fill out a separate registration form for each child who will be making a puzzle.
Ages 3-10
25 Women Painters Through the Centuries with Martha Chiarchiaro
Tuesday, March 22 at 6:30 pm
In honor of Women's History Month, the Lynnfield Public Library and Lynnfield Art Guild are bringing you a special Zoom event! For the past several years, museums around the world have held a campaign called #5; promoting the public's knowledge of at least 5 women artists. In this presentation, we will explore the highlights of twenty-five women painters over the past five centuries. As a sampling, we'll view the works of the court painter to Elizabeth I, the drama of Artemisia Gentileschi, the glamour of Élisabeth Vigée Le Brun, the maternal work of Mary Cassatt, and the boldness of Georgia O'Keeffe. You'll have a better understanding of the tremendous contribution made by women artists over the past five centuries. Register in advance to receive the Zoom link.
Thank you to the Friends of the Lynnfield Library and the Lynnfield Art Guild for making this event possible!
Adults
Story Time
Wednesday mornings at 10 am
Join us to sing songs and listen to stories! This story time will be held in the Meeting House across from the library.
Please note that indoor story time will have a capacity limit and attendees will be let inside in order of arrival (no registration). In the case of a warm day, we may decide to have story time on the common instead. You are welcome to bring a blanket or chair to sit on in case story time is held outside.
Story Time is recommended for children ages 5 and younger.
Author Talk: Katherine Stewart
Wednesday, March 23 at 7 pm
Author Katherine Stewart was recently recognized by the Massachusetts Center for the Book as one of Massachusetts's must-read authors of the year. Join Stewart for a brief presentation on her critically acclaimed book, The Power Worshippers: Inside The Dangerous Rise Of Religious Nationalism, via Zoom. The Power Worshippers is "a revelatory investigation of the Religious Right's rise to political power."
Katherine Stewart writes about politics, policy, and religion for The New York Times, Washington Post, NBC, and The New Republic. Her previous book, The Good News Club, was an examination of the religious right and public education.
This event is virtual. Please register in advance to receive the Zoom link.
Adults
Button Maker Bonanza
Wednesday, March 23 at 3:30 pm
Show off your style by making some buttons! Draw anything you'd like and turn your design into a button using a button maker. Our button maker will be set up until 4:30, so stop by anytime from 3:30-4:30 to make a button.
Register to reserve your spot and receive reminders. Walk-ins are also welcome if space allows.
Ages 4-10
Pipe Cleaner Bracelets
Saturday, March 26 at 11 am
Did you know you can make a beaded bracelet using a pipe cleaner? Come try it out! Choose from a variety of bead colors and styles and string them onto a pipe cleaner to create a fun, unique bracelet. These are perfect to keep and wear or to give as a gift!
Register to reserve your spot. Walk-ins will be taken if space allows.
Ages 3-10
Knitting Club for Adults
Monday, March 28 at 2:30 pm
Love knitting, crocheting, or other fiber arts? Join us for a monthly Knitting Club on the last Monday for the month! We'll be meeting on the mezzanine to work on our own projects and chat. Registration is not required, but recommended.
Adults
Pokemon Coloring Club
Monday, March 28 at 3:30 pm
If you love Pokémon and coloring, this is the club for you! We'll have a variety of Pokémon coloring sheets and activity pages to enjoy in the Children's Room. Come have some fun and let us know which Pokémon is your favorite!
Registration recommended as space is limited. Walk-ins may be taken if space allows.
Ages 3-12
The Last Tuesday Book Club
Tuesday, March 29 at 6 pm
The Last Tuesday Book Club is the Lynnfield Library's fiction book group! March's selection is Dava Shastri's Last Day by Kirthana Ramisetti. Copies are available for pickup at the Library's Circulation desk. Registration is recommended but not required.
Adults
They Sang the Songs: A Music and Lecture Series with Bill Sano
Thursday, March 31 at 9:30 am
Bill Sano is back with us for another exciting music series! Join us every Thursday morning in the Lynnfield Meeting House from March 31 – April 21 for an exploration of the music, careers, and personal lives of 8 singers who meant so much to us in the 20th century.
March 31: Ethel Merman and Bing Crosby
April 7: Doris Day and Perry Como
April 14: Rosemary Clooney and Frank Sinatra (and Michael Buble!)
April 21: Barbra Streisand and Tony Bennett
Registration is recommended but not required.
Adults
Friends of the Lynnfield Library Savers FUNDrive & Book Collection
Need motivation to start spring cleaning? We can help! Donate your soft goods—used clothing, shoes, linens, and towels— to FOLL by April 3, and we will generate additional revenue through our inaugural Savers FUNDrive to support the wonderful programs and staff of the Lynnfield Public Library. To make things easy, you can sign up for a curbside pickup slot (link below) or drop off at the library on select Saturdays (3/12, 3/19 and 4/3 from 10am-2pm).
And we are officially calling for books to prepare for our spring book sale! Books can be dropped off any time at the library.
And, if you or people you know are looking for volunteer opportunities, please join us to help with transporting donations by signing up at the link below.
For more more details check out http://foll.org/
Sign Up for Curb Side Pickup: https://forms.gle/zaCNF1LMpRbiB75E9
Sign Up to Volunteer! https://www.signupgenius.com/go/10c0f4baca629a3fec07-foll
15th Annual Boston Bruins Pajama Drive through March 31
We are taking part in the 15th Annual Bruins PJ Drive! Donate PJs for children and teens in the Lynnfield Library children's room. Pajamas should be brand new, appropriate for all seasons, and not include any family references, holiday references, or town names. Sizes 2T through adult medium are being collected. Help a child feel warm and comfortable by bringing in a pair of PJs now through March 31!
Reading Municipal Light Department's High School Art Contest
Calling all high school aged artists! RMLD's 5th Annual High School Art Contest is happening now! This year's theme is VERSATILITY. Various mediums are accepted including drawings, paintings, photography, graphic art, and more.
Each participating student will receive a certificate for ten hours of community service. Up to five winners will be selected to receive a gift card for qualified school or art supplies. One or more of the winning submissions will be featured on the cover of RMLD's 2021 Annual Report. Click here for details!
The New "Greenscapes Guide" How-to for Your Yard is Here
Spring is just around the corner, and now is the BEST time to think about your lawn, garden and landscaping! The Greenscapes North Shore Coalition provides its comprehensive Greenscapes Guide  – a complete how-to for sustainable gardening and landscaping practices. You can download the Greenscapes Guide here. You can also pick up your printed booklet at the Lynnfield Library or at Town Hall – Planning & Conservation Department.
The Guide is comprehensive, yet easy to follow for ways to create beautiful outdoor spaces that are less time consuming or costly and don't require the use of toxic chemicals. Colorful sections lay out simple instructions for selecting beautiful and sustainable native plant species, creating a rain garden, maintaining a lush, healthy and low-cost lawn, benefitting from the use of rain barrels, and more.
Latest Book Lists & Blog Posts
Want to get involved?  Join the Friends of the Lynnfield Library, an independent non-profit organization that supports the many programs and activities of the Library both financially and through hundreds of volunteer hours each year!