Mid-January 2022 Newsletter
A dose of news and happenings from your local library!
We are currently open regular hours and you will not need an appointment. Please call 781-334-5411 or email lfd@noblenet.org at any time with any questions. We look forward to hearing from you!
Access our online services anytime at lynnfieldlibrary.org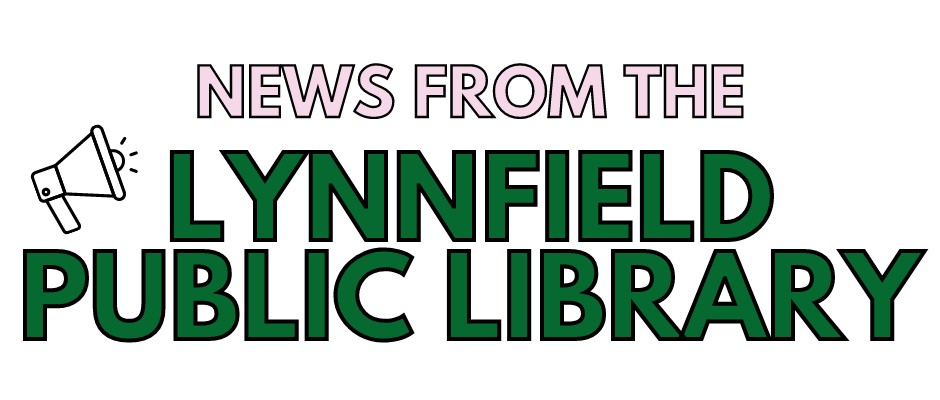 Welcome to the mid-January edition of our newsletter! For this half of the month we have some exciting children's crafts, like making a snow globe and a velvet apron, plus reading to a dog and Story Time (now virtual). For adults, we have two meetings of our book clubs, a new class with Pop Up Art School, and more!
We are closely monitoring rising COVID cases and, out of an abundance of caution, may decide to move some in-person programs to virtual. Please keep an eye on our social media for any changes and feel free to contact the Library to ask about specific programs. Registered participants will receive email updates if program details change.
Be sure to check out the exciting news about our revamped Museum Pass Program at the end of this newsletter!
Virtual Story Time
Wednesday mornings at 10 am
Join us to sing songs and listen to stories. This story time will be held on Zoom. Story time will be held every week on Wednesday morning at 10 am.
Register each week to receive the Zoom link. The link will be sent out by 4:30pm on the day before Story Time (Tuesday afternoon). Please email lfox@noblenet.org if you do not receive the Zoom link.
Story Time is recommended for children ages 5 and younger.
Read to a Dog
Wednesday, January 19 at 3:30 pm
Mitzi, a trained therapy dog, will be visiting the Lynnfield Library hoping to hear some great stories! Children may sign up for a 10-minute session and choose a book or selection from a book to read to her. Mitzi is a patient listener, so reading to her is good practice for readers who are still struggling a bit as well as pros. Program geared towards children in grades K-4. Space is limited to 6 children.
When registering, please select an available time. Time to read to Mitzi is limited, so please arrive early if you need time to pick out a book. We may not be able to accept children who are late to their appointment time. If you register and can no longer attend, please email Lauren at lfox@noblenet.org to cancel.
If registration is full, please email lfox@noblenet.org to join the waitlist. Mitzi comes by fairly often, and anyone on the waitlist will get priority for Mitzi's next visit!
Children Grades K-4
Slow Flow Yoga
Thursdays at 12 pm
60 minutes yoga flow – this class will match breath with movement to bring peace of mind while simultaneously building core strength and stability.
Yoga mat and/or towel suggested, along with a water bottle. Register with a valid email to receive the link to join the class. You will receive an email with login information a half hour before the class begins.
Instructor: Tammy Syrigos Irrera
This program was generously funded by the Friends of the Lynnfield Library.
Adults and Teens
Book Lovers Nonfiction Book Club
Thursday, January 20 at 6:30 pm
Join us for some great nonfiction book conversation – newcomers are always welcome! Our January selection is The Butchering Art: Joseph Lister's Quest to Transform the Grisly World of Victorian Medicine by Lindsey Fitzharris. Copies are available at the Circulation Desk.
This meeting will be held virtually on Zoom. Please register to receive the link.
Adults
Create Your Own Snow Globe
Monday, January 24 at 4 pm
Winter is the perfect time to bring home a new snow globe! You'll receive a plastic snowglobe filled with glittery snow. Color a special piece of paper that you can put in the snowglobe to create your own winter scene.
This program will be held in the Lynnfield Library Children's Room. Registration required to reserve your spot. Please fill out a separate registration form for each child who will be attending.
Ages 4-10
The Last Tuesday Book Club
Tuesday, January 25 at 6 pm
Our inaugural meeting of the Last Tuesday Book Club kicks off this month! We'll be reading Malibu Rising by Taylor Jenkins Reid. Copies of the book may be picked up at the library Circulation desk.
Registration is recommended but not required. This book club meets on the Mezzanine of the Library.
Adults
Kusudama Flowers with Pop Up Art School
Wednesday, January 26 at 6:30 pm
Join us for a special virtual craft class with Pop Up Art School! Origami Kusudama Flowers are made of 5 individual folded units that are glued together. During the class, you'll make 1 to 2 completed paper flowers. You'll also see examples of how to embellish the Kusudama flowers. No prior experience with origami needed!
Registration required. Materials will be provided in a kit that can be picked up from the Library. Library staff will reach out to let you know how to pick up your kit.
Adults
Velvet Art Food Aprons
Wednesday, February 2 at 4 pm
This is the perfect activity for young chefs who need their very own aprons! These velvet art aprons are covered in designs of fruit, veggies, and other kitchen themed items. Color in an apron and bring it home to use in the kitchen!
Supplies are limited; register to reserve your spot. Please fill out a separate registration form for each child who will be participating in the craft.
Ages 4-10
A Healthy Lynnfield Presents: Internet Safety with Katie Greer
Wednesday, January 19 at 6:30 pm
On Wednesday, January 19 at 6:30 p.m. Internet Safety Expert and national speaker, Katie Greer, will host a virtual session for parents and adult community members covering topics to help us keep our kids safe on the internet.
Parents will exclaim, "Our kids are doing WHAT? " and ask a host of questions such as: What can I do to protect them? What apps should I be worried about? Is social networking safe? Is my child being cyberbullied? What's texting? Sexting? What's next? It's overwhelming being a parent today in our technology-driven society. Keeping up with the latest trends and dangers can often seem like an impossible task. Katie will help you navigate the digital waters and let you know what's new, what's now, and what's next. Katie will include how to use social media in a positive way & provides parents with proactive initiatives to keep kids safe.
This program is for adults only. Register at this link.
Lahey Hospital Presents: Community Listening Sessions
February 9 at 8:30 am and February 16 at 5:30 pm
Lahey Hospital and Medical Center is holding Community Listening Sessions in early February as the next phase of their Community Health Needs Assessment (CHNA) process. The Listening Sessions are an opportunity to share back their preliminary key findings from the assessment process and gather ideas and information on opportunities for the Hospital and its partners to address priority issues/needs.Lahey Hospital is holding two Listening Sessions via Zoom – all are welcome to attend! Participants should individually register for one of the sessions:
Feb 9, 2022 8:30 – 10 AM: https://bit.ly/3meVej8 
Feb 16, 2022 5:30 – 7 PM:  https://bit.ly/3q3UYo7
Lynnfield Library's New and Improved Museum Pass Program
by Katherine Decker, Head of Circulation
New Year, New Look! Our museum pass program has gotten a new look for 2022. In addition to the new look, our new reservation system includes confirmation and reminder emails with direct links to either print passes from home when applicable or to cancel reservations should the need arise. Better integration with our website makes for an overall more streamlined process, making it a more user friendly experience for patrons and staff.
Through the generosity of the Friends of the Lynnfield Library, we are able to offer a number of passes that waive or reduce admission to local museums and attractions. Each pass is unique in its admission savings, so please check out our museum information on our website or pick up a museum pass brochure during your next visit to the Library.
Making a trip into Boston? You can explore the art of the Isabella Stewart Gardner Museum, Harvard Art Museum or Museum of Fine Arts. Kids may be excited to check out the Children's Museum, the Museum of Science, or the USS Constitution Museum.
Perhaps you want to take a trip up to Salem and visit the Peabody Essex Museum.
Our Parks Pass offers free parking at over 50 Massachusetts state parks and forests. Get outdoors and try some hiking, biking, rock climbing, swimming, fishing, and more! Check out the Massachusetts Department of Conservation & Recreation for a list of the parks.
Any patron with a valid NOBLE library card may reserve a museum pass through the Lynnfield Library. Reservations can be made in person, by phone (781.334.5411), or online 24/7 from the Library website using your library card. Passes are available on a first-come basis and are available up to 60 days in advance, so plan ahead, especially for weekends and around holidays and school vacations.
Our new system now allows the Boston Children's Museum to join the Museum of Fine Arts, Peabody Essex Museum, and the USS Constitution Museum as printable or completely digital passes. They require no pick up at the Library and can be printed from home or accessed through email, so there's no need for an additional trip in the cold weather.
Other passes, such as the Isabella Stewart Gardner Museum, Museum of Science and New England Aquarium, are coupons that can be picked up at the Library once a reservation is made. The Harvard Art Museum and Parks Pass are passes that need to be returned following use.
Many museums have policies regarding advanced reservations, masking and proof of vaccination. We strongly encourage all patrons to visit museum websites ahead of time to help plan your visit.
We hope you will take advantage of our Museum Pass Program this new year. Be sure to check out our website for more information or call us with any questions.
Latest Book Lists & Blog Posts
From Ink on Paper to the Big Screen
Want to get involved?  Join the Friends of the Lynnfield Library, an independent non-profit organization that supports the many programs
and activities of the Library both financially and through
hundreds of volunteer hours each year!
Friends Website
Friends Facebook Page