Mid-December 2021 Newsletter
A dose of news and happenings from your local library!
We are currently open regular hours and you will not need an appointment. Please call 781-334-5411 or email lfd@noblenet.org at any time with any questions. We look forward to hearing from you!
Upcoming Holidays & Closings:
December 23: Early closure at 1pm
December 24: Closed for Christmas
December 30: Early closure at 3pm
December 31-January 1: Closed for New Years
Access our online services anytime at lynnfieldlibrary.org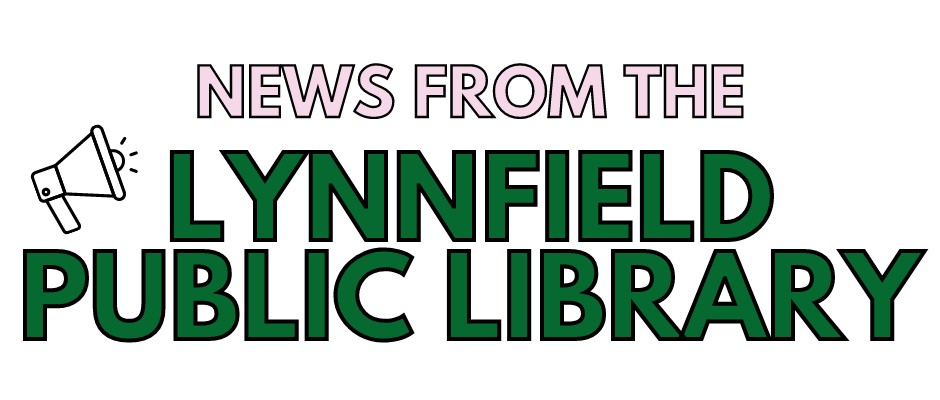 Welcome to the last edition of our newsletter for 2021! The next time you receive one of these, we'll be kicking off the new year. Read on for our remaining programs in December, and be sure to check the green box at the beginning of this newsletter for our holiday hours and closures. (Please note that our hours on the 23rd and 30th are subject to change based on Town Hall's.) As always, you can keep up with us on a daily basis on Facebook, Instagram, and Twitter. See you in 2022!
Story Time
Wednesday mornings at 10 am
Join us to sing songs and listen to stories. This story time will be held in the Meeting House across from the library. You are welcome to bring a blanket or chair to sit on during story time. Story time will be held this month on December 8 and 15, with a holiday break from story time the last two weeks of the month before we start again in the new year!
*Please note that indoor story time will have a capacity limit and attendees will be let inside in order of arrival (no registration). In the case of a warm day, we may decide to have story time on the common instead.
Story Time is recommended for children ages 5 and younger.
Read to a Dog
Wednesday, December 15 at 3:30 pm
Mitzi, a trained therapy dog, will be visiting the Lynnfield Library hoping to hear some great stories! Children may sign up for a 10-minute session and choose a book or selection from a book to read to her. Mitzi is a patient listener, so reading to her is good practice for readers who are still struggling a bit as well as pros. Program geared towards children in grades K-4. Space is limited to 6 children.
When registering, please select an available time. Time to read to Mitzi is limited, so please arrive early if you need time to pick out a book. We may not be able to accept children who are late to their appointment time. If you register and can no longer attend, please email Lauren at lfox@noblenet.org to cancel.
If registration is full, please email lfox@noblenet.org to join the waitlist. Anyone on the waitlist will get priority for Mitzi's next visit.
Children Grades K-4
Slow Flow Yoga
Thursdays at 12 pm
60 minutes yoga flow – this class will match breath with movement to bring peace of mind while simultaneously building core strength and stability.
Yoga mat and/or towel suggested, along with a water bottle. Register with a valid email to receive the link to join the class. You will receive an email with login information a half hour before the class begins.
Instructor: Tammy Syrigos Irrera
This program was generously funded by the Friends of the Lynnfield Library.
Adults and Teens
Paint a Dachshund in a Sweater with Pop Up Art School
Saturday, December 18 at 2:30 pm
Paint a dachshund with a cozy winter sweater. Pop Up Art School will show you how to paint the dog and create your own unique pattern on its warm doggie sweater. When you're done, you can bring your painting home to display or to give as a gift.
Registration required to reserve a space. Walk-ins may be taken if space allows.
Thank you to the Friends of the Lynnfield Library for funding this program.
Ages 8-14
Decorate the Children's Room Door!
Wednesday, January 5 at 3 pm
The children's room door needs some new artwork. Stop by from 3:00-4:30 to draw a picture that will be added to our door to make it beautiful!
Children of all ages are invited to participate in this event. Registration not required.
Reminder: It's Time to Bring Back Those Books!
It's time to bring back the books you've been holding onto throughout the pandemic! Now that the library has been fully open for several months, our library network is reinstating its long overdue policy. Once a book, DVD, CD, or other item is 42 days overdue, the item will be billed to your account and we'll need you to return it before you can borrow books or ebooks or use museum passes again.
You can return items inside the library when we're open or by using the outdoor book drops any time. There are no late fees for Lynnfield items–just bring them back as soon as you can! And don't worry, we won't judge you for how long it's been since you've visited.
Reminder emails and letters have been sent out over the past several weeks, and the next time you're at the library, we'll let you know if we see anything on your account. You can also check your account online or call the library and we'll tell you if you have anything overdue.
While there are no late fees for Lynnfield items, some of the other libraries in our network are charging late fees–but again, the most important thing is that you get those items back to us so we can share them with the rest of the community!
Latest Book Lists, Blog Posts, and Digital Displays
December 3 is International Day of People with Disabilities
Lynnfield Library is Fine-Free for DVDs and Video Games
Want to get involved?  Join the Friends of the Lynnfield Library, an independent non-profit organization that supports the many programs
and activities of the Library both financially and through
hundreds of volunteer hours each year!
Friends Website
Friends Facebook Page