January 2022 Newsletter
A dose of news and happenings from your local library!
We are currently open regular hours and you will not need an appointment. Please call 781-334-5411 or email lfd@noblenet.org at any time with any questions. We look forward to hearing from you!
Upcoming Holidays & Closings:
January 17: Martin Luther King, Jr. Day
Access our online services anytime at lynnfieldlibrary.org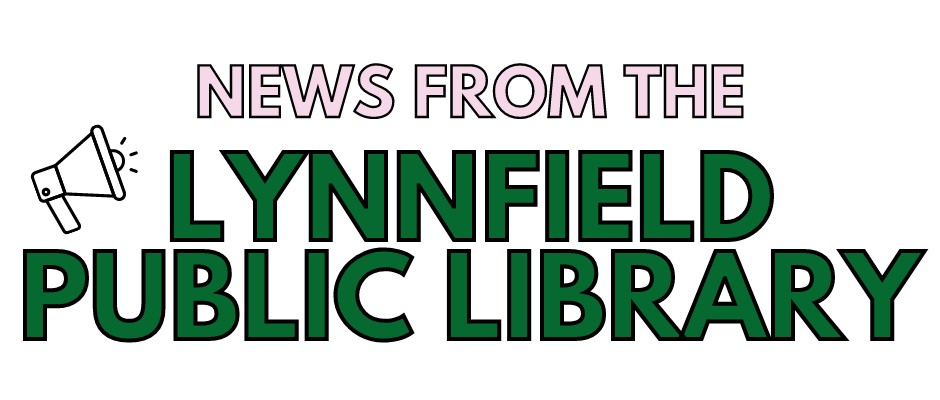 Can you believe it's the new year already? We're starting 2022 off strong with lots of fun programs for children, teens, and adults–read through to see what we have planned.
And at the end of this newsletter we have the details on an awesome new addition to our Library of Things collection… two Nintendo Switch Lites!
Story Time
Wednesday mornings at 10 am
Join us to sing songs and listen to stories. This story time will be held in the Meeting House across from the library. You are welcome to bring a blanket or chair to sit on during story time. Story time will be held every week on Wednesday morning at 10 am.
*Please note that indoor story time will have a capacity limit and attendees will be let inside in order of arrival (no registration). In the case of a warm day, we may decide to have story time on the common instead.
Story Time is recommended for children ages 5 and younger.
Decorate the Children's Room Door!
Wednesday, January 5 at 3 pm
The children's room door needs some new artwork. Stop by from 3:00-5:00 to draw a picture that will be added to our door to make it beautiful!
Walk-ins are welcome.
Children of all ages
Slow Flow Yoga
Thursdays at 12 pm
60 minutes yoga flow – this class will match breath with movement to bring peace of mind while simultaneously building core strength and stability.
Yoga mat and/or towel suggested, along with a water bottle. Register with a valid email to receive the link to join the class. You will receive an email with login information a half hour before the class begins.
Instructor: Tammy Syrigos Irrera
This program was generously funded by the Friends of the Lynnfield Library.
Adults and Teens
Teen & Tween Advisory Board
Thrusday, January 6 at 2:30 pm
Do you have any ideas for teen programs we should have at the library? Are there any books you think we shoud be getting for our young adult collection? Join us to share these and any other thoughts or ideas you have!
This program will be held in the Lynnfield Library Young Adult Area. Registration required. The meeting will start 2:30, but teens coming from the high school are welcome to join after school gets out.
Ages 11-18
Seed Saving with Land's Sake Farm
Monday, January 10 at 4 pm
Learn about how farmers and gardeners save seeds for the winter. Listen to a story that shows the seed-saving process and save seeds from crops grown at the farm. Decorate seed envelopes to take the seeds that you save home and plant them to grow your own flowers and vegetables!
Register to reserve your spot. Please fill out a separate registration form for each child who will be attending.
Ages 3-8
Coloring Club for Adults
Tuesday, January 11 at 2 pm
Coloring has been proven to help adults relax and unwind! Join us on Tuesday, January 11 at 2 pm on the Library Mezzanine for some social time and calming coloring. Coloring pages and colored pencils will be provided. Registration is recommended but not required.
This program was generously funded by the Friends of the Lynnfield Library.
Adults
Origami for Teens and Tweens
Tuesday, January 11 at 2:30 pm
Explore your creative side by creating origami. Paper and directions for a variety of origami projects will be provided.
No registration necessary. Supplies will be available from 2:30-3:30; come for the whole time or just stop in to make one design!
Ages 11-18
Tales from the Home of the World's Worst Weather
Wednesday, January 12 at 6:30 pm
Join us for the special virtual event with the Mt. Washington Observatory! Connect live via Zoom to the highest peak in the Northeastern US, Mount Washington, New Hampshire, as Weather Observers and Education Specialists at the non-profit Mount Washington Observatory present stories and the science behind the world's worst weather!
Please register with a valid email to receive the Zoom link. Thank you to the Friends of the Lynnfield Library for making this event possible. Please visit foll.org to learn more about the Friends and how to support the Library!
Teens & Adults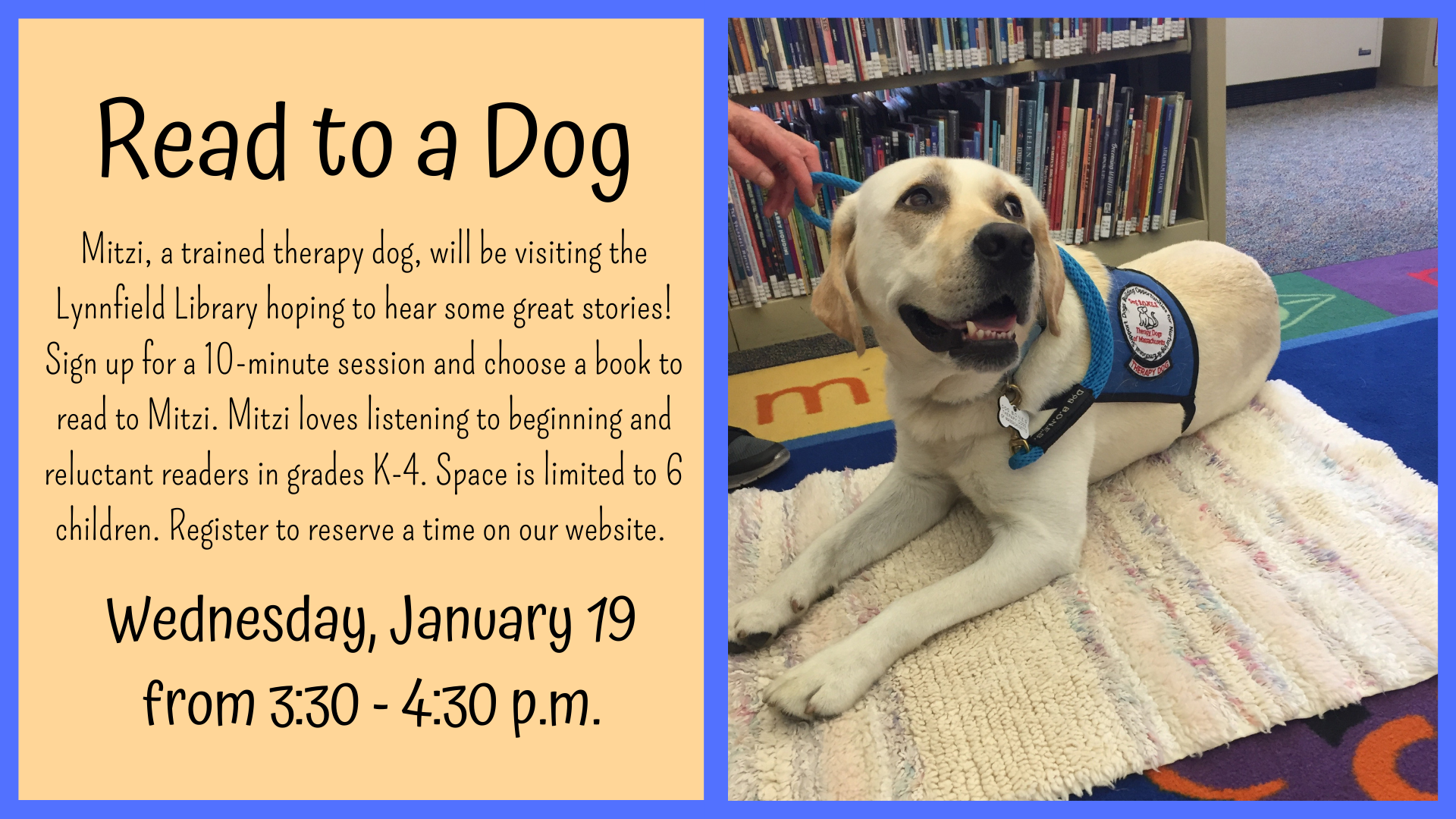 Read to a Dog
Wednesday, January 19 at 3:30 pm
Mitzi, a trained therapy dog, will be visiting the Lynnfield Library hoping to hear some great stories! Children may sign up for a 10-minute session and choose a book or selection from a book to read to her. Mitzi is a patient listener, so reading to her is good practice for readers who are still struggling a bit as well as pros. Program geared towards children in grades K-4. Space is limited to 6 children.
When registering, please select an available time. Time to read to Mitzi is limited, so please arrive early if you need time to pick out a book. We may not be able to accept children who are late to their appointment time. If you register and can no longer attend, please email Lauren at lfox@noblenet.org to cancel.
If registration is full, please email lfox@noblenet.org to join the waitlist. Mitzi comes by fairly often, and anyone on the waitlist will get priority for Mitzi's next visit!
Children Grades K-4
We've Added Nintendo Switch Lites to Our Library of Things Collection!
Game on! We now have Nintendo Switch Lites for you to borrow. Our Switches are for all ages and are on a first come, first served basis. Check one out at the Circulation Desk–and borrow a game or two while you're at it! We have games for all ages–children, teens, and adults. Switches may be borrowed for 3 weeks with no renewal. We charge a $5.00 per day overdue fine. You'll be asked to sign a borrowing agreement when checking out a Switch, and children who wish to borrow a Switch will need permission from a parent or guardian.
Borrow a Nintendo Switch Lite and some games from us and have fun!
Latest Book Lists, Blog Posts, and Digital Displays
Lynnfield Library Staff Picks: Best of 2021
Lynnfield's Favorite Books & Movies of 2021
Lynnfield Library Staff Picks: Hoopla Edition!
Want to get involved?  Join the Friends of the Lynnfield Library, an independent non-profit organization that supports the many programs
and activities of the Library both financially and through
hundreds of volunteer hours each year!
Friends Website
Friends Facebook Page