December 2021 Newsletter
A dose of news and happenings from your local library!
We are currently open regular hours and you will not need an appointment. Please call 781-334-5411 or email lfd@noblenet.org at any time with any questions. We look forward to hearing from you!
Upcoming Holidays & Closings:
December 23: Early closure at 1pm
December 24: Closed for Christmas
December 30: Early closure at 3pm
December 31-January 1: Closed for New Years
Access our online services anytime at lynnfieldlibrary.org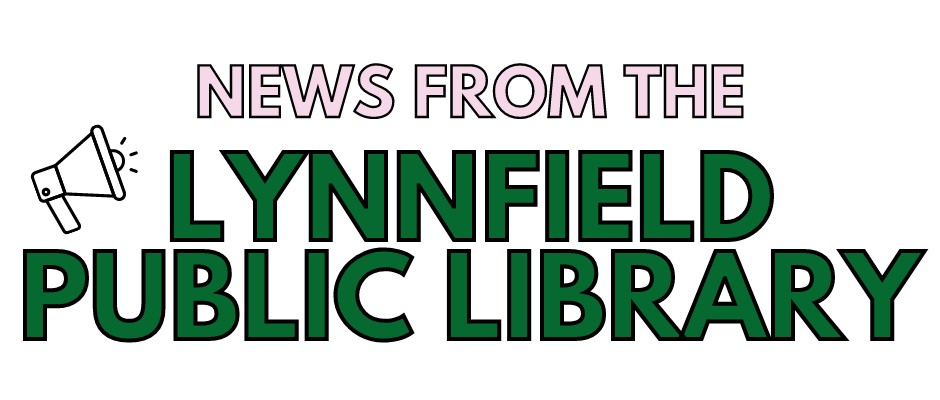 For this edition of our newsletter, we're excited to feature the Friends of the Lynnfield Library! Read on for all the details on their Chipotle fundraiser on Monday and to support the Friends on Giving Tuesday!
But first, say hello to the new co-Presidents of the Friends: Stacy Neal and Anne Malenfant!
Friends of the Library Fundraiser at Chipotle!
Monday, November 29
We're thankful that the holidays are returning to some normalcy this year. But that means you'll likely be busier hosting and attending events with family and friends. Are you already tired just thinking about cooking and cleaning up? If so, we've got the perfect solution to mix things up, give yourself a break, and raise money for the Friends of the Lynnfield Library (FOLL)!
Treat yourself to dinner at Chipotle at MarketStreet on Monday, November 29 between 4-8 pm, and a generous portion of the sale will go directly to support FOLL and the great programs at the Library. You can visit in person and show the flyer linked here (either printed out or on your phone screen), or order online for pickup and use the code AJBGAAZ (note: delivery orders will not count toward the fundraiser). Be sure to use the MarketStreet location and to mention the Friends fundraiser–and enjoy your well deserved break from holiday cooking!
Support the Friends of the Library on Giving Tuesday
Tuesday, November 30
You may best know the Friends of the Lynnfield Library (FOLL) by our eager calls for your used book donations and our biannual book sales on the Lynnfield Common. But did you know that the Friends is a membership organization joined by people like you who use the Library regularly? The funds raised through the Friends support a wide variety of essential activities, from staff development to funding for programming that engages children, teens, and adults to the widely used museum passes. FOLL partners with the Library to continue its critical role in the Lynnfield community, enhancing its offerings for the benefit of all. If you're not a FOLL member, you should be! There's no better time than Giving Tuesday to start giving back–memberships start at as little as $25 annually and go a long way.
Visit www.foll.org for more information and to join! Questions? Email us at lynnfieldfriends@gmail.com
Subscribe to the FOLL Newsletter
To stay up to date with the Friends of the Lynnfield Library, you can sign up for their newsletter here.
Bestselling Author Series: Lynne Reeves In Conversation With Lisa Genova
Monday, November 29 at 7 pm
Join us for a special virtual event! Author Lynne Reeves will discuss her latest book, Dangers Of An Ordinary Night, in conversation with bestselling author Lisa Genova, via Zoom.
About The Author: Lynne Reeves (Griffin) is an internationally recognized family counselor, public speaker, teacher and writer of fiction and non-fiction. Her work has appeared in Parents, Psychology Today, Solstice Literary Magazine, Chautauqua Journal, Craft Literary, Fiction Writers Review, Brain, Child and more. Lynne regularly appears as a media guest expert to discuss contemporary family life and preventive mental health, with her most recent appearances on WBUR's Morning Edition and WCVB's Chronicle. Writing as Lynne Griffin, she is the author of the family-focused novels, Life Without Summer, Sea Escape, and Girl Sent Away. She writes novels of domestic suspense as Lynne Reeves. She's a member of International Thriller Writers, Mystery Writers of America, Sisters in Crime National & Sisters in Crime New England. Learn more about Reeves HERE.
About the Book: The Dangers of an Ordinary Night is an exploration of the explosive family secrets that are often hidden in plain sight. On a chilly fall evening at the prestigious Performing Arts High School of Boston, best friends Tali Carrington and June Danforth go missing after auditioning for a play. They're last seen in grainy, out-of-focus surveillance footage that shows them walking away from the school. Two days later in a town south of Boston, Tali is found disoriented and traumatized by the ocean's edge, while June is pronounced dead at the scene. Tali's mother, Nell, is so bent on protecting her daughter from further emotional harm that she ignores rumors of her husband's involvement and enlists the help of Cynthia Rawlins, a reunification therapist with personal insight into the riptide that hides below the surface of every unsuspecting family. Meanwhile, Detective Fitz Jameson uncovers a criminal undertow involving the high school's overachieving students, and finally sees an opportunity for personal redemption from a secret that's haunted him for years. As Nell, Cynthia, and Fitz confront their own contributions to the scandals that beleaguer them, their lives turn out to be more deeply intertwined than they'd ever imagined. In the end, they must decide what lengths they're willing to go to protect the people they love while also saving themselves.
About The Interviewer: Lisa Genova is the New York Times bestselling author of the novels Still Alice, Left Neglected, Love Anthony, Inside the O'Briens, and Every Note Played. Still Alice was adapted into an Oscar-winning film starring Julianne Moore, Alec Baldwin, and Kristen Stewart. Lisa graduated valedictorian from Bates College with a degree in biopsychology and holds a PhD in neuroscience from Harvard University. She travels worldwide speaking about the neurological diseases she writes about and has appeared on The Dr. Oz Show, Today, PBS NewsHour, CNN, and NPR. Her TED talk, "What You Can Do To Prevent Alzheimer's," has been viewed more than five million times.
This event is hosted by the Tewksbury Public Library in collaboration with many other Massachusetts Public Libraries.
Register here to receive the Zoom link.
Adults
Gender Diversity & Pronouns: An Introduction with Alex Brandell
Tuesday, November 30 at 6:30 pm
Confused about pronouns? Join us for this important event: a 1 hour introductory presentation on gender diversity, pronouns, and issues facing the transgender community, with a Q&A afterwards. This event will take place on Zoom. Please register in advance to receive the log in information. The Zoom link will be sent 30 minutes prior to the event.
About the presenter: Alex Brandell, OTD (they/them/theirs) is an occupational therapist and transgender health educator. They completed their occupational therapy doctorate at Boston University,  with a special focus on transgender health. They have presented on diversity education at the  American Occupational Therapy Association conference and have led workshops on gender diversity with health professionals, university faculty, and the general public. Alex is based out of Minnesota, but provides education across the country. They can be contacted at brandell@bu.edu for inquiries.
Thank you to the Friends of the Lynnfield Library for sponsoring this event.
Adults & Teens
Story Time – Back on Wednesdays!
Wednesday mornings at 10 am
Join us to sing songs and listen to stories. This story time will be held in the Meeting House across from the library. You are welcome to bring a blanket or chair to sit on during story time. Story time will be held this month on December 8 and 15, with a holiday break from story time the last two weeks of the month before we start again in the new year!
*Please note that indoor story time will have a capacity limit and attendees will be let inside in order of arrival (no registration). In the case of a warm day, we may decide to have story time on the common instead.
Story Time is recommended for children ages 5 and younger.
Make a Stuffed Animal with Teddy Town
Wednesday, December 1 at 4 pm
Create your own stuffed animal with Teddy Town! Choose an animal and fill it with the stuffing machine. Then, choose the perfect outfit for your new friend. Once you're done, you can take your new stuffed animal home to keep.
Registration is required to reserve a spot, as space and materials are limited. Please fill out a separate registration form for each child who will make a toy.
**Registration for this event is currently full. New registrants are being placed on a waitlist. You will be contacted if a space is made available for you.**
Ages 3-10
Steps to Managing Memory, Alzheimer's Disease, & Dementia with Dr. Andrew Budson
Wednesday, December 1 at 6:30 pm
Join us for an author talk with Andrew Budson, M.D. about managing your memory, Alzheimer's Disease, & Dementia. Based on his award-winning book being translated into Chinese and Korean, Seven Steps to Managing Your Memory: What's Normal, What's Not, and What to Do About It, Dr. Andrew Budson will explain how individuals can distinguish changes in memory due to Alzheimer's versus normal aging, what medications, diets, and exercise regimes can help, and the best habits, strategies, and memory aids to use, in seven simple steps. He will also discuss his newest book, Six Steps to Managing Alzheimer's Disease and Dementia: A Guide for Families, including how families can manage issues with memory, language, vision, behavior, driving, incontinence, sleep, and more.
Educated at Haverford College and Harvard Medical School, Dr. Budson is Chief of Cognitive & Behavioral Neurology at the Veterans Affairs Boston Healthcare System, Director of Education at the Boston University Alzheimer's Disease Center, Professor of Neurology at Boston University School of Medicine, and Lecturer in Neurology at Harvard Medical School.
This event will take place on the mezzanine of the Lynnfield Public Library. Please register for this event in advance. Thank you to the Friends of the Lynnfield Library for sponsoring this event.
Adults
Slow Flow Yoga
Thursdays at 12 pm
60 minutes yoga flow – this class will match breath with movement to bring peace of mind while simultaneously building core strength and stability.
Yoga mat and/or towel suggested, along with a water bottle. Register with a valid email to receive the link to join the class. You will receive an email with login information a half hour before the class begins.
Instructor: Tammy Syrigos Irrera
This program was generously funded by the Friends of the Lynnfield Library.
Adults and Teens
"Color Me In" Greeting Cards
Monday, December 6 at 4 pm
A handwritten card is always a wonderful gift to receive! We'll be providing "color me in" greeting cards – you color in the picture on the front and write whatever you'd like on the inside. Then, address the envelope so it's ready to be delivered. We'll also have some blank paper if you prefer to create the entire card from scratch.
Registration recommended as space is limited. Walk-ins will be taken if space allows.
Ages 4-10
Coloring Club for Adults
Tuesday, December 7 at 2 pm
Feeling some holiday stress coming on? Coloring has been proven to help adults relax and unwind! Join us on Tuesday, December 7 at 2 p.m. on the Library Mezzanine for some social time and calming coloring. Materials will be provided.
Please register in advance. Walk-ins are welcome if space allows.
This program was generously funded by the Friends of the Lynnfield Library.
Adults
Cooking with Chocolate with Liz Barbour of Creative Feast
Wednesday, December 8 at 6:30 pm
Chocolate is not just dessert; it's everything you need! Join chef Liz Barbour of The Creative Feast for this delicious class. Enjoy a cooking demonstration of two delicious chocolate dessert recipes you will love. You will receive the ingredient lists and recipes for two special chocolate dishes and can cook along with Liz or just watch and learn!
Register with Liz here to receive the Zoom link.
Thank you to the Friends of the Lynnfield Library for sponsoring this event.
Adults
Bad Art Club
Thursday, December 9 at 2:30 pm
When you do art, do you like to glue pom poms randomly, pull things apart, and make really ugly drawings? Then this is the art event for you! Have some fun creating the worst artwork you can come up with.
Registration required as space is limited.
Art supplies will be ready at 2:30, but teens coming from the high school are welcome to arrive after school gets out. Supplies will be available until 3:45.
Ages 11-18
Virtual Author Talk: David Baldacci
Thursday, December 9 at 7 pm
Bestselling author David Baldacci will discuss his latest book, Mercy, via Zoom.
About The Author: David Baldacci is a global #1 bestselling author, and one of the world's favorite storytellers. His books are published in over forty-five languages and in more than eighty countries, with 150 million copies sold worldwide. His works have been adapted for both feature film and television. David Baldacci is also the cofounder, along with his wife, of the Wish You Well Foundation, a nonprofit organization dedicated to supporting literacy efforts across America. Still a resident of his native Virginia, he invites you to visit him at DavidBaldacci.com and his foundation at WishYouWellFoundation.org.
About the Book: FBI Agent Atlee Pine's harrowing search for her long-lost sister Mercy reaches a boiling point in this breakneck thriller from #1 New York Times bestselling author David Baldacci. For her entire life, FBI agent Atlee Pine has been searching for her twin sister, Mercy, who was abducted at the age of six and never seen again. Mercy's disappearance left behind a damaged family that later shattered beyond repair when Atlee's parents inexplicably abandoned her. Now, after a perilous investigation that nearly proved fatal, Atlee has finally discovered not only the reason behind her parents' abandonment and Mercy's kidnapping, but also the most promising breakthrough yet: proof that Mercy survived her abduction and then escaped her captors many years ago.
Register here to receive the Zoom link. When you register, you'll be entered to win one of three signed copies of Mercy! Winners will be contacted when the books are available for pickup.
This event is hosted by the Tewksbury Library on Zoom in collaboration with Wellesley Books, as well as many other Massachusetts Public Libraries. Thank you to the Friends of the Lynnfield Library for sponsoring this event.
Adults
Paint a Dachshund in a Sweater with Pop Up Art School
Saturday, December 18 at 2:30 pm
Paint a dachshund with a cozy winter sweater. Pop Up Art School will show you how to paint the dog and create your own unique pattern on its warm doggie sweater. When you're done, you can bring your painting home to display or to give as a gift.
Registration required to reserve a space. Walk-ins may be taken if space allows.
Ages 8-14
Tales from the Reference Desk: A Tale of Two Schools
by Pat Kelly, Head of Reference
A Tale of Two Schools: the Centre Schoolhouse (1856) on Summer Street and the Center School (1903) on Main Street
The Lynnfield Historical Commission recently installed a sign in front of the children's room of the Lynnfield Public Library to identify its original purpose as the Centre Schoolhouse. The schoolhouse was erected on Summer Street in 1856 to serve the schoolchildren of Lynnfield, and was described in Wellman's History of Lynnfield 1635-1895 (p 12) as "…much the finest in town that had ever been built, and at present time contains the largest room in town." By the very early 1900s, the school was becoming insufficient for the population; in 1902 the town voted to build a two-room schoolhouse on Main Street to replace the Centre Schoolhouse. The Center School opened on January 12, 1903 on the site that presently houses Center Village senior citizen housing. In 1905, the Lynnfield Public Library moved into the old Centre Schoolhouse from the library's previous home (since 1892) in a room at the Town Hall. Additions to the Center School were added in 1919, 1937 and 1948 to serve a growing population of schoolchildren. Through the sixties, enrollment remained high and the Center School operated at full capacity. According to the Lynnfield Annual Report of 1981 (p 34), due to declining enrollment and economic restraints caused by Proposition 2 ½, the school committee voted on February 23, 1981 to close the Center School at the end of the school year in June. Plans to construct senior citizen housing at the former school site were approved at Town Meeting in 1982. Ground was broken in spring of 1983, and the first buildings were ready for occupancy in December 1983. The Center Village senior citizen complex was designed by Royal Barry Wills Associates and constructed by the C. B. Wills Company. [Lynnfield Annual Town Reports 1982 (p 8) and 1983 (p 22)]
So the Centre Schoolhouse (1856) lives on as the children's room of the Lynnfield Public Library, while the Center School (1903) made way for Center Village (1983).
Latest Book Lists, Blog Posts, and Digital Displays
The In-Laws are Coming: Family Drama Stories to Prepare You for Thanksgiving
Lynnfield Library is Fine-Free for DVDs and Video Games
November is Native American Heritage Month
Want to get involved?  Join the Friends of the Lynnfield Library, an independent non-profit organization that supports the many programs
and activities of the Library both financially and through
hundreds of volunteer hours each year!
Friends Website
Friends Facebook Page