A dose of news and happenings from your local library!
We are currently open regular hours and you will not need an appointment. Please call 781-334-5411 or email lfd@noblenet.org at any time with any questions. We look forward to hearing from you!
Upcoming Holidays & Closings
April 18: Patriots' Day
Access our online services anytime at lynnfieldlibrary.org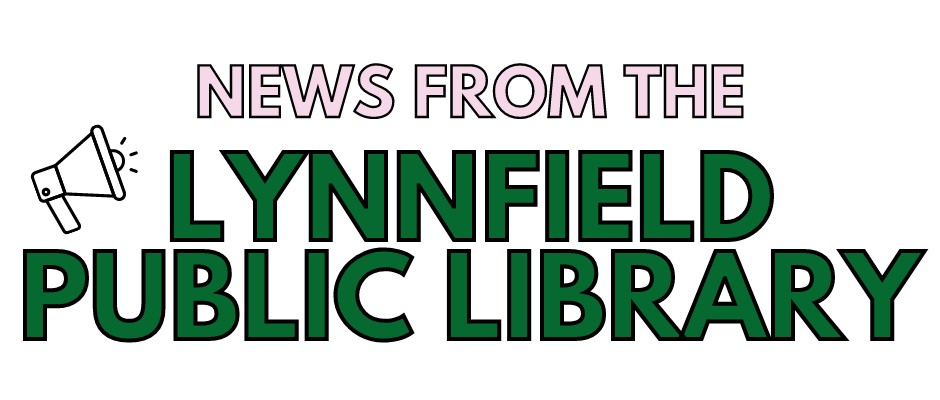 Spring is (finally) in the air! We're celebrating with a full slate of fun programs for the first half of April. And if you're working on your spring cleaning, we have three different donation drives you can contribute to–see the details at the end of this newsletter!
If there's someone you think would be interested in this newsletter, feel free to forward it to them, or send them the signup link here.
Knitting Club for Adults
Monday, March 28 at 2:30 pm
Love knitting, crocheting, or other fiber arts? Join us for a monthly Knitting Club on the last Monday for the month! We'll be meeting on the mezzanine to work on our own projects and chat. Registration is not required, but recommended.
Adults
Pokemon Coloring Club
Monday, March 28 at 3:30 pm
If you love Pokémon and coloring, this is the club for you! We'll have a variety of Pokémon coloring sheets and activity pages to enjoy in the Children's Room. Come have some fun and let us know which Pokémon is your favorite!
Registration recommended as space is limited. Walk-ins may be taken if space allows.
Ages 3-12
The Last Tuesday Book Club
Tuesday, March 29 at 6 pm
The Last Tuesday Book Club is the Lynnfield Library's fiction book group! March's selection is Dava Shastri's Last Day by Kirthana Ramisetti. Copies are available for pickup at the Library's Circulation desk. Registration is recommended but not required.
We have also selected our April book: The Paper Palace by Miranda Cowley Heller. We will discuss The Paper Palace on April 26!
Adults
They Sang the Songs: A Music and Lecture Series with Bill Sano
Thursday, March 31 at 9:30 am
Bill Sano is back with us for another exciting music series! Join us every Thursday morning in the Lynnfield Meeting House from March 31 – April 21 for an exploration of the music, careers, and personal lives of 8 singers who meant so much to us in the 20th century.
March 31: Ethel Merman and Bing Crosby
April 7: Doris Day and Perry Como
April 14: Rosemary Clooney and Frank Sinatra (and Michael Buble!)
April 21: Barbra Streisand and Tony Bennett
Registration is recommended but not required.
Adults
Origami for Teens & Tweens
Monday, April 4 at 3:30 pm
These dinosaurs don't roar – they sing! Paint a wooden dinosaur wind chime and hang it outside to listen to this dino song.
Please note that we will be using acrylic paints for this program. We recommend wearing old clothes that can get paint on them as it may not wash out.
Ages 5-12
Coloring Club for Adults
Tuesday, April 5 at 2 pm
Coloring has been proven to help adults relax and unwind! Join us on the Library Mezzanine for some social time and calming coloring. Coloring pages and colored pencils will be provided. Registration is recommended but not required.
This program was generously funded by the Friends of the Lynnfield Library.
Adults
Slow Flow Yoga
April 14 and 21 at 12 pm
60 minutes yoga flow – this class will match breath with movement to bring peace of mind while simultaneously building core strength and stability.
Yoga mat and/or towel suggested, along with a water bottle. Register with a valid email to receive the link to join the class. You will receive an email with login information a half hour before the class begins.
Instructor: Tammy Syrigos Irrera
This program was generously funded by the Friends of the Lynnfield Library.
Adults and Teens
Teen and Tween Advisory Board
Thursday, April 7 at 2:30 pm
Do you have any ideas for teen programs we should have at the library? Are there any books you think we should be getting for our young adult collection? Join us to share these and any other thoughts or ideas you have!
This program will be held in the Lynnfield Library Young Adult Area. Registration required.
Ages 11-18
Art in Bloom
Monday, April 11 at 6:30 pm
The Lynnfield Library and Lynnfield Art Guild are collaborating once again to bring back Art in Bloom in person! Art In Bloom opens Monday, April 11 starting at 6:30 pm. This colorful annual event pairs artwork from local students and artists from the Lynnfield Art Guild with fresh floral design interpretations by members of the Village Home and Garden Club of Lynnfield and professional floral designers. The artists and floral designers will provide an informal talk and tour of their work during the opening night reception starting at 7:00 PM. The artwork and floral arrangements for Art In Bloom will be on display through April 14th during regular Library hours.
All Ages
Origami Club for Teens & Tweens
Tuesday, April 12 at 2:30 pm
Explore your creative side by creating origami. Paper and directions for a variety of origami projects will be provided.
No registration necessary. Supplies will be available from 2:30-3:30; come for the whole time or just stop in to make one design!
Ages 11-18
Scams & Fraud with the Better Business Bureau
Tuesday, April 12 at 6:30 pm
This virtual presentation covers the most common scams currently circulating the community, the major red flags to watch out for, and the necessary actions to stay safe. Presented by Danielle Bass, BBB's Community Relation Manager, she will provide an engaging and informative presentation.
Please register in advance to receive the Zoom link.
Adults & Teens
Story Time
Wednesday mornings at 10 am
Join us to sing songs and listen to stories! This story time will be held in the Meeting House across from the library.
Please note that indoor story time will have a capacity limit and attendees will be let inside in order of arrival (no registration). In the case of a warm day, we may decide to have story time on the common instead. You are welcome to bring a blanket or chair to sit on in case story time is held outside.
Story Time is recommended for children ages 5 and younger.
Read to a Dog
Wednesday, April 13 at 3:30 pm
Mitzi, a trained therapy dog, will be visiting the Lynnfield Library hoping to hear some great stories! Children may sign up for a 10-minute session and choose a book or selection from a book to read to her. Mitzi is a patient listener, so reading to her is good practice for readers who are still struggling a bit as well as pros. Program geared towards children in grades K-4. Space is limited to 6 children.
When registering, please select an available time. Time to read to Mitzi is limited, so please arrive early if you need time to pick out a book. We may not be able to accept children who are late to their appointment time. If you register and can no longer attend, please email Lauren at lfox@noblenet.org to cancel.
If registration is full, please email lfox@noblenet.org to join the waitlist. Mitzi comes by fairly often, and anyone on the waitlist will get priority for Mitzi's next visit!
Children Grades K-4
What's It Worth? Virtual Antiques Roadshow with Mike Ivankovich
Wednesday, April 13 at 6 pm
Join us for a special virtual antiques appraisal program: "What's It Worth?" Antiques Road Show! Author, auctioneer, appraiser and radio show host Mike Ivankovich will introduce you to what determines value…and reveal what your antiques, collectibles, and personal treasures are really worth today. Each attendee is invited to bring in 1-2 items for Mike to appraise.
This program will take place on Zoom. Please register to receive the log in information.
This program was generously funded by the Friends of the Lynnfield Library.
Adults
Friends of the Lynnfield Library Savers FUNDrive & Book Collection
Need motivation to start spring cleaning? We can help! Donate your soft goods—used clothing, shoes, linens, and towels— to FOLL by April 2, and we will generate additional revenue through our inaugural Savers FUNDrive to support the wonderful programs and staff of the Lynnfield Public Library. To make things easy, you can sign up for a curbside pickup slot (link below) or drop off at the library on select Saturdays (3/12, 3/19 and 4/2 from 10am-2pm).
And we are officially calling for books to prepare for our spring book sale! Books can be dropped off any time at the library.
And, if you or people you know are looking for volunteer opportunities, please join us to help with transporting donations by signing up at the link below.
For more more details check out http://foll.org/
Sign Up for Curb Side Pickup: https://forms.gle/zaCNF1LMpRbiB75E9
Sign Up to Volunteer! https://www.signupgenius.com/go/10c0f4baca629a3fec07-foll
15th Annual Boston Bruins Pajama Drive through March 31
We are taking part in the 15th Annual Bruins PJ Drive! Donate PJs for children and teens in the Lynnfield Library children's room. Pajamas should be brand new, appropriate for all seasons, and not include any family references, holiday references, or town names. Sizes 2T through adult medium are being collected. Help a child feel warm and comfortable by bringing in a pair of PJs now through March 31!
Spring Service Clothing Drive with Cradles to Crayons and Project 351 
April 1-8
In partnership with Project 351, we have a donation box in our Children's Room to benefit Cradles to Crayons. Please bring your gently used children's clothing, sized newborn to youth large and adult small, to the library from April 1 through 8. For any questions please contact Ereeny Georges at 
georgeser26@lynnfield.k12.ma.us
.
Latest Book Lists & Blog Posts
Want to get involved?  Join the Friends of the Lynnfield Library, an independent non-profit organization that supports the many programs and activities of the Library both financially and through hundreds of volunteer hours each year!