New Collections: Summer 2021
By Nicole Goolishian, Head of Technical Services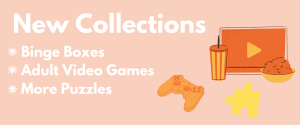 There's always something new to explore at the Lynnfield Library! The summer months are no exception as new items continue to hit the shelves every week. This month, we've added a new collection, revamped a familiar collection, and added more puzzles to our Library of Things. 
Adult Video Games
To start, we've added a new collection of adult video games for Nintendo Switch, Playstation, and XBox (including new titles for Playstation 5 and XBox Series X). Video games can be borrowed for up to three weeks and renewed twice so you can have time to play through all the levels, story modes, and puzzles these games have to offer. Click here to see all of the video games in this new collection including: 
Looking for games for younger players? Click here to check out games in our children's collection and here for the teen collection.
Updated Binge Boxes
This month we've updated our familiar binge box collections with new titles. A binge box is a set of DVDs based around a similar theme so you can enjoy a great series of films all in one set. Action, adventure, romance, and horror…we've got a variety of themes to explore, including: 
More Puzzles! 
Last but not least we've added more puzzles to our Library of Things collection including some with unique challenges like 654 silver colored pieces. Additional puzzles with a summer theme and a variety of pieces ranging from 350 to 1,000 are also available now! 
All of the above items can be placed on hold from our catalog or through the NOBLE Libraries app available for Apple and Android devices for free. More information on the NOBLE app, and placing holds on the go, can be found here.