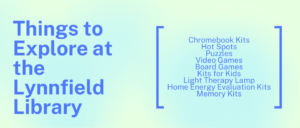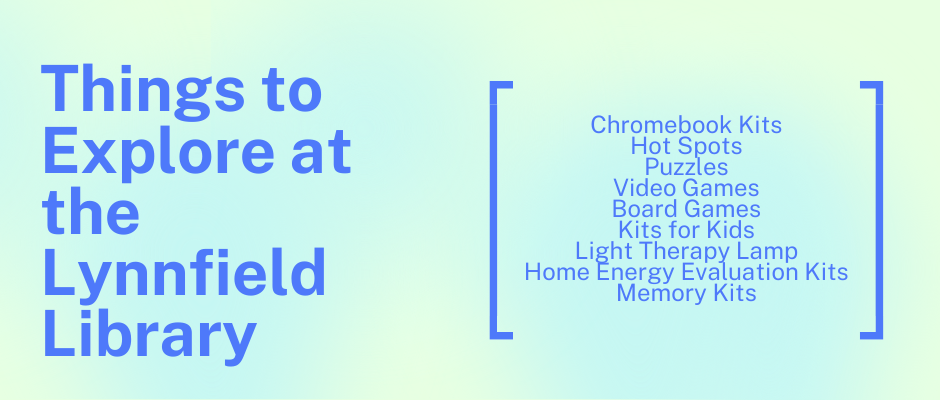 New Additions to the Library of Things!
by Abby Porter, Acting Director and Head of Adult Services
Libraries have always been more than "just books", but now more than ever! We at the Lynnfield Public Library have been adding to our "Library of Things" and we can't wait to share our new stuff – just in time for the holidays. 
Traveling somewhere remote? Borrow a wifi Hot Spot or a Chromebook Kit to make sure you don't lose access to our digital resources. 
For more fun, use the Hot Spot with one of our two brand new Nintendo Switch Lites! Try out one of our over 200 video games for all ages and skill levels – including Pokemon Brilliant Diamond and Shining Pearl. You can finally see what the fuss is about with Animal Crossing!
Looking for something to do with family or friends? Check out our board game or puzzle collections! From classic strategy games such as Monopoly Junior and Ticket to Ride to world building adventures in Santorini and Catan, our new game collection has something for everyone. We have games for all ages and skill levels. Our puzzle collection was generously donated by members of the community, along with library staff. There are puzzles with animals, Scottish landscapes, and beautiful works of art. Located on the first floor of the library, there are 33 puzzles to explore ranging from 500 to 1,000 pieces. 
MeEternally Memory Kits are great ways to bond with grandparents and take a walk down memory lane. We have over 8 kits on different topics. If you're feeling gloomy, try out our Light Therapy Lamp to provide some sunshine during these darker days. We also have Home Energy Evaluation Kits to check how energy efficient your electronics are, provided by the Reading Municipal Light Department! 
For kids, The Children's room is home to many exciting ways to learn including the following kits: 
We're adding new "things" all the time, so keep your eyes peeled and let us know if you have ideas for new additions! Email aporter@noblenet.org or call 781-334-5411 with suggestions or questions and visit https://lynnfieldlibrary.org/library-of-things/ for more information.