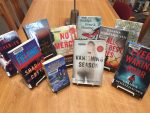 By Katherine Decker, Head of Circulation
Do you enjoy a mystery? Have you ever wanted an insight into mystery writers' minds and the conventions of the genre? Consider attending our Mystery Making program on Wednesday, July 28 from 6:30 – 8:30pm on Zoom. Mystery Making is an interactive workshop with four authors from Sisters in Crime New England. Debra H. Goldstein, BJ Magnani, Susan Oleksiw, and Joanna Schaffhausen will brainstorm on their feet to create a brand new mystery using suggestions provided by attendees. This improv game is fun, fast-paced and fascinating. To learn more about the presenters and program, and to register for the event, please visit our Library Calendar.
In conjunction with our program, we have assembled a list of books by the presenters as well as similar reads.
Don't forget to log the books you read to help your team win our Summer Reading Challenge!
Debra Goldstein – Sarah Blair series
Susan Oleksiw – Mellingham, Anita Ray, and Pioneer Valley series
Joanna Schaffhausen – Ellery Hathaway series
Similar to Debra Goldstein
Similar to Susan Oleksiw
Similar to Joanna Schaffhausen
BJ Magnani – books available through the Commonwealth Catalog
The Queen of All Poisons
The Power of Poison