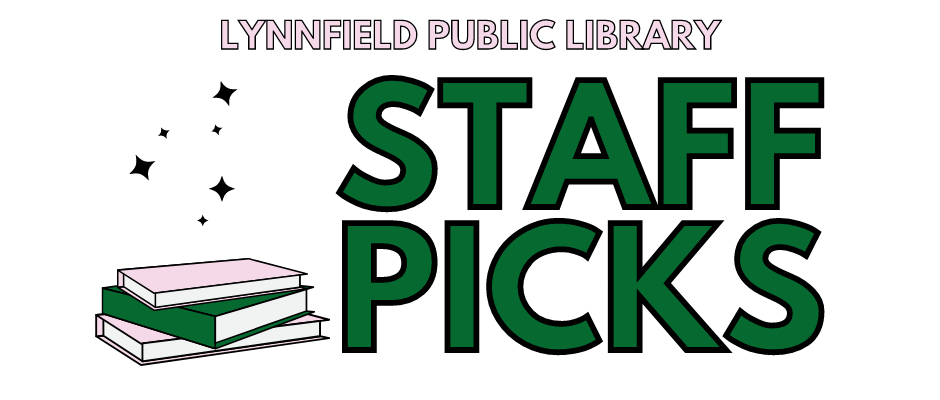 by Samantha Totman
Whether you're looking for a fun manga, a tour of New England waterfalls, or a heavy-hitting emotional novel, we've got some great picks for you this month! If you check out any of these titles, be sure to let us know what you think!
Abby, Acting Director
The Way of the Househusband by Kousike Oono
Book
This manga series is hilarious and perfect for a time when you need a silly, comfort read. It is about a man who used to be a hitman for the yakuza. He has now retired and married to a successful, comic book-loving business woman, so he spends his days cooking, cleaning, and accidentally scaring everyone in the neighborhood. But in the end, he charms everyone by teaching them how to remove tough stains and correctly polish mirrors.
Quiet in Her Bones by Nalini Singh
Book | eBook
Singh is well-known as a romance writer, but has also written extremely compelling mysteries. Set in New Zealand, this book is told from the perspective of a successful horror writer whose mother disappeared when he was 16 along $250,000 and her Jaguar. 10 years later, her body is found in the bush less than 15 minutes from their house. This book has a cast of nosy neighbors with lots of secrets to hide and one of the most unreliable narrators I've ever come across. I couldn't put it down.
Alex, Youth Services
Hooky by Míriam Bonastre Tur
Book
A fantastic read just in time for Halloween!
Amanda, Youth Services
Stamped: Racism, Antiracism, and You: a remix of Ibram Kendi's Stamped from the Beginning by Jason Reynolds
Book | Large Print | eBook | CD Audiobook | eAudiobook
I'm not usually a fan of nonfiction, but I felt that this was a must-read. Boy was I right! I listened to this on audiobook and Jason is the narrator, giving the book a flair and personality in all the right places while really hitting home how rooted racism is within our country's foundation.
Mrs. Frisby and the Rats of NIMH by Robert O'Brien
Book | CD Audiobook | eAudiobook
I was pleasantly surprised by this read! I'm not sure what exactly I expected (I don't read past the first few lines of the jacket summary), but it definitely wasn't the lovely blend of fantasy and science fiction that this book has.
If I Was Your Girl by Meredith Russo
Book | CD Audiobook | eAudiobook
This novel tightened my heart in so many ways. Amanda's new life is so beautiful, but like so many LGBTQ+ stories, the shadows in her life are haunting.
The Magical Yet by Angela DiTerlizzi, illustrated by Lorena Alvarez
Book
Everything about this picture book made me smile! The illustrations are beautiful and have a magical quality and the story of "yet" is a wonderful way to describe perseverance.
Barbara, Reference
The Women of Chateau Lafayette by Stephanie Dray
Book | Large Print | eBook | eAudiobook
Based on the history of an true castle in France, this novel is told from the point of view of three women during three periods of history whose lives interacted with and were impacted by the castle and it's residents. One, an orphan raised in the castle who is a teacher and artist during World War II who works to protect Jewish orphans during the war; another, a New York socialite during World War I who works to bring the United States into the war; and the third, the wife of the Marquis de Lafayette who spends her life supporting her husband's efforts to achieve American Independence and bringing such support to the French Revolution.
The Madness of Crowds by Louise Penny
Book | Large Print | eBook | CD Audiobook | eAudiobook
Asked to protect a statistics professor, whose professional research centers around prioritizing some lives over others during a pandemic, Inspector Gamache is faced with the residents' response to the lecture and a murder that happens on New Year's Eve in Three Pines. Having read all of the Gamache books it was interesting to listen to this one as an audiobook, as the narrator's voice sounded as I had imagined Gamache's voice to be when I read the previous books.
Storm by George R. Stewart
Book
Originally written in 1941 and recently released by New York Review Books, this title was identified as a new genre for fiction, the eco-novel. A junior meteorologist in San Francisco identifies a 'little whorl' on a weather map that he names Maria. The novel tracks the storm's progress and destruction through the eyes of meteorologists, linemen, snowplow operators, an owl, motorists, and a pilot all the while depicting the relationship of man to the natural world.
Carolyn, Circulation
New England Waterfalls by Greg Parsons and Kate B. Watson
Book | eBook
Even though the book had not been intended for photographers, it's been recommended by quite a few professional photographers. For each waterfall, there are very helpful details such as the waterfall's height, the hike and/or trail to reach the waterfall, and the quality of the waterfall. This book covers waterfalls in each state; hundreds of waterfalls. One doesn't have to be a photographer to appreciate this book.
Katherine, Head of Circulation
The Rocky Road to Ruin by Meri Allen
Book
New cozy mystery series set in an ice cream shop.
The Fiancée by Kate White
Book | Large Print | eBook | CD Audiobook
A twisty thriller.
Kathe, Reference
While Justice Sleeps by Stacy Abrams
Book | Large Print | eBook | CD Audiobook | eAudiobook
By Stacy Abrams, former Democratic nominee for the Governor of Georgia, voting rights advocate, NY Times bestselling author and many more accomplishments, too numerous to list here! This is a political thriller with a great plot, lots of twists, set within the Supreme Court, refreshingly not partisan at all!
Lauren, Head of Youth Services
Take Me With You When You Go by David Levithan and Jennifer Niven
Book
This books is told entirely through emails, mostly between siblings Ezra and Bea after Bea runs away from home to escape their abusive stepfather. I couldn't stop reading their emotional yet hopeful stories through their conversations with each other.
Marilyn, Reference
Troubled Blood: A Cormoran Strike Novel by Robert Galbraith
Book | Large Print | eBook | CD Audiobook | eAudiobook
Pat, Head of Reference
Master and Commander by Patrick O'Brian
Book | Large Print | CD Audiobook | eAudiobook
The first in the 20 volume set of historical novels that follow the adventures of British naval officer Jack Aubrey and naturalist, spy, and confidant Stephen Maturin during the Napoleonic War. The plotting is intricate, the characters fully realized, and the naval descriptions are detailed and accurate. The Aubrey-Maturin series is widely considered to be some of the best historical novels ever written.
Patty, Administrative Assistant
How Lucky by Will Leitch
Book | eBook | eAudiobook
City of Girls by Elizabeth Gilbert
Book | Large Print | eBook | CD Audiobook | eAudiobook
Samantha, Circulation
Radiant Fugitives by Nawaaz Ahmed
Book | eBook
This is one of my favorite reads of the year. The relationship dynamics between Seema, her mother, and her sister are heartbreakingly well done, and the last few chapters took my breath away.