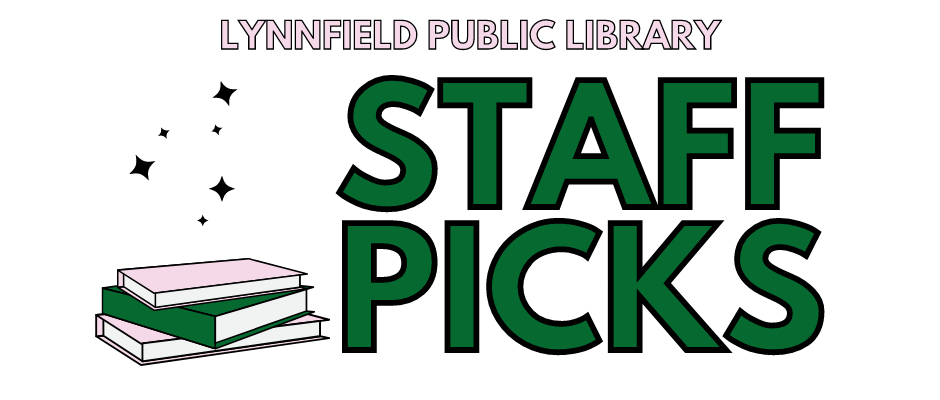 by Samantha Totman
Hello! It's your friendly neighborhood librarians, back with a full month's worth of tv shows, books, music, and more! Place holds on these items using the links below or come by the library and look for the green "Staff Picks" labels.
Abby, Interim Director
What We Do in the Shadows
DVD
I never thought vampires could be funny, but this is, in my humble opinion, the funniest show on television in recent years. I cannot recommend it enough.
Ninth House by Leigh Bardugo
Book | Large Print | eBook | CD Audiobook | eAudiobook
This book is like a dark Harry Potter meets a hard-boiled noir novel. Alex is a recovering drug addict who can see ghosts (and really doesn't want to). After losing a dear friend and nearly dying herself, she is offered an incredible deal – attend Yale on a full scholarship and keep an eye on the magical secret societies there. But the job is much harder than she expected and then a local girl is found murdered in strange circumstances, just after her predecessor goes missing. I couldn't put it down!
Alex, Youth Services
Malibu Rising by Taylor Jenkins Reid
Book | Large Print | eBook | CD Audiobook | eAudiobook
Temple Alley Summer by Sachiko Kashiwaba
Book
Amanda, Youth Services
The Graveyard Book by Neil Gaiman
Book | Large Print | eBook | CD Audiobook | eAudiobook
At first, I wasn't super into this. But as Bod grew up in the graveyard, the more and more I loved this book! I kept thinking about it when I wasn't reading, especially when the topics morality, mortality, and fear could keep my mind going for days.
Anya's Ghost by Vera Brosgol
Book | eBook
Books don't surprise me as much as they used to, but I did not expect the twist in this graphic novel!
Dirty Computer by Janelle Monáe
CD | Stream
I'm not usually a heavy pop or rap person, but boy was this album a treat! I first listened while watching "the Emotion Picture" that was made alongside the album. Since then I can't stop playing it on repeat and thinking about what it means to be a woman, an American, and to love.
Rules of Summer by Shaun Tan
Book
What a delightful picture book that had me smiling with every page. You'll get lost in each illustration just like you would on an imagination-filled summer day.
Barbara, Reference
The Dressmakers of Auschwitz: The True Story of the Women Who Sewed to Survive by Lucy Adlington
Book | Large Print | eBook
Before I read this book, I had not known there was a fashion workshop within the Auschwitz-Birkenau concentration camp. The workshop, called the Upper Tailoring Studio was established by the camp commandant's wife and patronized by the wives of the officers and guards of the camp. Those creating the garments hoped their participation would save them from the gas chambers. Historian Lucy Adlington used a variety of sources, including interviews with surviving members of this workshop, to tell the story of these brave women.
All That She Carried: The Journey of Ashley's Sack, a Black Family Keepsake by Tiya Miles
Book | eBook | eAudiobook
This was my favorite read of the month. The Smithsonian National Museum of African American History and Culture includes a cotton bag, known as Ashley's Sack, which was given to nine-year old Ashley by her mother, Rose, before Ashley was sold. Harvard historian Tiya Miles, 'unpacks' the sack throughout this book providing context and significance to the items it contained. Decades after Ashley was given the sack, her granddaughter Ruth, embroidered the history of the sack onto the bag.
State of Terror: A Novel by Hilary Rodham Clinton and Louise Penny
Book | Large Print | eBook | CD Audiobook | eAudiobook
I have always been a fan of the writing of Louise Penny and was drawn to this title out of curiosity about the added authorship of Hilary Rodham Clinton. The authors became friends after Ms. Penny received a condolence letter from Ms. Clinton upon the death of her husband. Written during the pandemic, the authors wanted to explore the issue of friendship between women as well as the political issues of the day. The Secretary of State in the novel is not pleased with the impact the new President has on international affairs and she becomes involved in determining who is behind a series of bombings that have incurred around the world and understanding the impact the previous administration had on international affairs. I was a bit stunned when Three Pines was brought into the novel and think the novel may have been a bit stronger had it not been.
The Sweetness of Water by Nathan Harris
Book | Large Print | eBook | CD Audiobook | eAudiobook
The Sweetness of Water tells the story of two brothers, freed by the Emancipation Proclamation, who work for a family who lost their only son during the war. The brothers hope to save money for a trip North to reunite with their mother, who had been sold when they were younger. Parallel to the story is the forbidden love between two Confederate soldiers and a murder increasing the impact of the war on the community. Isabelle Walker, the wife of the homesteader who hired the two brothers, becomes a leader of the community as she strives to understand the issues impacting her community in the hopes of helping both her family and community move forward beyond the impact of the war and the murder.
Golden Girl by Elin Hilderbrand
Book | Large Print | eBook | CD Audiobook | eAudiobook
Golden Girl tells the story of the death of Vivian Howe, an author who lived on Nantucket, who was killed in a hit-and-run accident during her morning walk. Upon reaching heaven, Vivian is assigned to Martha, who provides Vivian with the option of viewing the events within her family after her death. Martha also gives Vivian the option to grant three 'nudges' to change the outcome of the events she witnesses. As Vivian watches her family work through her death, she realizes that they are much stronger than she had understood while alive and accepts the fact that her family will always keep her in their lives through their memories.
Katherine, Head of Circulation
Apples Never Fall by Liane Moriarty
Book | Large Print | eBook | CD Audiobook | eAudiobook
Mystery thriller, Australian fiction
Reading Between the Crimes by Kate Young
Book | eBook
Cozy mystery, 2nd in series, book group
Pleating for Mercy by Melissa Bourbon
Book
Paranormal cozy mystery, 1st in series, fashion
Blind Tiger by Sandra Brown
Book | Large Print | eBook | CD Audiobook | eAudiobook
Suspense, thriller, historical fiction, cowboys
Lauren, Head of Youth Services
Obie is Man Enough by Schuyler Bailar
Book
Obie just wants to swim and get through the school year. After coming out as transgender, he was kicked off his old swim team and is being bullied by a former friend. Fortunately, his family and his new swim team have been supportive and accepting. So why isn't everyone? Bailar, the first openly transgender NCAA Division I swimmer, has crafted an emotional story which will speak to all children, with specific author's notes directed towards both transgender and cisgender kids and information for anyone hoping to learn more.
The Love Hypothesis by Ali Hazelwood
Book | eBook | eAudiobook
This is a cute and funny fake-dating book about a Ph.D. candidate, Olive, and a professor, Adam. Olive definitely isn't into Adam for real. Nope. Until suddenly… she is. This audiobook had me laughing out loud!
Samantha, Circulation
The Gene: An Intimate History by Siddhartha Mukherjee
Book | Large Print | eBook | CD Audiobook | eAudiobook
I wasn't expecting this to be as readable as it was, but I enjoyed it immensely. I really appreciated Mukherjee's explanation of why genomic difference is so important to our survival as a species, even when we may think of some types of genes or traits as "undesirable."
Leda and the Swan by Anna Caritj
Book
The atmosphere and tone of this book were so well executed that they ended up seeping into my real life. I really resonated with Leda, and the mystery aspect helped move the plot along.