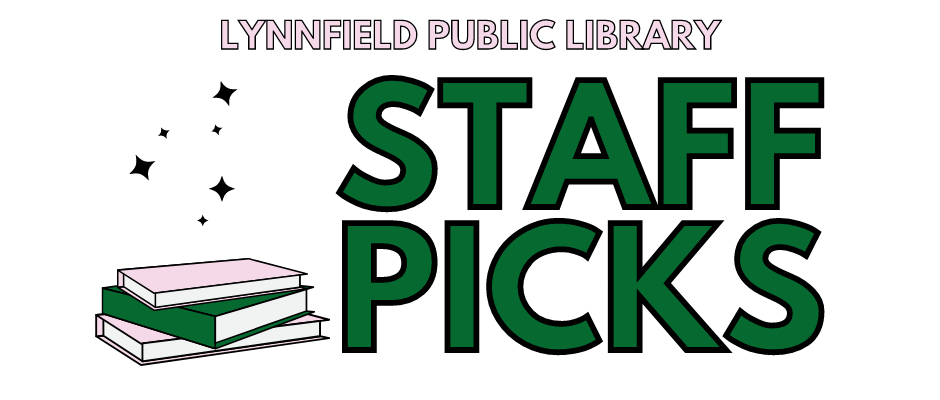 by Samantha Totman
A few days ago we shared the books and movies our Lynnfield patrons loved in 2021. Now we're sharing our librarians' picks! Below you'll find the books, movies, TV shows, games, and more that we couldn't get enough of over the past year. You may recognize a few favorites from prior editions of Staff Picks! As always, click the links to place holds on your favorite formats.
Abby, Acting Director
The Love Hypothesis by Ali Hazelwood
Book | eBook | eAudiobook
This book was absolutely adorable. A fake relationship slowly turning real with laugh out loud humor!
Line of Duty
DVD
This series follows three members of an anti-corruption unit in the British police force. The mysteries are always trickier than expected and it is one of the most compelling shows I've seen in years.
Alex, Youth Services
Amari and the Night Brothers by B. B. Alston
Book | eBook | CD Audiobook | eAudiobook
Hooky by Miriam Bonastre Tur
Book
Barbara, Reference
Crossings by Alex Landragin
Book
A bookbinder needs to decide the order in which to bind an old manuscript consisting of three separate narratives. As I wrote earlier this year, "The joy of the read was the option to read it by following the 'Baroness sequence' for which the author provides a page number at the end of each section indicating where to go next, thus connecting the three narratives but not reading in sequential page order."
All That She Carried: The Journey of Ashley's Sack, a Black Family Keepsake by Tiya Miles
Book | eBook | eAudiobook
Recently awarded the 2021 National Book Award for Non-Fiction, this book traces the history of a family artifact, Ashley's sack, passed down through three generations of Black women, originally given to her by her mother as she dealt with the sale of her daughter in South Carolina in the 1850's. The author details the contents of the sack and the historical significance of each of the items packed within.
Jill, Circulation
The Book with No Pictures by B.J. Novak
Book | eBook | eAudiobook
This children's picture book doesn't have any pictures. It's the words that make this the funniest picture book I've read.
Katherine, Head of Circulation
The Charmed Wife by Olga Grushin
Book
Instant Karma by Marissa Meyer
Book | eBook | eAudiobook
Kristen, Youth Services
Six of Crows by Leigh Bardugo
Book | eBook | CD Audiobook
It's time for a heist! A convict, a sharpshooter, a runaway, a spy, a heartrender, and a thief. Together can they prove to everyone in Ketterdam that a boy from the Barrel can pull off the impossible.
Crooked Kingdom by Leigh Bardugo
Book | eBook
An incredible follow up and the second book of the Six of Crows duology. This duology is fast-paced, action packed, and absolutely did not disappoint. If you want a taste of the Grishaverse before reading, Shadow and Bone season 1 is on Netflix where you can see the Crows in action.
Lauren, Head of Youth Services
Last Night at the Telegraph Club by Malinda Lo
Book | eBook | eAudiobook
This was my pick for January and it stuck with me more than anything else I read this year! Last Night at the Telegraph Club gave a look at a slice of history that we don't see featured often in books. The characters felt real and the story never had a dull moment. I would recommend this book to any teens or adults!
When Sorrows Come (October Daye Series) by Seanan McGuire
Book
The October Daye series is my favorite series and I get excited for every new book that is released. This one did not disappoint! These books are full of fun, ridiculous characters and exciting fantasy and world building. They feature found families and never fail to take me on an emotional adventure. This is book 16 and wouldn't make much sense on its own, so I'm linking to the first book, Rosemary and Rue, instead.
Pat, Head of Reference
His Dark Materials: The Complete First Season
DVD
Since I haven't read the trilogy (The Golden Compass, The Subtle Knife, The Amber Spyglass) by Philip Pullman on which the series is based, I had no idea what to expect. I was absorbed in the alternate worlds, found the characters compelling, and the story-line intriguing. The idea of ones 'soul' residing in the body of a companion animal (daemon) was quite believable.
Samantha, Circulation
Radiant Fugitives by Nawaaz Ahmed
Book | eBook
The Color of Law by Richard Rothstein
Book | eBook | eAudiobook
Spencer, Head of Tech Services
The Seven Husbands of Evelyn Hugo by Taylor Jenkins Reid
Book | Large Print | eBook | CD Audiobook | eAudiobook
I'm a big fan of Hollywood and saw that this book became popular again so I decided to give it a try–and it's without a doubt one of the best books I've read in years. The retired movie star and activist Evelyn Hugo hires Monique, an unknown pop culture journalist, to write her life story. Evelyn famously married seven men, but Monique learns that the actor's love life was much more complex than expected. The characters in this book felt so real that I kept trying to find a list of Evelyn's movies on IMDb only to remember that she doesn't exist (oops). Reid also offered a realistic depiction of the triumphs and hardships of women, people of color, and LGBTQ+ people who worked in Hollywood in the 1950s and 1980s. Overall, this was a masterfully told, hugely compelling novel.