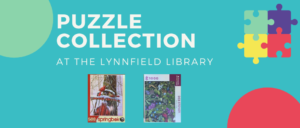 Library of Things: Puzzle Collection
By Nicole Goolishian, Head of Technical Services
At the public library, you can find many things: books, DVDs, audiobooks, magazines and thousands of digital offerings available 24/7. Did you know that now you can also find puzzles at your library? It's true! Thanks to donations from our patrons, the Lynnfield Library is now home to a puzzle collection. Currently, we have eighteen puzzles ranging from 500 to 2,000 pieces. Everything from ice cream to cats doing yoga can be found in this collection.
With winter and snowy days upon us, now is a great time to hunker down indoors and try a new puzzle. Each puzzle can be borrowed for three weeks at a time and renewed twice thereafter if you'd like a bit more time to complete your masterpiece.
Interested in checking out a puzzle? You can find more information on all of the puzzles in our collection here and place an item on hold from that screen by logging in to your library account. If you need assistance accessing your library account or placing a puzzle on hold, please call the library at 781-334-5411 or e-mail lfd@noblenet.org.
We ask that all puzzles be picked up and returned to Lynnfield in our outside bins.
Thank you to everyone who generously donated their puzzles to help create this collection.