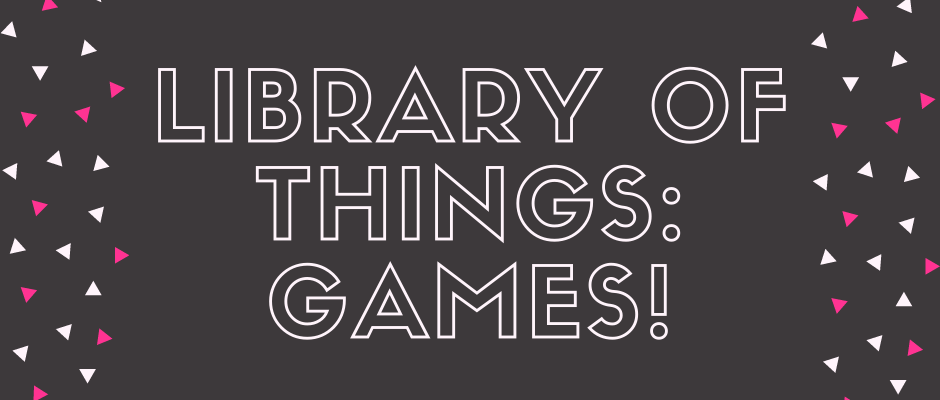 By Nicole Goolishian, Head of Technical Services
From classic strategy games such as Monopoly Junior and Ticket to Ride to world building adventures in Santorini and Catan, our new game collection has something for everyone! With games for all ages and skill levels, the 25 new games in our Library of Things: Game Collection offer a variety of fun ways to try something new this spring.  
Exploding kittens, yetis, and more…check out a full list of games below! 
Strategy & Problem Solving Games 
Azul
Blokus
Catan
Carcassonne
Codenames
Codenames Duet
Exploding Kittens
Jaipur
Outfoxed!
Pandemic
Qwirkle
Santorini
Splendor
Sushi Go Party!
Ticket to Ride
Wingspan
Word Games
Apples to Apples
Big Letter Bananagrams
Games for Kids
Apples to Apples Junior
Catan Junior
Kids Against Maturity
Monopoly Junior
Sequence for Kids
Ticket to Ride: First Journey
Yeti in My Spaghetti
More information on recommended ages and number of players can be found on each game as well as in our catalog. Additionally, each game comes with detailed instructions for play so don't worry if you're borrowing something totally new to you!
Boards games can be borrowed for up to three weeks at a time, with two renewals. We ask that all puzzles and games be returned inside the library. 
Interested in checking out a new game? You can find more information on all of the board games in our collection here and place an item on hold from that screen by logging in to your library account. If you need assistance accessing your library account or placing a game on hold, please call the library at 781-334-5411 or e-mail lfd@noblenet.org.
At this time, the library is not accepting donations of puzzles or board games.