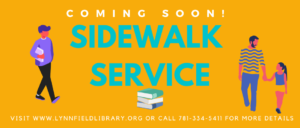 June 5, 2020
Lynnfield Public Library Update from Jennifer Inglis, Director
We are excited to announce that we are launching Sidewalk Service beginning June 9, 2020. It's been a long few months, and we have been eager to get materials to, and provide additional services for, our wonderful patrons. Here's how it will work:
Step 1: Request your items. You may place Lynnfield items on hold through our catalog, call us at 781-334-5411, email us at lfd@noblenet.org, or fill out this form. Only items with an "Available" status at Lynnfield can be retrieved at this time and we cannot get items from other libraries. We are currently limiting this service to five items per library card. Multiple family members? You may request five items per card, and pick them all up at the same time. Don't have a library card yet? See below for instructions on how to get one remotely.
Step 2: Wait for us to contact you for a pickup time! We will fill your orders as quickly as we can, while maintaining careful social distancing in the library. Staff are wearing masks, we are limiting the number of people involved in the process internally to reduce the number of touch points on the materials.
Step 3: At your designated time, park in the parking lot, and pick up your materials on the sidewalk in front of the library. We will have tables set up and you will walk up, give us your name, and then step back.  A staff member will retrieve your bag and place it on the table then step back. You can then grab your bag and take it home to enjoy. We'll wave from a distance to say hello. Please be mindful of your neighbors and maintain at least six feet from each other during this process. We ask that you wear a mask when you pick up your materials.
Step 4: If you have items you'd like to return, you may return them during the designated Sidewalk Service times. Please place your items in the red bins set up on one of the tables. We will be quarantining all items prior to check-in for up to two weeks. Please be aware that the items will remain on your account until the quarantine period is over. There will be no late fines during this period. We CANNOT take donated materials at this point.
The hours scheduled for Sidewalk Service are currently 4-7 Tuesdays and Thursdays, and 10-12 on two Saturdays in June, June 13th and 27th. We hope to increase the service once we get started and can evaluate the process. Does another time work better for you? Let us know. Can't make it to the library at all? Let us know and we can try to make other arrangements.
As we launch this program, we are being cautious and safe. A few of our measures include staggered shifts for staff so fewer people are working alongside each other, rearranging work spaces and changing work procedures so that people can practice social distancing, and staff are wearing masks and self-monitoring their health before coming into the building.
If you have any concerns, comments, or need assistance, please do not hesitate to call us at 781-334-5411 or email us at lfd@noblenet.org and we will get in touch quickly.
We would like to remind you of the Town of Lynnfield's dedicated phone line and email for COVID-19 related questions: (781) 334-8141 and emergencymanagement@town.lynnfield.ma.us
If you have an emergency, call 911.
If you need mental health resources, check out the Interface Helpline.
This is a list of previous updates and services:
Additional databases and digital subscriptions: RB Digital is a database that features unlimited access to streaming movies, television shows, concerts, and documentaries as well as interactive wellness courses and standardized test prep, including Acorn TV and the Great Courses.
Creativebug is an arts & crafts database with video instructions, printable patterns, and a large variety of activities from beginner to expert. You will need your library card and pin to access this resource. We have added TumbleBooks, a database of ebooks and audiobooks for kids and a section called TeenBookCloud with fiction, nonfiction, and classics. These can be accessed from our website and do not need a library card. Our popular genealogy database Ancestry.com is now temporarily allowing access from home. It is ordinarily available in-library only. You will need your library card and PIN.
Increased online collections: We have added additional titles to our Overdrive collection, which you can access through our Libby or Overdrive applications. We have also increased the number of items you may borrow from hoopla.
Online activities for all ages: Please check our library calendar for details and to register. Our Facebook, Instagram, and Twitter accounts are active with demonstrations and other outside activities that you might enjoy as well.
An updated website with COVID-19 related resources: We've created a web page to provide information during this time to help you with areas of concern. These include links to authoritative information about COVID-19, resources for small business assistance, food insecurity, and other topics.
From home access to a library card: If you need a library card, you may email us at lfd@noblenet.org with the following information: full name, street address, telephone number, email address, and birthdate. We will then issue you a library card number and PIN, which will allow you to access our online services that require a card, and request items to be picked up during Sidewalk Service hours.
We are thrilled to see you again in person beginning June 9th during our Sidewalk Service hours. Hopefully we get through this period safely and we can begin seeing you inside the building sometime soon as well. We've missed you!
Sincerely,
Jennifer Inglis