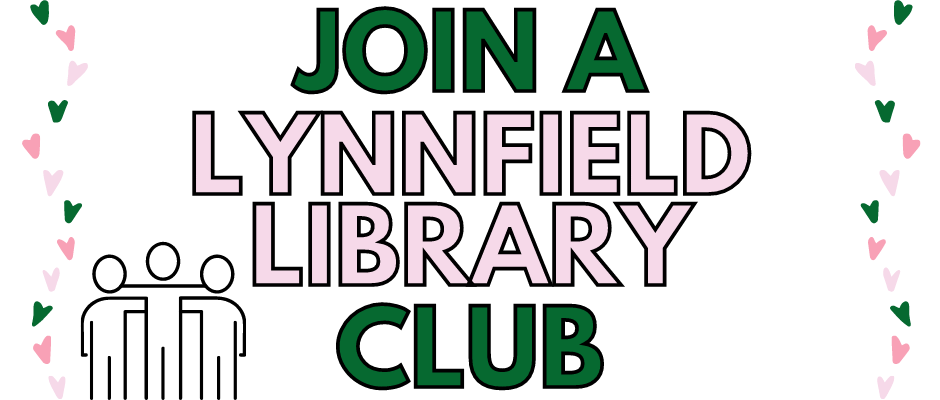 by Samantha Totman
The Lynnfield Library runs several monthly clubs for all ages. These programs are a great way to explore your interests, from coloring to reading to knitting, in a low-pressure environment while getting to know your fellow Lynnfield residents. You don't have to become a "member" of a club in order to join–you're automatically a member by being part of the library community!
Below you'll find a list of our current clubs, as well as details about supplies and meetings. We're adding more clubs and programs all the time, so be sure to sign up for our newsletter and check our calendar for the latest information. Have an idea for a new club or event you'd love to see at the library? Email Abby Porter at aporter@noblenet.org for Adult events or Lauren Fox at lfox@noblenet.org for Children's and Teen events.
We'd also like to thank the Friends of the Lynnfield Library for funding all of the library's clubs.
Adult Clubs
Book Lovers Book Club [Nonfiction]
Next Meeting: Thursday, April 21 at 6:30 pm, discussing The Splendid and the Vile by Erik Larsson
Book Lovers meets on the third Thursday of every month from September through May on the Mezzanine of the Library. They read nonfiction titles which are announced on our Library Calendar and social media. You can get a copy of this month's Book Lovers book by visiting the Circulation desk.
The Last Tuesday Book Club [Fiction]
Next Meeting: Tuesday, April 26 at 6 pm, discussing The Paper Palace by Miranda Cowley Heller
The Last Tuesday Book Club reads fiction titles and meetings on the last Tuesday of every month from September through May. They meet on the Mezzanine of the Library. Book choices can be found on our Library calendar and social media, and copies of the books can be picked up at the Circulation desk.
Coloring Club
Next Meeting: Tuesday, May 3 at 2 pm
Coloring has been proven to help adults relax and unwind! Join us on the Library Mezzanine for some social time and calming coloring. Coloring pages and colored pencils will be provided. Registration is recommended but not required.
Knitting Club
Next Meeting: Monday, April 25 at 2:30 pm
The Knitting Club meets on the last Monday of every month on the Library Mezzanine. Members bring their own projects to work on while socializing with the group. Knitters, crocheters, and makers of all handicrafts are welcome.
Children and Young Adult Clubs
Pokemon Coloring Club for Children
Next Meeting: Monday, April 25 at 3:30 pm
Once a month, children ages 3-12 are invited to the Children's Room for an hour of Pokemon-themed fun! There are different coloring pages and activity sheets to enjoy at the library or take home.
Origami Club for Teens and Tweens
Next Meeting: Stay tuned–check our Library Calendar!
The Origami Club meets once per month in the Young Adult Corner. Teens and tweens aged 11-18 are welcome. Paper and directions for a variety of origami projects will be provided, including Youth Services librarian Alex's famous bookmarks!