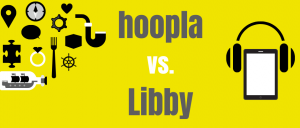 hoopla vs. Overdrive and Libby
by Abby Porter, Assistant Director
The Lynnfield Library has a lot of amazing online services and we love to tell you about them! Our two most popular services are hoopla and Overdrive/Libby and for good reason. They both let you check out e-books and audiobooks from home (or even on vacation)! Both of these services are excellent and we often get asked about the difference between them.
Overdrive and Libby are basically the same service, but have different interfaces and apps to download. Libby is, in my opinion, a bit easier to use, so I recommend that one. Just be warned, if you are currently using Overdrive and decide to switch to Libby, your holds will not carry over and vice versa!  Both of these services allow you to check out e-books, audiobooks, magazines, and videos. These e-materials function similarly to physical library books – the library owns a certain number of copies, so there may be a wait to get the book you want. Books have due dates and need to be placed on hold again or renewed if you haven't finished them.  Overdrive and Libby will remember where you stopped reading or listening, so when you get the book back, you can pick up where you left off! You can make bookmarks and notes and read on any type of device, although some versions may not be available to certain types. Overdrive and Libby also have a wider selection than hoopla. Plus, you can use your Lynnfield Library card to access the e-collections of any library system in Massachusetts! I highly recommend taking a look at the Boston Public Library's collection, as they have a huge selection.
hoopla is equally great, but runs things a bit differently. They have e-books, audiobooks, movies, television show episodes, workout videos, and music to check out on demand. You get 10 uses per month and everything is immediately available. You have to read and listen through the app, rather than using your Kindle or iPad, and the selection is a bit smaller. It still has great options, such as many British crime shows and the latest Taylor Swift album. The graphic novel collection is also larger than Overdrive and Libby's. Also, you must have a Lynnfield library card, as this service is only available to Lynnfield Library patrons.
If you have questions about getting set up with either of these services, please email lfd@noblenet.org or call 781-334-5411. Our Reference staff is happy to help over the phone or Zoom, if you are not ready to come in the physical building.